Complete DJI Spark Review
If you are searching for a compact and lightweight drone, the DJI Spark is worth checking out. In this article, we will be sharing with you our DJI Spark Review. If you are wondering if it is the right drone for you, make sure to keep reading below to find out more information.
The DJI Spark is a mini drone. It may not fit inside your pocket like some drones but it is one of the smallest DJI drones out in the market. And one of the best drones under $1000. Its main body can fit in the palm of your hand, which makes it an excellent companion during your travels as it can easily fit inside your bag. It is available in different colors such as white, red, green, blue, and yellow, so you can choose one that fits your personality.
DJI Spark Specifications 
Product Dimensions: 9.8 by 3 by 8.2 inches
Item Weight: 1.1 pounds
The camera has a 1/2.3 inch CMOS sensor that is capable of shooting 1080p at 30 fps and 12 MP still images.
The camera has an f/2.6 wide-angle lens with a 25 mm equivalent focal length
Battery: 1 lithium battery required
Mechanical Gimbal Stabilization – equipped with 2-axis mechanical gimbal which prevents shake and rolling shutter effect that keeps your shots stable and crisp.
Maximum flight time – Can last up to 16 minutes with a fully-charged battery, although it may vary depending on the wind conditions, drone speed, etc.
Maximum Speed – 50 kph (31mph)
2.4 GHz/5.8 GHz Wi-Fi frequency range
Design and Features
GPS and GLONASS sensors – capable of communicating with different satellites for precise positioning
3D infrared sensing camera – capable of object avoidance
Quick Launch with Face Aware – The DJI Spark can easily lift off from your palm and it can take off and hover in place within a few seconds of turning it on. Make sure to use propeller guards to protect your palm when using this function.
Simple Controls – Users can take great aerial images by just using hand gestures. You must purchase a remote controller separately.
Intelligent Flight modes and intuitive controls help you create amazing aerial videos. You can edit and share using the DJI Go 4 app, it features editing templates and cool filters that can be used so you can easily share your videos and images straight to your social media accounts.
TapFly – By tapping your smartphone's screen the DJI Spark drone will fly in the direction accordingly and at the same time sensing obstacles in front of it.
ActiveTrack – This feature allows the drone to recognize objects, track, and follow them accordingly. This allows tracking a specific target with ease.
Gesture – This feature allows users to take selfies by using simple hand motions. You can also use Palm Control mode to control the drone's movement by hand.
FPV Flight – Use Sport Mode to unlock the DJI Spark's speed potential. The Sport Mode sets the gimbal mode to FPV so the camera moves as the drone flies. If you want more fun and upgraded FPV experience, make sure to pick up a pair of DJI Goggles.
What does the package include?
The FLY MORE COMBO includes the following:
1 DJI Spark drone
1 extra battery
1 remote controller
Charging dock with 3 battery slots (can charge the 3 batteries in just 50 minutes)
Extra propellers
16 GB Micro SD
Propeller guards
Bag – can fit everything inside it (perfect for individuals who are always traveling)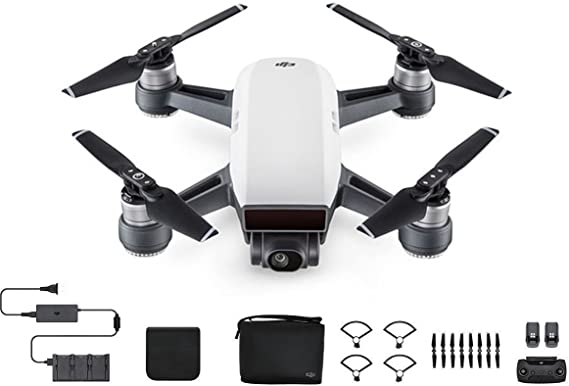 User Review For The DJI Spark
According to Harris, DJI Spark is worth buying! It has a lot of features and functionality and its size is perfect for individuals who love to travel. It can be a great beginner drone as it is easy to fly and it can take great images and videos. One con for this drone is that: it has a short battery life;its flying time can last up to 11-13 minutes.
According to James, I had previously purchased a small drone to use and it was awful and too difficult to fly so I decided to check out the DJI Spark drone. It is a mini drone so it can easily fit inside my bag whenever I need to travel. I purchased the Fly More Combo and I can say that it is worth your money! By paying extra cash, you can get more accessories that allow you to enjoy your DJI Spark more. By using the remote controller, the drone can fly up to 1.25 miles while if you are just using your smartphone or tablet it cuts the distance to half. Its 1080p camera can take decent 30 fps videos and can take 12 MP still aerial photos. If you prefer 4K camera drones, the DJI Spark is not for you. Its gimbal is 2-axis although it is limited it is still capable of doing the job done. Overall, it is a perfect drone for beginners as it can be flown easily, through Gesture mode (you can use your hand to fly it), the DJI app on your iOS or Android smartphone or tablet, and by using a remote controller (needs to be purchased separately).
Final thoughts
The DJI Spark is a drone perfect for beginner users as you can fly it with ease using the Gesture mode, DJI app, or the remote controller. If you are always on the go and you want a drone that can fit inside your bag, the DJI Spark is a must-have. It is capable of shooting stable 1080p videos and 12 MP images during its flight thanks to its 2-axis mechanical gimbal. Althoughitis not meant for professional use, if you want cool features such as Tapfly, ActiveTrack, and Gesture, the DJI Spark is worth checking out.
The DJI Spark is available in different colors; you can choose which one fits your personality. It has a solid build and it is made from tough plastic that can withstand rough landings. The DJI Spark's camera and gimbal are exposed so be extra careful when handling or flying the drone. Make sure to avoid any collisions with other objects or walls. If you want a mini drone that can take beautiful aerial images and videos, the DJI Spark is definitely a must-have.
You May Like