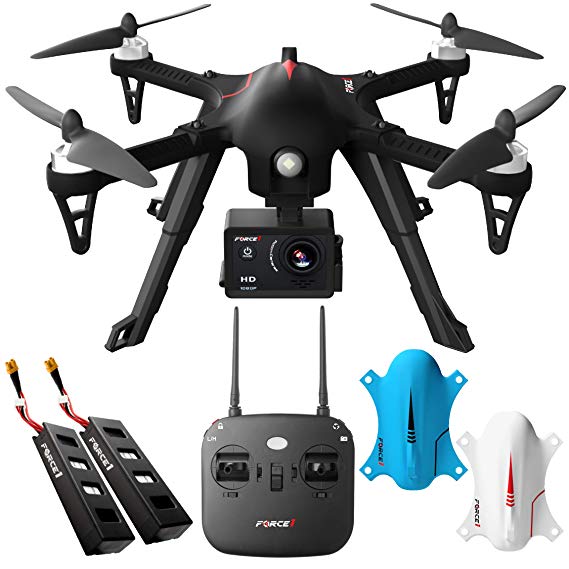 Best Review Of The Force1 F100 Ghost Drone
Drones have become go-to devices used for aerial photography and recording amazing aerial videos. If you are in the market for a drone that is easy on the wallet but works great for taking HD videos and photos, Force1 F100 drone is worth checking out!
The F100 is a drone without a camera but gives the user an option to mount any action camera that you prefer. If you have a GoPro Heroes 3, 4, or 5, you can fit it in the camera mount and use it for taking great aerial shots. Force1 is a flexible drone; both beginners and experts can use it. In this article, we will share with our Force1 F100 Review. If you are wondering if this drone is a perfect match for you, make sure to keep reading below to find out more information!
Looking for which under $300 drone to buy? Then carry on reading!
F100 Main Features
Camera – It comes with an HD camera capable of 1080p shots. This camera is designed for shooting aerial videos and photos. The camera mount is compatible with GoPro cameras.
Remote Control – The Force1 F100 drone comes with a remote controller that resembles a video game controller (Xbox/PS4). It is easy to use and works well. It fits on the hand perfectly and users will easily get used to it. If you are a beginner, make sure to read the user manual that comes inside the package. The buttons and functionalities will help you fly your drone with ease.
The layout of the controller is simple and easy to understand. The left stick functions to control the throttle and the rudder. The right stick controls the direction of the drone. The sliders below the control sticks are responsible for controlling the left and right trim and left/right direction. The control sticks have sliders between them that control the backward and forward trim. The power switch is located in the middle of the controller.
The shoulders of the controller have four buttons. The left button controls the speed;with options of either low or high. The button next to the left button functions to lock and unlock the drone. The button on the right internal shoulder is responsible for the 360-degree flips. The fourth button toggles the videos and photos on and off.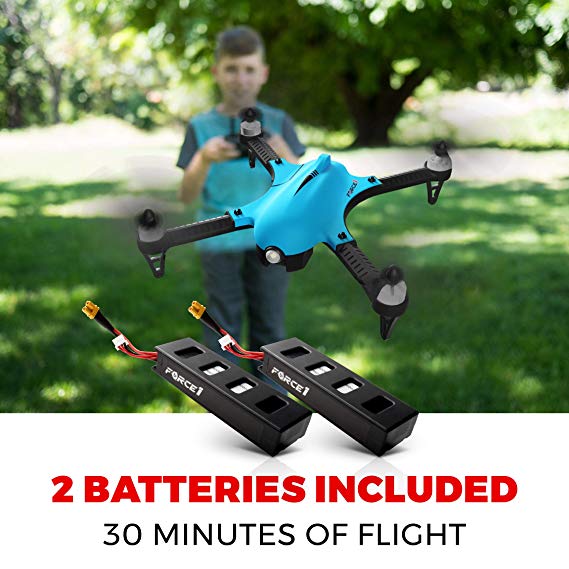 Ghost Drone Specifications
Package Dimensions: 16.6 by 13.3 by 6.1 inches
Item Weight: 2.88 ounces
Manufacturer recommended age: 14 years and up
Batteries: 2 Lithium Polymer batteries required.
Force F100 Ghost Drone Manual
The Force F100 Ghost Drone manual is definitely the best manual on how to operate this robot. It covers almost all aspects of the Force, including its basic functions, parts list, and so on. It also explains what each button on the Force means so that you know exactly what you are pressing. This manual is really helpful for a novice who wants to start his own business selling the Force.
The Force F100 Ghost drone manual can be downloaded from the internet and used with your computer. It is in PDF format, so you can just download it and use it without any installation. Most manuals are meant to be used with a particular operating system and not the other way around. However, if you have an older computer you will need to make sure that you install this manual on it before you begin using it. However, all operating systems should be able to read the Force F100 manual easily.
The Force F100 Ghost Drone manual provides users with detailed information about the operating system and hardware used in this robot. Most of the information is quite technical in nature and most likely very confusing for a lay person. Some of the parts, such as the motor and electronics, are quite complicated. In some cases they are even hard to read! This is why it is important to buy a manual which can be read by a novice at a glance. If you are a beginner, it is advisable to purchase a manual which has step by step instructions, so that you can easily understand all the processes.
How to set-up your Force1 F100?
You must setup the drone before flying it for the first time. You must lay out all the components from the package.If you are not sure how to set it up, you can read the instruction manual that comes with it. The tools required to assemble the drone is also included in the package. The landing gear, propeller guards, and rotor must be manually attached before flying the drone. You can attach the camera mount if you have a GoPro camera.
The Force1 F100 is large and it is advisable to fly it outdoors for the initial flight, especially if the user is a beginner. The drone must be flown on a clear, sunny day with a minimal breeze. Avoid areas with trees and other obstacles that can affect the drone's flight.
The drone must be paired using the remote controller. It can be done by pressing the red button of the controller and turning on the drone simultaneously. The pairing process may take a long time, if there are issues while pairing, try turning off both the controllers and the drone. Allow the drone to rest 10 minutes before charging or playing. Use a USB charging port with the input of DC 12V 1A.
Force1 Ghost Special Features
The Force1 F100 is Go-Pro compatible – This remote control drone comes with a 1080p camera and it also includes a mount that fits GoPro Heroes 3 and 4.
HD Camera Drone – The 1080p camera resolution allows users to record videos and shoots photos during the drone's flight.
Brushless Motors – The Force1 F100 drone is designed with powerful brushless motors.
It has manual controls and has multiple speed modes; the Force1 F100 is a long-range drone and it has 500 meters of flight distance.
The landing gear protects the camera when landing.
360-degree flips that can come in handy when you want to impress other people with your drone.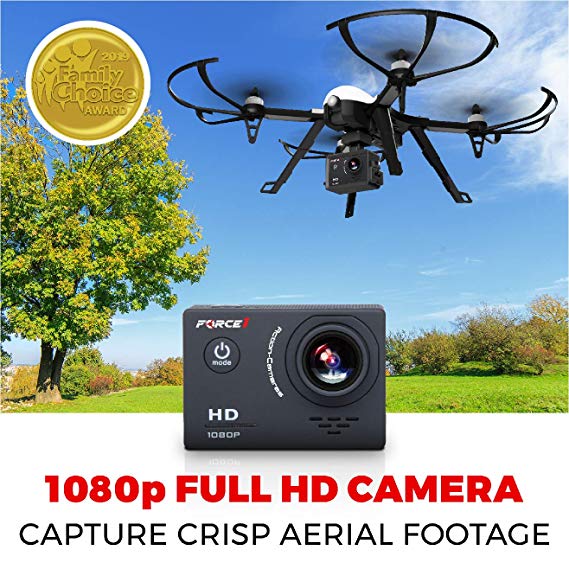 What does the package include?
Force1 F100 Drone
1080p resolution HD Camera + Camera Mount
2.4 GHz remote controller
2 1800 mAH Li-Po Batteries + Charger
3 Body Shells (Black, Blue, White)
4 High-Landing gears
4 Spare Propellers
4 Propeller Guards
Tools: Small Screwdriver and Wrench
User Manual
Flight Time: Approximately 15-17 minutes, depending on the use
Price of Force1 F100 Drone
The Force1 F100 drone costs $79.99 and you can purchase it here. The company offers a full refund if users are not completely satisfied with the drone.
User Review
According to Tommy, The Force1 F100 is my first drone, and it is the best all-around drone. Aside from being affordable, it is perfect for users who are used to Xbox and PlayStation controllers. However, this drone does not have altitude hold and GPS features. This drone is fast and sporty, you just have to get used to its jittery tendencies. If you crash this drone, you do not have to worry because it has 4 extra propellers that can be easily changed when it gets destroyed. One issue with this drone is its range. It does not go far at all and it will stop when it loses connection with the transmitter.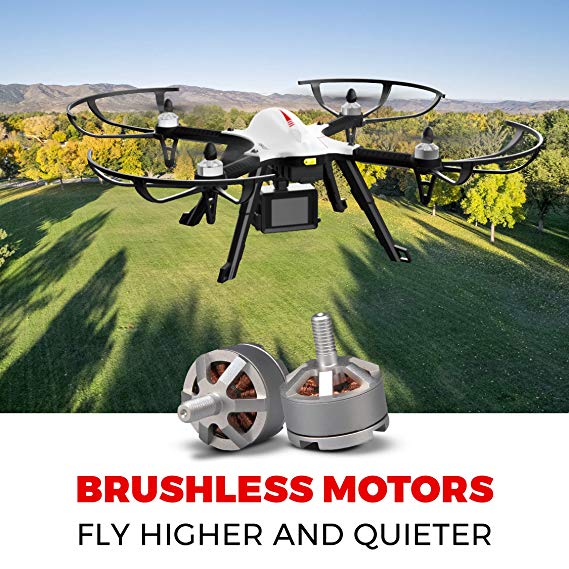 According to Pete, I bought this drone because it is inexpensive; so far it has met all of my expectations. The controls are sensitive and will require constant operator control. Its flying time can last for more than 15 minutes on a single battery. It does not have any automatic features except that it returns to the ground when the power is cut off. It does not have a Return to Home feature so make sure to not let it out of your sight. It comes with an HD camera but it is not controlled by the controller and does not send real-time photos and videos back. It is compatible with the Bug 3 line of drones. If you can buy an FPV Wi-Fi camera, you can equip it with your Force1 F100 drone.
Final Thoughts
First time or expert drone users who are interested in using action camera drones will find the Force1 F100 as a great choice. It is quite versatile and comes with cool features that will improve your drone flying experience, either as a beginner or an expert. Aside from being affordable, it costs less than 100$, the Force1 F100 drone is a great beginner's choice because it is designed for an action-packed outdoor adventure. You can take the Force1 F100 drone with you, wherever you go. It comes with an extra battery, which keeps your drone flights longer and it can last up to 30 minutes.
You May Like;