With the best fishing drones (controlled) on hand, you can take your fishing game to new heights. Using a drone for fishing will truly make the most of your fishing experience.
If there is a possible fishing site, you can have your machine scout it out, or you can otherwise have it swim over to take a good look at your target species. Even if particular places are inaccessible, you can have your quadcopter hover around and drop bait.
However, there are certain features that you have to look for in the best fishing drones because not just any will do. Among them is long battery life, an onboard camera that is of good quality, an excellent range, and ample payload limits.
Below is a list of the best drones for fishing currently available on the market to help you find a good choice.
1. DJI Mavic Air 2 Fishing Drone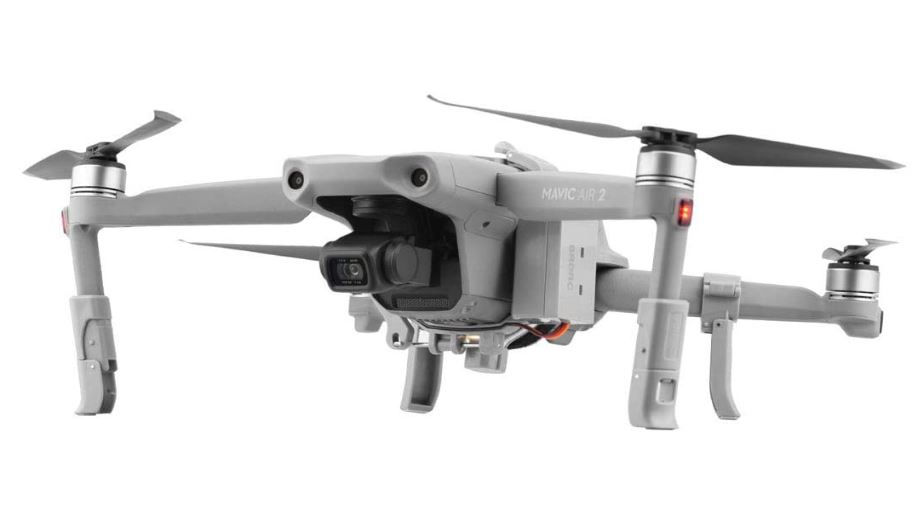 This fishing machine can take shots of 48MP photos and capture videos at 60fps. With it in your grasp, you can comprehensively survey fish habitats that are underwater. Other than this, it can stay in the air for 34 minutes with just a single battery, with blades that do not make a lot of noise so that the fishes won't be perturbed.
These qualities of the DJI Mavic Air 2 allow you to have a fantastic fishing experience, making it one of the best drones you can get for your favorite water activity.
What About Its Video and Camera?
As a top-rated fishing quadcopter, the Mavic Air 2 is featured with a superior 4K camera that contains a ½-inch CMOS sensor. A 3-axis gimbal goes with it, along with a Quad Bayer image sensor.
The 48MP photos captured by this machine are breathtaking, and the videos it shoots are amazing at 1080p. It is able to produce 8K hyper-lapse videos.
Battery and Range
It's DJI outdoing itself with the Mavic Air 2 fishing drone. In the arena of drones, its 34 minutes flight time with just one battery is among the longest.
Its optimal flight speed proceeds at 42.3 mph, and the distance of its video transmission runs for up to 10km. These specs make this machine a best option for surf fishing.
The DJI Mavic Air 2 stands out as a quadcopter that is ideal for all-around fishing. Other than its awesome features, this product is also supported by a full-coverage and no-fuss replacement.
2. RUKO F11 Pro 4K UHD GPS Fishing Drone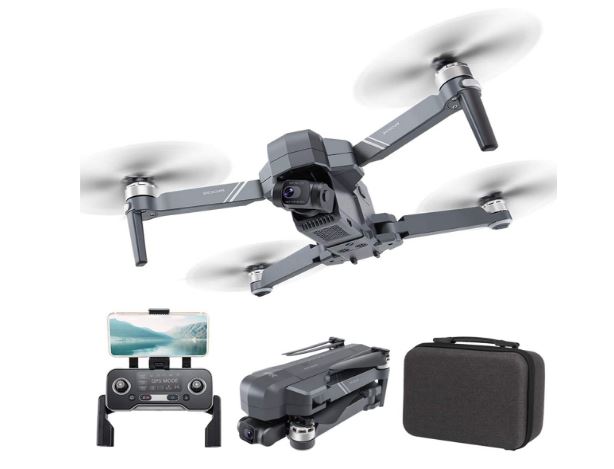 It's primarily about stability wherein the RUKO F11 Pro is able to outrival the other fishing drones. It can steadily hover and provide a truly smooth and level real-time videos with its sturdy and solid GPS positioning and air pressure system.
Its ability to resist winds is a level-7 grade. For those who are newbies in controlling a drone, the RUKO F11 Pro is a great choice because of its easy controls.
What About Its Video and Camera?
You can get a terrific bird's eye view of the water with the wide-angle camera of this machine that is featured with a 120° field of view along with a 90° adjustment angle. When it comes to clearness and resolution, it is superb, basically because it can capture 2.9K videos and 4K UHD photos. You will appreciate this machine, too, for its 5GHz Wi-fi-operated live video transmission.
Battery and Range
On a single-battery, this drone operates with a 30-minute flight time. An extra battery is provided, so the figure doubles at 60 minutes (flight time). The RUKO F11 Pro is one of the best fishing drones you can use because its control range at 3937ft is impressive.
Its maximum flying speed is at 26.8 mph, and exploring the waters with this machine does not scare the fishes because of its brushless motors.
If extraordinary stability that goes with a wide-angle camera for a fishing drone is what you're looking for, then you'll get what you want with this quadcopter.
3. SNAPTAIN S5C Wifi FPV Fishing Drone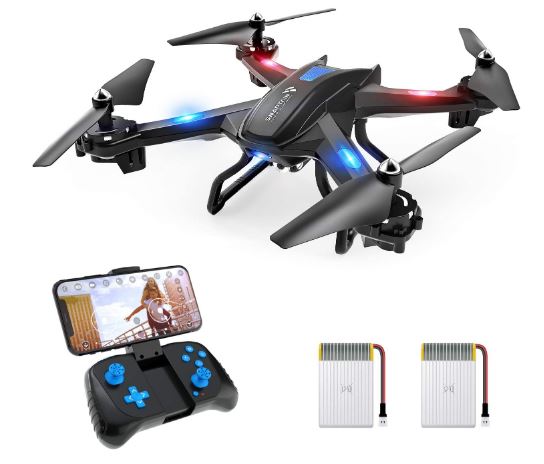 If you're a beginner in fishing, or do it occasionally, the SNAPTAIN S5C is your best bet, especially because it is easy on the budget. At the same time, this machine is straightforward to use.
It's quite simple to control this quadcopter – you can operate it with one button, and it is designed with voice control as well as gestures control.
Its wide-angle camera and hold altitude make it one of the best preferences for a fishing assistant, and it is virtually a great value of a drone for your money.
What About Its Video and Camera?
The onboard camera feature of the SNAPTAIN S5C is 720 HD, and it can capture practical videos and images.  It's pretty much a perky machine despite its pocket-friendly price.
With a 6-axis gyroscope, you can maneuver it to hover steadily. Furthermore, it can shoot a live video of the water and deliver it right on your smartphone.
Battery and Range
Two batteries are attached to the SNAPTAIN S5C, and it can fly for a duration of 16 minutes. Pertaining to distance, the machine can broadcast a live video from about 80 meters.
This fishing drone benefits beginner and occasional anglers and is an astounding value for your money. The ABS construction of this machine is undoubtedly tough, and it consists of four anti-collision guards.
4. Holy Stone HS100 2K GPS FPV RC Fishing Drone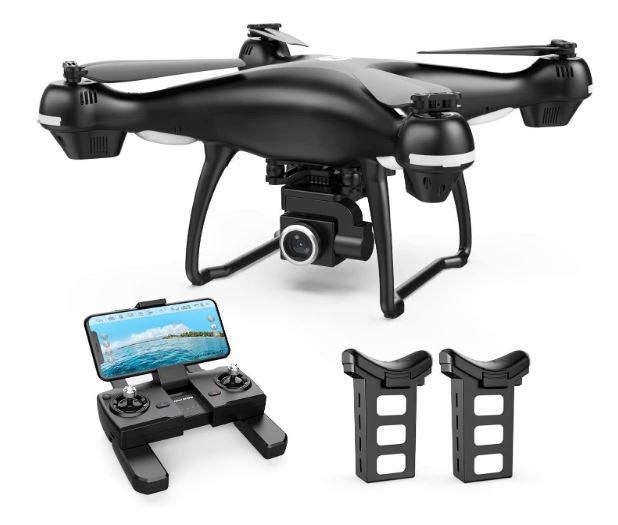 This drone for fishing is popular as one of the easiest to use. Upon purchase, its propellers are pre-assembled, and what you mainly have to do is to slot in the camera, battery and landing gears.
Then off it can go flying to help out in your fishing activity. The solidness of the Holy Stone HS100 is superior, and its camera is good. Its follow-me function is absolutely handy, leaving your hands free that in turn makes the quadcopter one of the best for fishing.
What About Its Video and Camera?
The high-definition 2K camera of the Holy Stone HS 100 is installed with a 120° FOV and 90° angle that is adjustable, and the images and videos it captures are top-notch. The body of this drone is rather huge, and it is combined with a powerful motor.
This design makes the machine firm in the midst of the wind, allowing its video to shoot fine and stable recordings. A 720P footage in real-time can be transmitted to your remote control or phone through 5GHz WIFI.
Battery and Range
The distance of the Holy Stone HS 100 drone for its optimum transmission is until 1968FT, and the range of its Wi-fi is 1300 to1900 FT. But you have to make sure that there aren't any obstructions.
The battery of this quadcopter is powerful at 3500mAh, allowing you a flight time of 18 minutes for a single charging.
It's quite easy to fly the Holy Stone HS 100, and it is laudable for its stability. The propellers of this machine are foldable, and they are available pre-assembled.
The images and videos it shoots are high-quality, delivered by a high-definition 2K wide-angle camera.
5. Potensic T25 GPS FPV RC Fishing Drone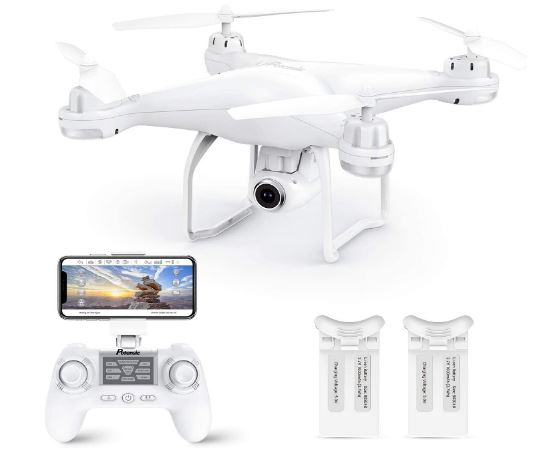 Your drone fishing experience becomes as optimal as it can be with the astounding features of the Potensic T25 GPS. Specifically, these are its wide-angle high definition camera, a dual-GPS system, and a 9-axis gyro.
You'll have sufficient air time with this machine because two batteries come with it. You can maximize your time when scouting for fishing spots and in the same way drop bait. It wouldn't strain your budget because its price is friendly.
What About Its Video and Camera?
The angles of this drone are adjustable at 120° FOV and 75°. The coverage of its 1080P high definition camera is wide, and the videos and photos it captures are clear. Live video can be streamed to your tablet or smartphone via Wi-fi, essentially because its duo-GPS keeps the machine steady. The footage it delivers is stable.
Battery and Range
Although the battery of the Potensic T25 GPS is not the most powerful at 1000mAh, you can obtain adequate flight time for 14- 18 minutes, and it has two batteries. This quadcopter may not be the absolute best, but it is good enough to keep you company when fishing.
The Potensic T25 GPS is best for its dual-GPS system, and the ability to let the user customize its flight path. With the right settings, you can program the drone to follow you. The rubber plastic guards and an aluminum case provide ample protection to your machine.
6. Holy Stone HS700D FPV 4K FHD Fishing Drone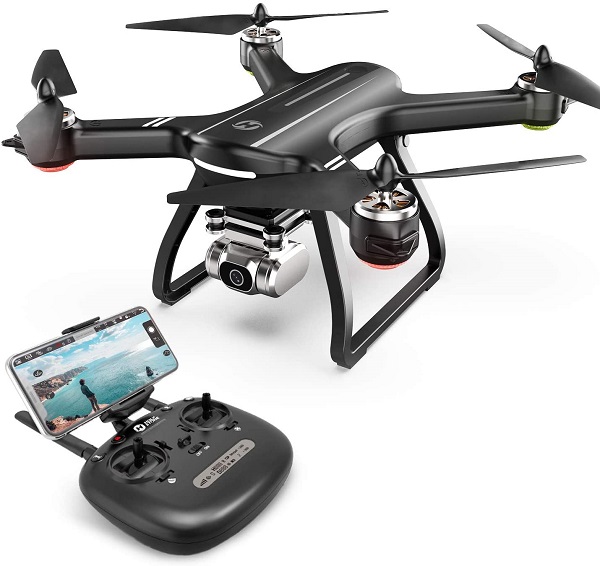 It's a breeze to operate the Holy Stone HS700D, just like all the Holy Stone quadcopters are. If you're a first-timer to drone fishing, you'll find it easy and simple to fly.
However, don't be fooled by its straightforward design because this drone is designed with a lot of nifty features that include a GPS, a brushless and low-noise motor, and sufficient battery life.
Together with these are a 4K camera connected with a 5G Wi-fi transmission that is bound to set you up with an enjoyable and successful fishing experience.
What About Its Video and Camera?
The HS700D has been ranked as one of the best fishing drones because of its first-rate 4K camera that comes with a 110° field of view and its angle of adjustment is at 90°.
You'll be happy with this feature because it is sure to give you crystal clear videos and images of fishes in their underwater habitats.
To top this, you'll enjoy fast and excellent live video streaming because of the 5G FPV transmission of the machine.
Battery and Range
The 1500KV brushless motor of the HS700D combined with its high-capability 2800mAh battery provides a powerful flight that runs for 22 minutes for a single charging. The fishes will not be startled either, because its brushless motor doesn't make a lot of noise.
What makes this drone one of the best for surf fishing is its control range that goes up to 3270 feet, coupled with a transmission range that reaches 1640 to 2600 feet.
Your flight can be customized, and you can enjoy the follow-me feature of the HS700D, along with its GPS-enabled altitude hold.
7. DJI Phantom 3 Standard Quadcopter Fishing Drone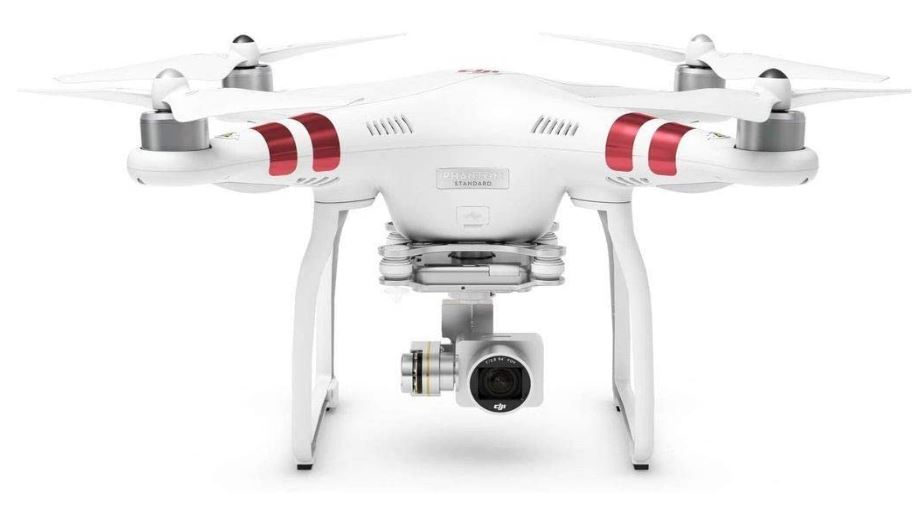 The functionality of the Phantom 3 is quite sophisticated, but it is superbly easy to fly and it is cost-efficient. This said, you'll get the best of the DJI technology without shelling off a large sum of money by piloting this drone.
The flight of the Phantom 3 is definitely high quality despite its pocket-friendly price. The photos and videos it takes are almost as good as those captured by high-end DJI models.
All these put together, you get one amazing package for a fishing quadcopter that is bound to offer you a splendid experience.
What About Its Video and Camera?
DJI has designed the Phantom 3 Standard with a top-notch 2.7 high definition camera that gives you clear and crisp 12MP photos and footage. Live images of 1080P and real-time videos of 720P can be transmitted by its camera to your mobile device.
Range and Duration of Flight
An impressive flight time of 25 minutes is delivered by this drone on a single charge. Its optimal unobstructed range reaches 1000m, which is approximately half a mile. For most drone fishing scenarios, it should suffice.
The load capacity of the Phantom 3 Standard is 2.6 pounds, making it able to deliver your drone fishing line release mechanism in remote or hard to reach locations.
How To Buy The Best Fishing Drone
With the above list of the 7 best fishing drones, you should have ample knowledge about the best product to buy. When shopping for a fishing quadcopter, you should consider the specs that apply to its battery life, camera, distance, and payload.
Be sure that your machine has long-distance coverage while not dropping the transmission signal, among other things- and be especially mindful of the laws required when fishing with your drone. Have a great time drone fishing!