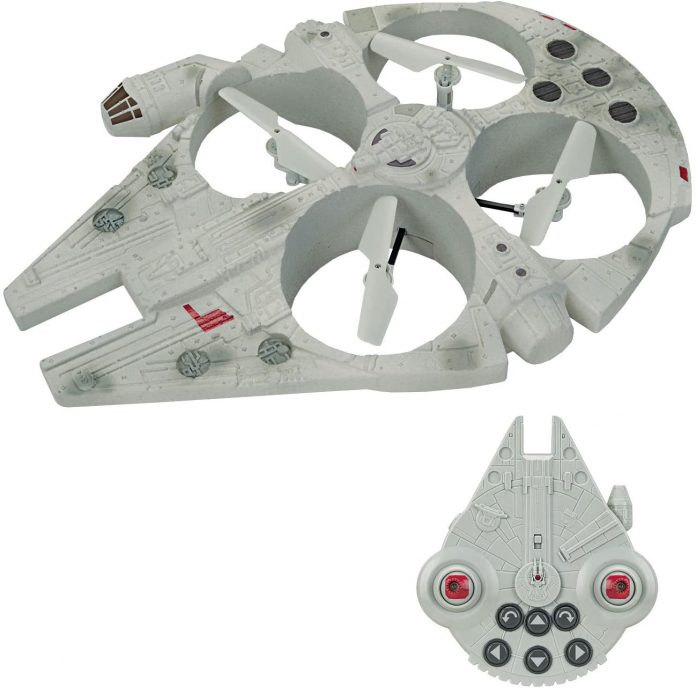 Millennium Falcon Star Wars Drone
As you never thought possible, witness the most famous spaceship in the Star Wars universe. Air Hogs's Star Wars Millennium Falcon XL Drone is a great
hobby drone
and provides unparalleled detail and authenticity. Complete with accurate Han and Chewie figures, LED subspace hyper drive, and authentic lights and sounds, this colossal 27′ long drone features a light-up cockpit. To pilot the Millennium Falcon XL Drone up to 250ft away, use the Star Wars themed 2.4GHz remote control with a flight data panel, an onboard barometric pressure sensor and 6-axis gyro. Air Hogs Star Wars Millennium Falcon XL Drone takes home the fastest hunk of garbage in the galaxy!
With Chewie and Han Solo figures inside, this gigantic 27′ x 20′, Millennium Falcon Drone features a light-up cockpit.
Experience a smooth high-performance 2.4 GHz contact flight with a barometric pressure height lock system and 6-axis gyro for a range of up to 250ft.
With connectivity of 2.4GHz for a scale up to 2
What's included?
1 

Falcon 

XL 

Millennium 

Drone 

4 

Propeller 

Protectors 

for 

Thrusters 

1 Pad 

1 

CHARGER 

1 

Guide 

to 

Instructions