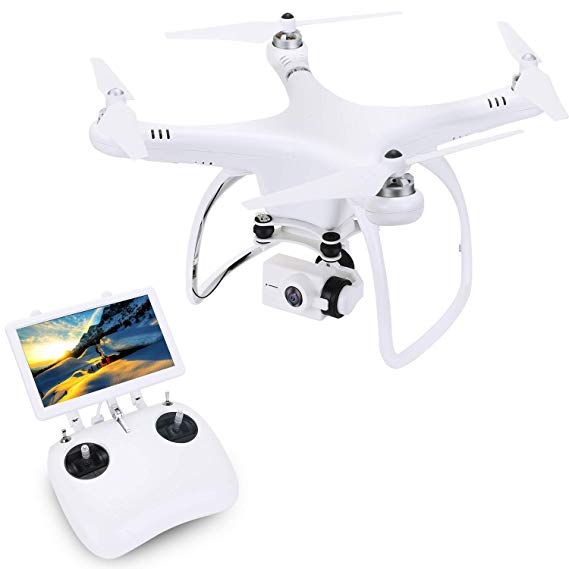 UPair One Drone Review; Batter, Parts and Upair one plus
Searching for drones nowadays can be challenging since there are lots of brands available in the market. When choosing a drone, certain factors must be considered such as what is its purpose, are you after a drone with high-quality features or you just want a beginner drone that has an affordable price?
The UPair One is a drone released by the Chinese company GTEN Innovations. If you try to check it clearly, you may see that it resembles the DJI's Phantom drone lineup and not just its appearance but as well as its features. In this article, we will be sharing with you our UPair One Drone Review. If you are wondering if this drone is perfect for you, make sure to keep reading below to find out more information.
Looking for which under $300 drone to buy? Then carry on reading!
Check The Availability of The Drone Now
What Are The Upair One Specifications?
This drone has some awesome specifications.
Here's what's under the hood;
UPair One FPV RC Drone with HD Camera 120 degrees wide-angle 2.7K resolution video monitor and can take 12-megapixel photos
Drone weight – 1.350 kg
Maximum flying distance – 800 meters
Maximum flying height – 300 meters
Maximum video transmission distance – 500 meters
Flying duration – 18 minutes
Micro SD Card is supported – Not included in the package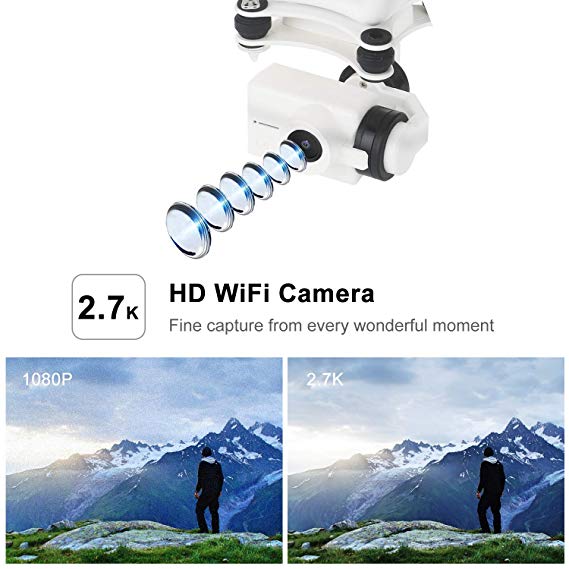 What Are The Main Features Of This Top Drone?
The UPair One Drone comes with a 120 degrees wide-angle 2.7K camera with a 1/2.3 CMOS Sony image sensor and it is capable of taking high-quality 12-megapixel photos and 2.7K resolution videos at 30 fps.
This drone has a gimbal system that allows the camera to remain in a specific position even when the angle of the drone changes. The gimbal on the controller allows the user to tilt the camera with a range from – 90 degrees to 10 degrees. The live video footage is streamed on the remote controller at 5.8 GHz frequency and its range is 2624 feet. The camera has USB and SD card ports. The video and photo formats are MOV/JPG.
Remote Controller – The controller of the UPair One drone looks stylish. It resembles the controller of the DJI Phantom drone. It is built with a great design and a sleek white finish. It has a 7-inches display screen for FPV mode. The display quality is notable and seems superior to the other drones that are using smartphone FPV modes. It works great and it helps the user, especially beginners, have a seamless drone flying experience.
The 2.4 GHz Remote controller also includes steering joysticks. It has metallic switches that control the headless mode and position hold. The controls for the camera are located on the sides. It has an 11.1 V and 2200 mAh rechargeable battery and the charger is included in the package.
Battery – UPair One drone battery is powerful, it is equipped with 5400 mAhLiPo battery and it can last approximately up to 19 minutes, some users reported that their drone's battery lasted for 21 minutes.
Flight Range – The flight range of the UPair One is kind of disappointing. It can go up to 300 meters however if you are willing to sacrifice and compromise the flight range, this drone is worth checking out.
Check The Availability of The Drone Now
Special Features
GPS One Key Return – During the drone's flight and you set it on headless mode, you can press the one key return button so the drone will fly back to you. To exit the drone's one key return function, you can use the backward/forward control stick.
One Key Take Off/Land – You can initiate the flying or landing of the drone with just a press of a button.
FPV Control – The drone streams real-time video using the First Person View mode.
Low Power/ Low Signal Return – When the signal is weak or when the battery is low, the drone will automatically return to the designated home spot.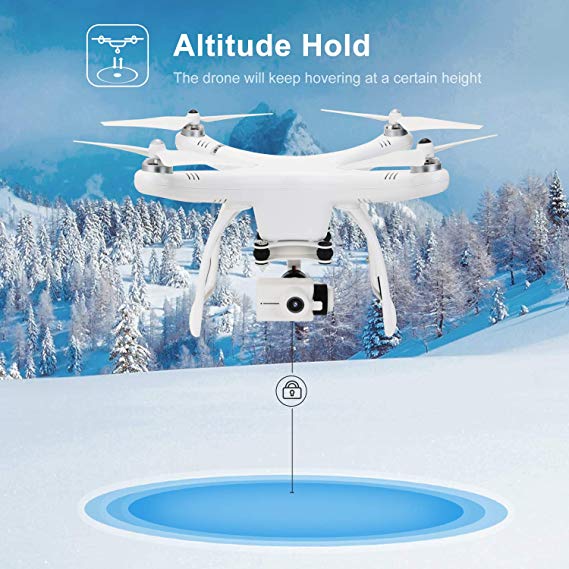 Upair One Drone Parts and Battery
1 pc UPAIR One 2.7K Drone
1 pc Drone Battery
1 pc Remote Controller
1 pc Charger
4 pcs Propellers
1 Instruction Manual
Price of UPair One Drone
The UPair One Drone costs $259.99 + free shipping. You can get yours here.
What are the Pros?
Great design
Large size – the drone measures 16.9 by 16.9 by 8.7 inches
The transmitter is large, 7 inches LCD screen
HD camera 120 degrees wide-angle 2.7K camera resolution
The image transfer distance is 2624 feet.
Easy night flying because of the LED lights.
The controller is easy to use and it is equipped with a large display for FPV.
You can choose which camera you want, you can get the 2.7 K or 4K resolution.
What are the Cons?
Spare batteries are expensive.
Its range is quite mediocre.
Its build quality is inferior.
Check The Availability of The Drone Now
User Review
According to Bret, this drone deserves a 5-star review because of its amazing flight controls. The camera settings can be changed from 2.7K to 4K. The UPair One drone functions well and it is affordable. I highly recommend it for anyone who is searching for a perfect beginner drone.
According to Harley, The UPair One drone works well. The video on the FPV can be a little choppy but the video from the SD card has a great quality. I tried the auto home feature and it landed within 3 feet of the starting point, which is great. I highly recommend it to my friends who are searching for cost-effective and easy to fly beginner drones.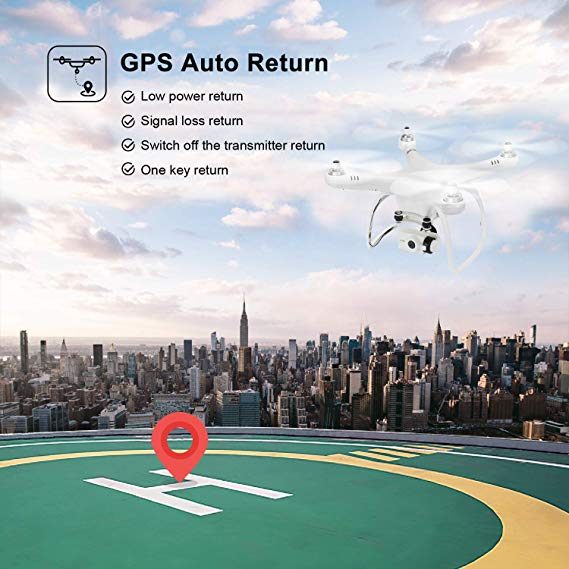 FAQs
How do I calibrate my Upair one drone?
One of the most common questions asked by new drone owners is how do I calibrate my Upair One drone. If you're not familiar with how Upair drone models work, they're actually battery-operated, remote-controlled devices that are used in indoor as well as outdoor settings. The device is basically a remote control or a joystick and transmitter that has a radio receiver. Once the transmitter or the remote control is within the range of the drone, it communicates with the computer system through the wireless connection. Once the data is received from the controller, the computer system displays the current altitude, velocity, and speed of the aerial unit. In order to keep your drone flying smoothly, you must periodically check the readings of the onboard sensors.
Which is the best drone camera to buy?
When you are looking for the best drone camera to buy, it is important that you look at several different options. There are many different cameras on the market that will allow you to record videos of your flying experience so that you can take them home to watch. There are also a lot of different options available for different types of cameras as well. This means that you need to be able to find one that is going to meet your needs, but also one that is going to fit in with your budget.
Final Thoughts
The UPair One Drone is an overall great beginner drone. If you are in the market for a great beginner drone and you have a limited budget, this drone is perfect for you. It can be used for taking aerial shots. The built-in GPS module allows any user to fly it with ease and it is capable of hovering at a spot so you can take amazing photos and videos. Its maximum speed is approximately 31 mph which is quite impressive.
The camera has 2.7K resolution and the drone controller has a 7-inch LCD screen which allows you to view the video using the FPV mode. The camera is equipped with a Sony image sensor and its gimbal may fail at times when it does not tilt properly so you must avoid using it in windy conditions. You must only fly your drone in open areas away from trees and other obstacles that can hinder your drone-flying experience.
Check The Availability of The Drone Now
You may like Traxxas Aton Review Post!