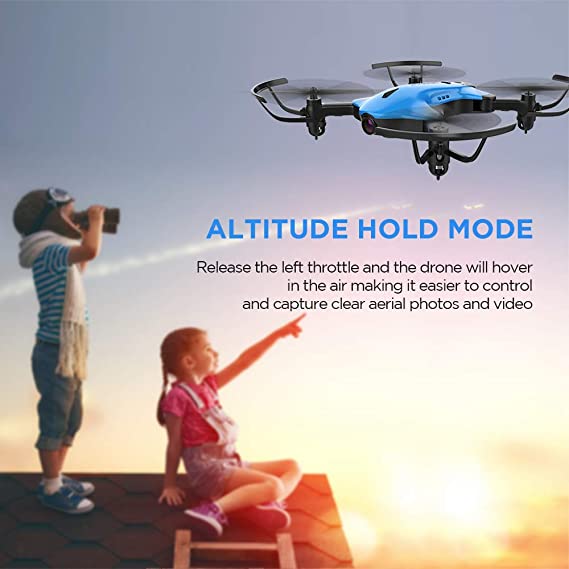 HERE IS THE LIST OF THE BEST DRONES FOR KIDS UNDER $100
Nowadays, a lot of individuals are using drones, even small kids. Drones are fun to use and they often bring joy to anyone who uses it. Drones can be used for recreational purposes so if you have kids and you want to find out the best drones for kids that are affordable and easy on the wallet, you came to the right place. In this article, we will share with you the list of best drones for kids under $100. If you want to know more information, keep reading below to find out!
Drocon Ninja Drone
One of the best drones for kids; the Drocon Ninja Drone costs less than $100. It is quite affordable and it comes with a 720P FPV HD Wi-Fi camera. It can shoot high-quality photos and shoot 720p 30 frames per second videos. It has a 120-degrees wide-angle lens that can capture great photos and videos during its flight. It is easy to control because it is equipped with an advanced barometer. Beginners or small kids can fly the Ninja Drone with ease.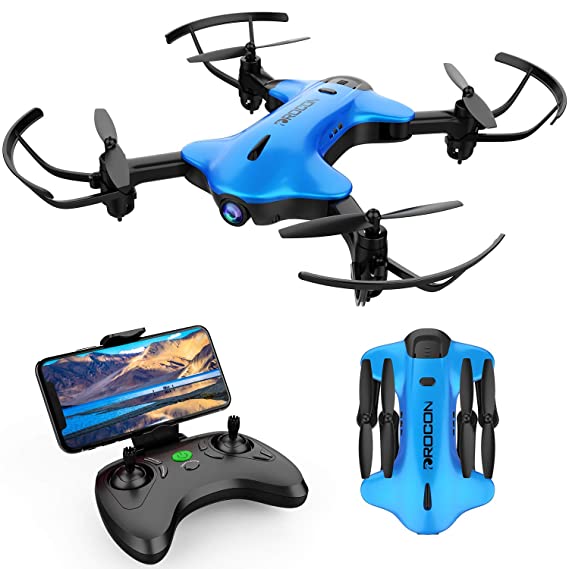 Specifications
720P FPV HD Wi-Fi camera
7Altitude Hold Mode
7App Control – Download the App for iOS or Android smartphones or tablets to operate the drone via Wi-Fi. Taking real-time imagescan be easily done.
7Foldable Design – Perfect for individuals who are always traveling.
7Flying Time: 7-8 Minutes
7Charging Time: 1 hour
7Operating Range: 80-100 meters
7FPV transmission range: 50 meters
7Drone Battery: 7.4V 450 mAh Li-Po battery
7Remote Controller Battery: 4 x 1.5V AAA batteries (not included in the package)
Features
Beginner users/ small kids can fly the Ninja Drone easily thanks to its headless mode function.
Its other features are One-key takeoff/landing, Altitude hold, 3D Flips and Rolls
Gravity Sensor Mode that allows the drone to follow the direction you move the smartphone
Pros
Affordable
Easy to control (equipped with Advanced Barometer)
720P HD camera capable of shooting great aerial photos and videos
Portable (Foldable design)
Cons
Short Flying Time (7-8 minutes)
FPV transmission range is only 50 meters
Force1 Scoot Hands-Free Mini Drone
If you are searching for an affordable mini drone for kids, Scoot Hands-Free Mini Drone is worth checking out. It is a hand-operated drone, yes that is right! No need for remote controllers. It can fly easily using the 1-Key Takeoff and landing and altitude hold features.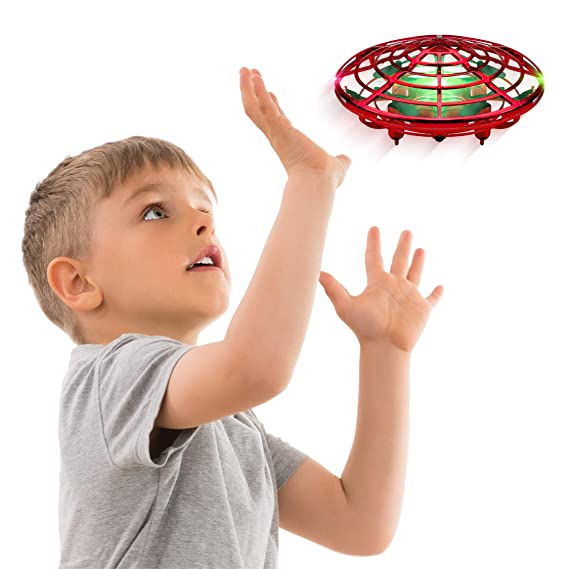 Specifications
High-tech infrared motion sensors capable of detecting obstacles around it.
It can be used indoors, can be operated with no remote needed. Anyone can enjoy flying it, hands-free.
Can be charged using the USB cable (included in the package)
Flying time: 8 minutes
Dimensions: 4.75 inches in diameter
Weight: 5 ounces
1 Li-Po battery
Features
Designed with a flexible, protective webbed shell to keep small kids and walls safe during its flight.
Hands-free flying
Equipped with vibrant LED lights for a fun night flying experience.
Obstacle navigation – Equipped with high tech 360 degrees obstacle avoidance sensors to prevent your drone from hitting any objects.
How to fly Scoot drone?
To use your hand to fly Scoot drone, just gently toss it in the air to get it flying – no need for any remote controller. It flies according to your hand movements on its side or below it.
Pros
Hands-free, easy to use (perfect for small kids)
Vibrant Led lights
Obstacle avoidance sensors
Flexible webbed shell to protect kids
Affordable
Cons
For indoor use only
Short flying time (8minutes)
SNAPTAIN H823H Mini Drone
If you are searching for a great drone for small kids, make sure to check out Snaptain H823H Mini Drone. It is quite small, it can fit inside your palm and yes it is pocket-sized! You can take it with you wherever you go! It has an altitude hold function that makes it easy to control. It is equipped with a 6-axis gyro flying control system which makes it capable of 3D flips stunt. It has 3-speed controls, beginners or small kids can use the low speed set by default.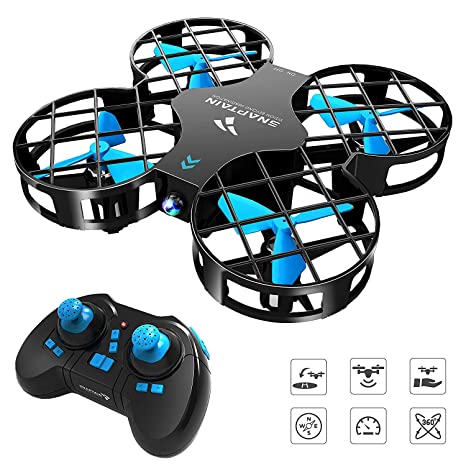 Specifications
Dimensions: 2.95 by 2.75 by 1.1 inches
Flying time lasts around 6 minutes
Charging time: 1 hour
Features
Altitude Hold, 3D Flips stunt, Headless Mode, One Key Return, 3 Speed control
Pros
Affordable
Pocket-size (portable)
LED lights for easy night flying
Cons
Remote batteries not included
Short flying time (6 minutes)
JJRC H36 Mini Drone
Make sure to check out the JJRC H36 Mini Drone if you are searching for one of the best drones for kids. Aside from being affordable, this drone is easy to use. It is capable of 360 degrees flips and rolls stunt that is guaranteed to catch everyone's attention during your drone's flight.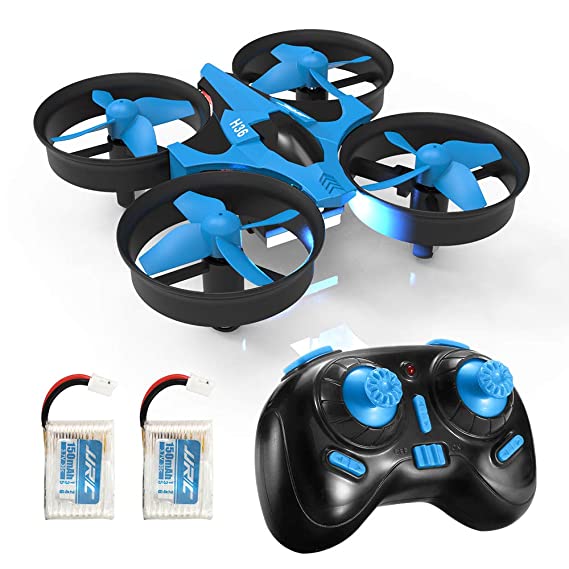 Specifications
Dimension: 3.74 by 3.74 by 1.96 inches
Weight: 22.5 g (with battery)
Made from high-quality anti-crash ABS material – protects the drone from sudden drops and crashes
2.4 GHz spread spectrum technology for anti-interference
6-axis gyro stabilization system –Fly the drone with ease, just toss it in the air to launch it or start its flight.
Propeller guards – Protect the propellers and improve the drone's flight
Comes with 2 rechargeable batteries
LED lights for easy night flights
Flying time: 5 minutes per battery (2 batteries included)
Charging time: 30-50 minutes
Control distance: 30 meters
Features
Headless mode – The on-board flight computer will align the drone to the controller's perspective and the user can pilot it easily. This makes it easy to control for beginners and small children.
High/Low speed shift
One Key return – The drone can fly back automatically on its specified takeoff location.
Pros
Affordable
Easy to use
6-axis gyro stabilization system which allows small children to fly the drone with ease
Comes with 2 rechargeable batteries
Cons
Recommended for indoor use only
The battery lasts for 5 minutes use
Limited control distance (30 meters)
Force1 UFO 3000 LED Drone
One of the best drones for kids is the Force1 UFO 3000 LED Drone. It is quite stable and easy to fly, highly recommended for beginners especially small kids who love to fly drones. It has 1 key start/stop and can be controlled by joystick directional controls.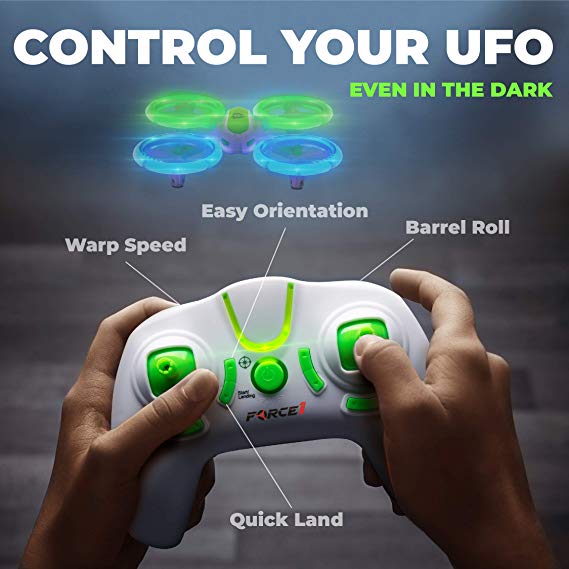 Specifications
Dimensions: 5.5 by 5.5 inches
Flying time: 7-9 minutes per battery
Charging time: 70-85 minutes
Propeller guards with Blue and Green LED lights
2 3.7V Lithium Rechargeable Batteries
Spare propellers
Features
1 Key start/stop
The remote controller features easy to use Joystick directional controls
4 channels
2 speeds
Altitude Hold
Headless Mode
360 degrees Mini flips
Pros
1 Key start/stop
Joystick directional controls
4 full-frame blue and green LED lights for easy night flying
Propeller guards
Affordable
Cons
Long charging time (70-85 minutes)
The battery lasts 7-9 minutes