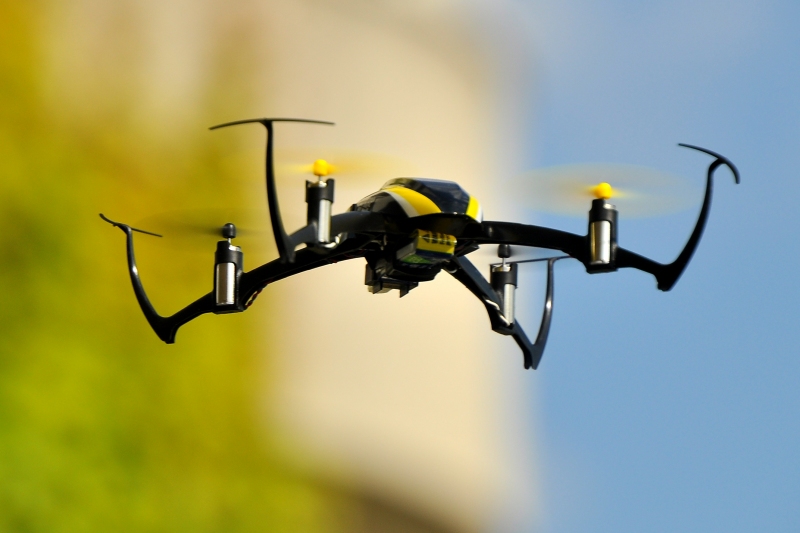 An indoor drone is your best bet for practicing on the sticks when stuck at home. The winter months or this season of the quarantine can be more proactive if you indulge your drone-flying hobby and develop your skills.
When flying a drone indoor, opt for something that flies trouble-free, is smooth, slow to operate and nifty and compact in size. It is great to fly in cold air and a spacious indoor area is fantastic for drone racing, but if you just want to run through on the sticks in the living room, there is an awesome solution for you.
What are excellent options of indoor drones if you want to fly in the confines of your home without annoying your mom or spouse? They are the following:
The Best Indoor Nano Drones
Before going further on the list, here are superb choices of nano drones. These machines measure about one or two inches from side to side. With their size, you can practically fit them and their remotes in the palm of your hand. Nano drones are by all means tiny, and you can safely fly them around your house.
The toy class drones label is excellently represented by a nano drone. You can call them as "mini-flying quadcopters" that are small enough to fit in the palm of your hand. Having them buzz around in your house can elicit heaps of laughter.
Other than being a handy gift to others, a mini drone is a fun toy that you can learn from. It's also an inexpensive way to introduce yourself to the hobby.
There are not that many options for tiny drones in the market that could readily drive your pet crazy, but here are some of the best nano drones:
Hubsan H111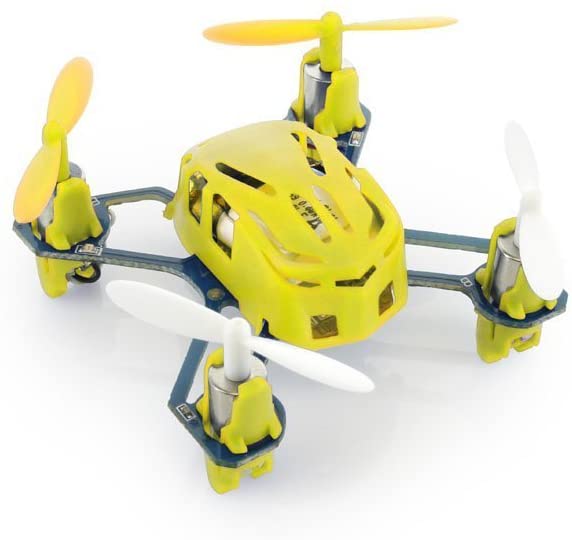 This product is one of the best mini-drones for flying within the confines of your home. As a toy drone, the Hubsan H111 is entry level, and it sells for roughly $20. Taking everything in consideration, this nano machine flies quite well. It's ideal to practice on before you move on to flying a bigger machine.
The built-in battery of the Hubsan allows about 5 minutes of flying time. Your flight experience with it is virtually raw, mainly because it has no camera or any other fancy flying capabilities.
Syma X12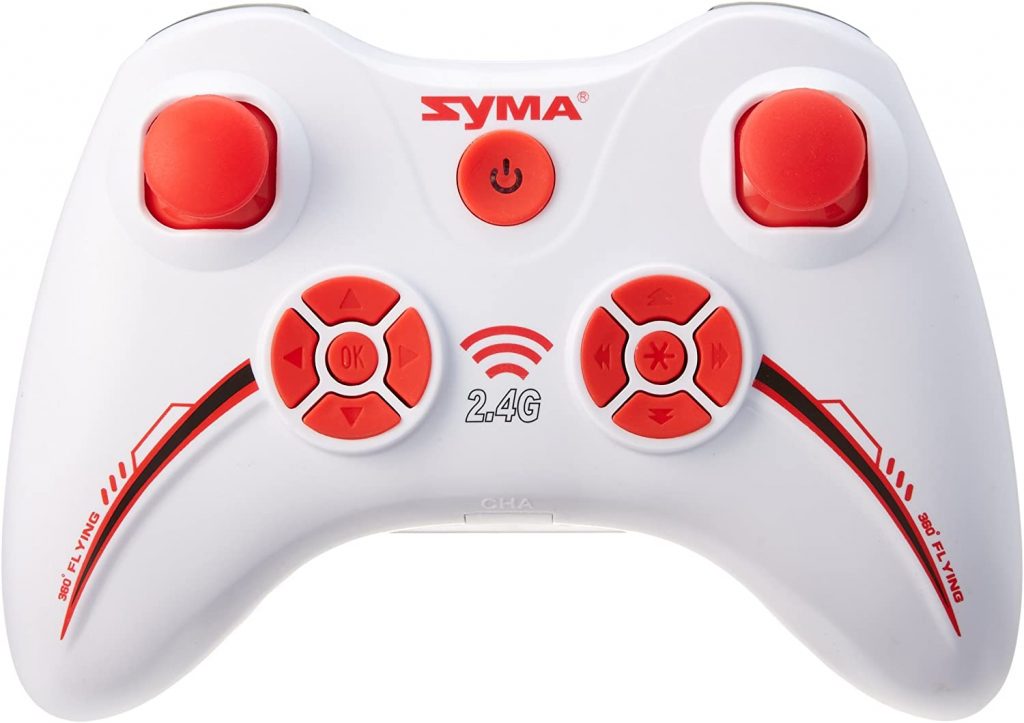 Just like most nano machines, you can hold the Syma X12 in one hand because of its compact size. Flying it is very simple and it doesn't have any flight features nor stabiliy to offer. However, it goes with a bit of prop guards and 2 joysticks.
The Syma X12 drone may be best to fly indoors, but it is great to operate outdoors on a calm day as well. The battery of this machine is built-in, providing 5-minute flight time.
Being on the same level as most nano drones, the Syma X12 is an enjoyable miniature aircraft that first time pilots can get their hands on until they get the hang of drone-flying.
Cheerson CX-10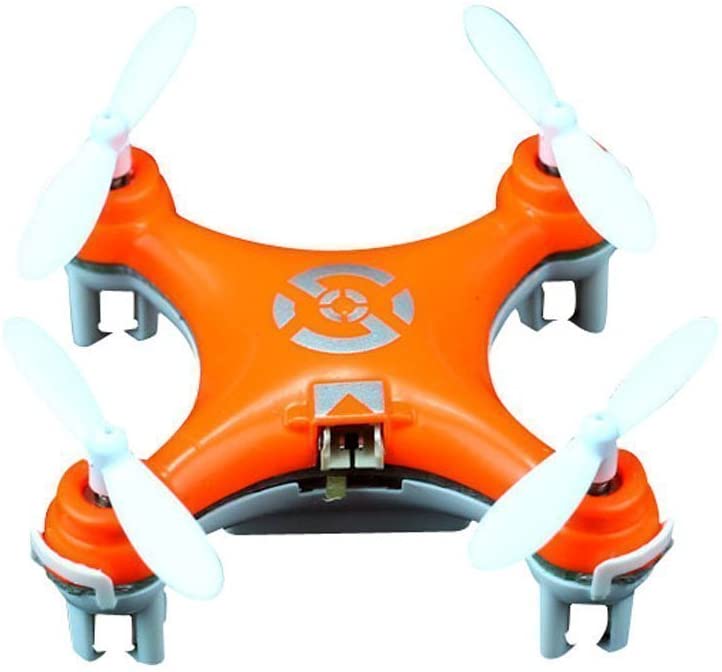 This is among the better little flying machines in the market, easily fitting in the palm of your hand. New pilots can hone their skills via this nano drone, what with its simple flight features.
There are several forms of the CX-10 which is most apt for indoor flights. Its base model is rather straightforward, while the other versions contain cameras and additional flight modes. Nevertheless, you can stick to the basic model if you simply want to have fun while practicing on your flying skills.
Eachine E010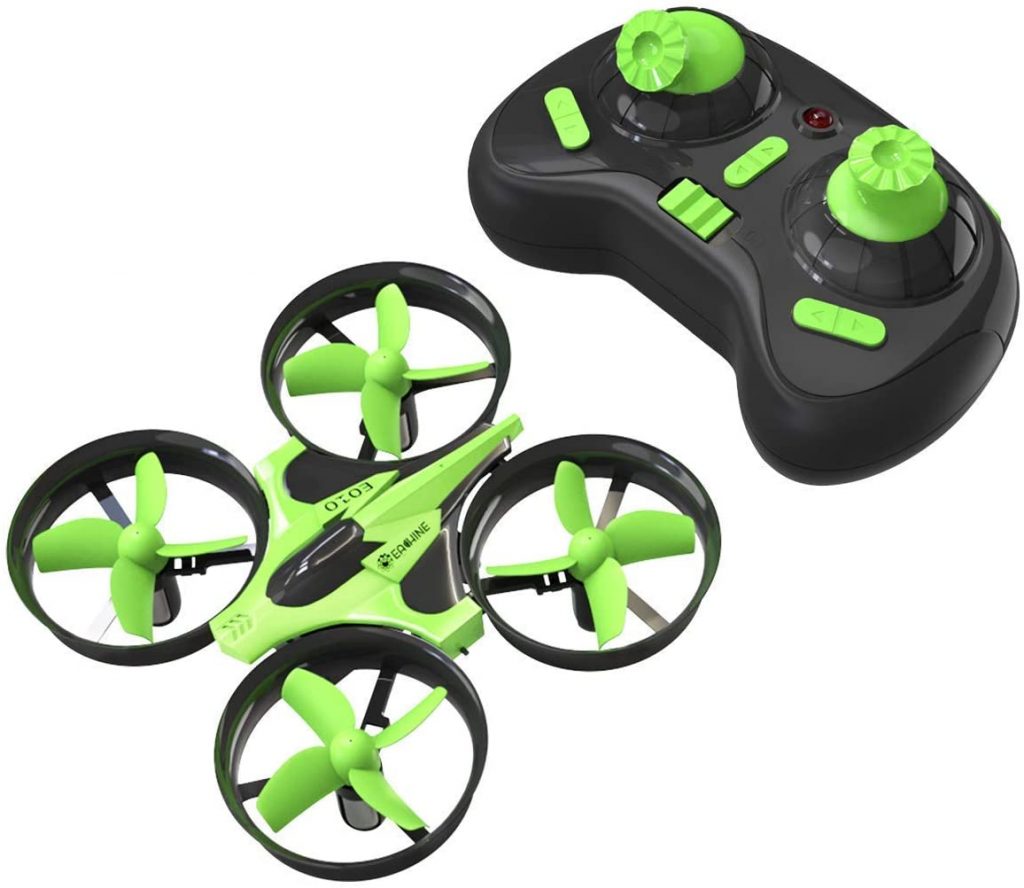 Of the various forms of toy-class drones created by Eachine, the E010 is the smallest. Due to its size, the Eachine E010 is most suited for indoor-flying. You can choose to operate it in 3 speeds, with slow and medium handling well in an indoor area, while the fast mode is well-matched for backyard flights on a fine day.
Among the list of nano drones, the E010 is classified to be as the most resilient. Its bulky prop guards protect it from collision which is usually a life-saver for small machines.
Walkera F210 3D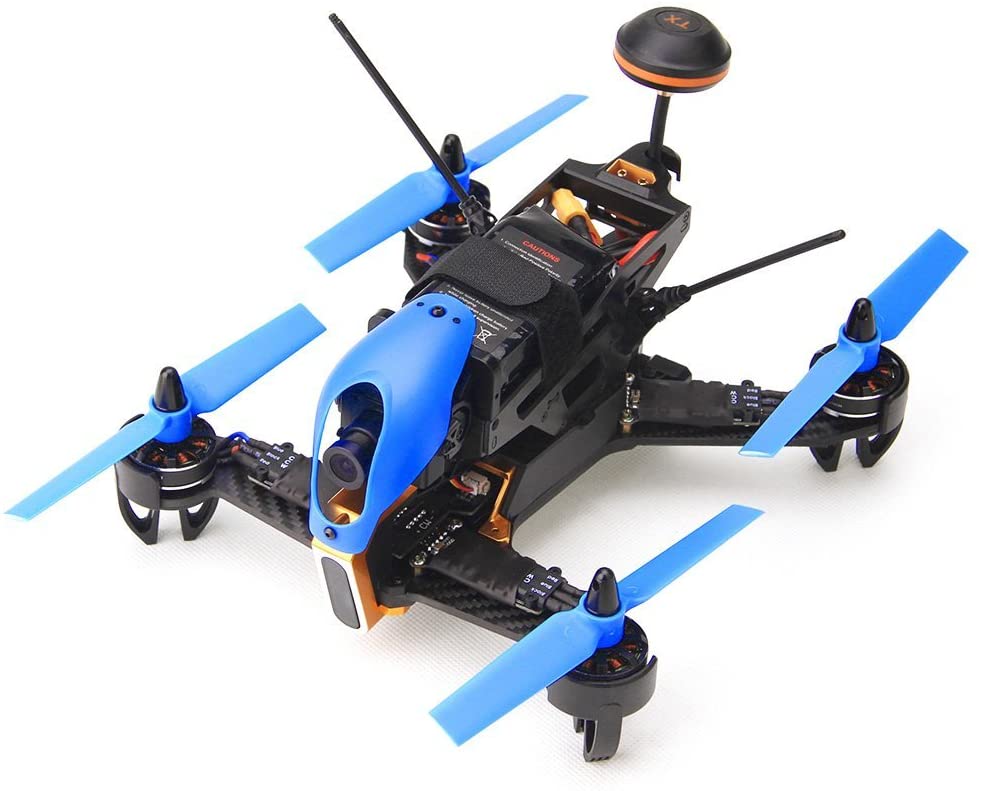 This one is for bona fide drone racers. Seasoned racers may have moved on to flying custom-built machines or heavily-altered units. But if you're the kind who simply wants to unpack your machine and fly it fast, your best option is the Walkera F210 3D.
Although racer drones are small and easily transported, they are often a bit complicated to operate. They have high flying capabilities, but just like driving a reliable sports car, you must be proficient in handling their power and maneuverability. Otherwise, glitches would quickly occur.
Excellent Options For Larger Indoor Drones
DJI Mavic Mini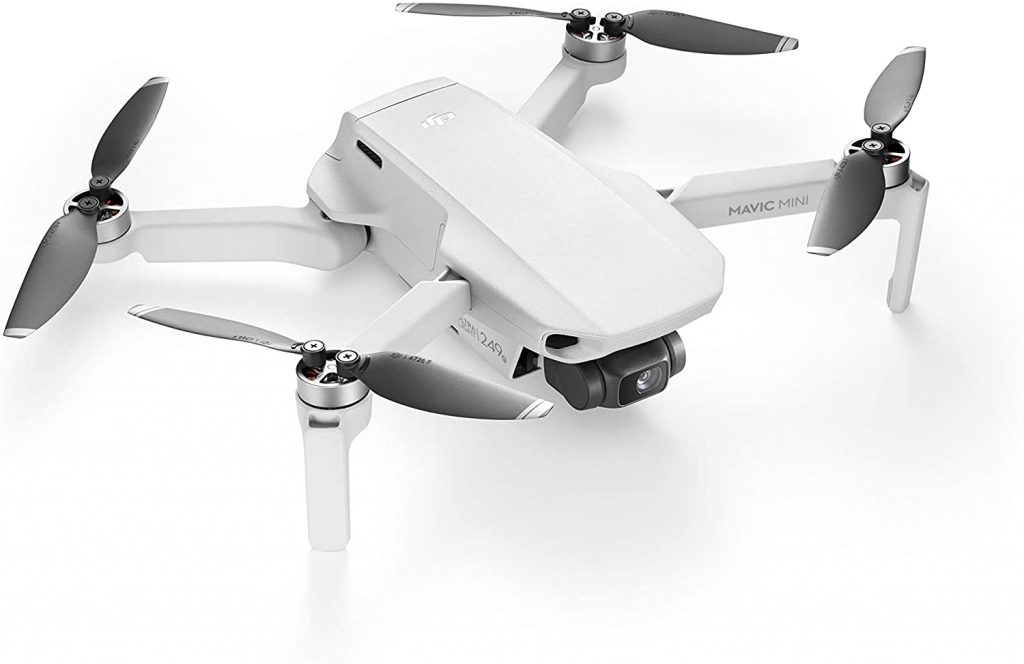 The DJI mini drone is packed with interesting capabilities and features that are incorporated in a 249- gram product. Being small enough, you don't need to register this drone with the FAA before flying.
Flying the DJI mini drone best needs you to install the propeller guards. However, consider that this feature makes the item weigh more than 250 grams, in which case you'll have to register it with the FAA prior to flying. The DJI Mavic Mini provides the best value for your money whether you're flying indoor or outside.
Uvify OOri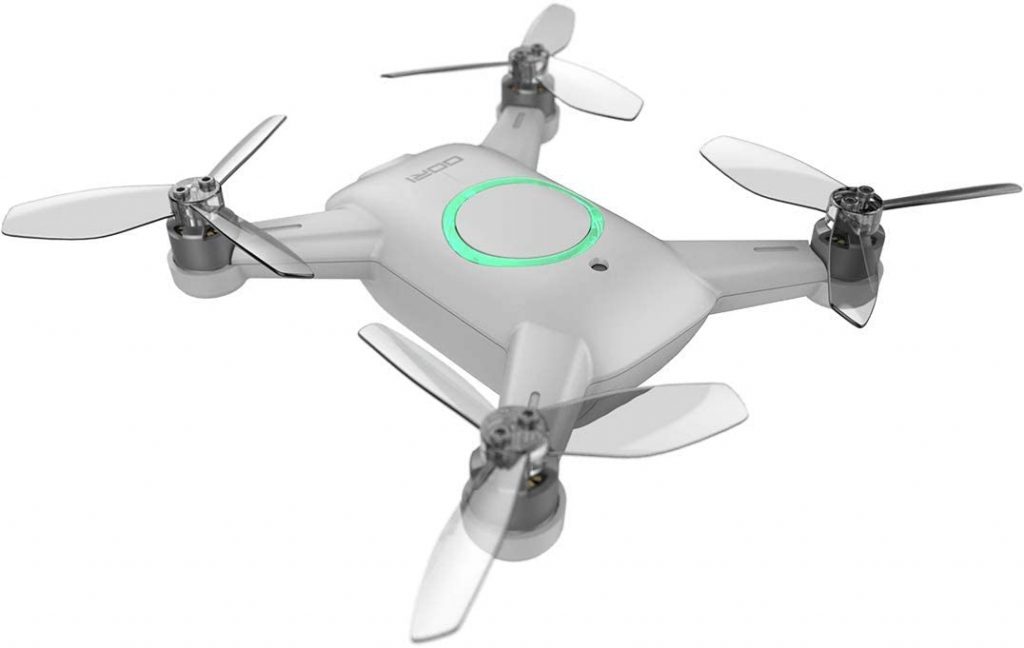 This machine has made its roots in drone-racing. Its manufacturers are aware that enthusiasts need to start somewhere, and they've created the Uvify OOri for this purpose. Apparently, this indoor drone is ideal for beginner drone racers.
The slow and stable capability of this machine makes it cut out for practicing in the living room. Running for up to 50mph, it is able to win you in a race. If you're a beginner drone-racer on a budget, the Uvify OOri is a fantastic choice.
DJI Spark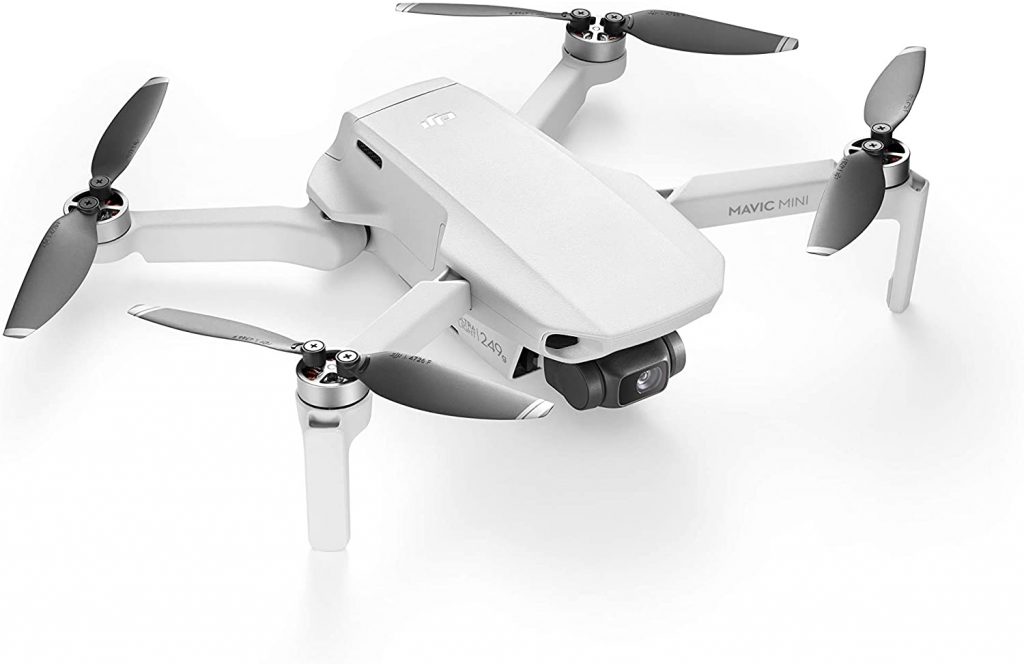 The Spark is a new segment from the DJI company, and it is a tiny machine that is loaded with fun flight features instead of powerful capabilities. The Jedi tricks hobbyists can do with this drone have created waves, such as using the front camera together with object detection specs to recognize hand gestures to execute basic controls.
The two other popular features of the DJI Spark are its ability to fly without using a remote control, and making the flyer the object of the flight.
The small size of the Spark makes it easy for carrying wherever you want to go. It's quite powerful, too, and can withstand modest winds. The 12MP camera of the drone can take fun photographs.
On the inside, the Spark's camera contains a 4K sensor, however, it can only record 1080p of video. Extra pixels can be used for image stabilization due to its HD video resolution.
The Spark's downside is that it makes bad video captures. Then again, it's still one of the better indoor drones because of its compact size and affordability.
Parrot MiniDrone Rolling Spider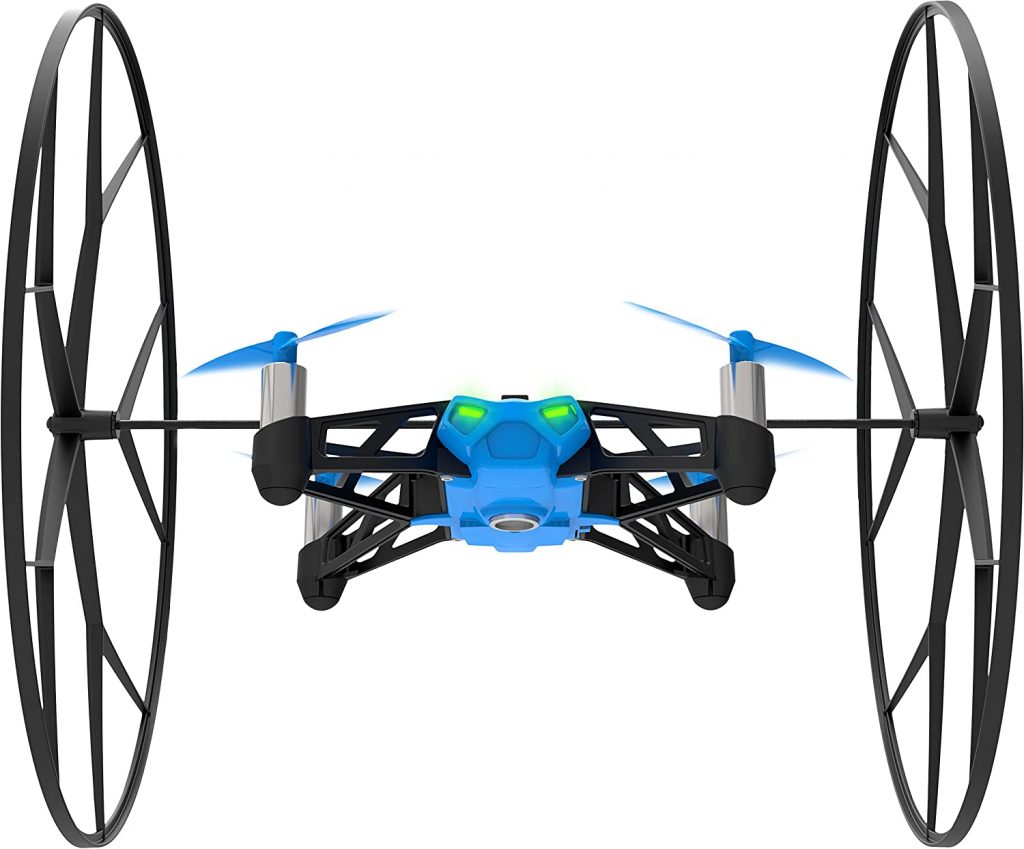 A handful of petite toy-class drones have been created by Parrot, but the MiniDrone Rolling Spider stands out. This tiny drone is safe for indoor flying, just like the other Parrot machines, however, you can rarely find it on the manufacturer website nowadays. It's still available for purchase, though, and comes at a value price.
You can enjoy 5 minutes of flight with the MiniDrone Rolling Spider and you can connect it through the Bluetooth in your mobile device for fun short-range indoor flights.
What Makes A Fantastic Indoor Drone Flight?
To wrap up, it's normally the size of the room that determines your ability to fly an indoor drone. In the same way, you might have to take the machine near or smack some of its propeller guards to make the activity safe. Papers could fly, and be sure to keep off the curtains.
Despite these odds, larger drones can pull through, although they are not suited for the indoors.
To top it all, however, the FAA has no jurisdiction when you fly a drone indoor. So have an amazingly fun time!