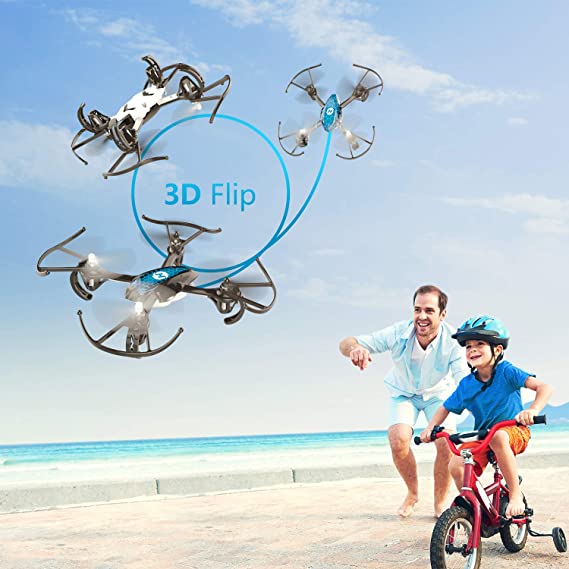 HERE IS THE LIST OF BEST DRONES UNDER $100
Individuals who are curious and want to fly drones can be easily tempted to get an expensive drone that is easy to fly and pack with unique features and are usually equipped with high-quality cameras, however, beginner users are not ready to fly a large or heavy quadcopterwhich can cause accidents, crash in other people's properties, or even injure another person. If you are in the market for a cheap beginner drone, you came to the right place. In this article, we will share with you our review of the best drones under $100. If you want to know more information, keep reading below!
Altair Aerial Black-hawk – Get Yours For $99.80
The Aerial Black-hawk is a drone made by Altair. It is one of the most advanced beginner drones mentioned in this review. If you are searching for an economical drone with great features and compatible with a GoPro camera, this drone is a must-have for you. It is stable and sturdy and can be used for aerial photography. Its flight time is approximately 15 minutes and its maximum flight range is around 300 meters. If you want a fast, easy to fly drone at an extremely low price the Aerial Black-hawk is worth checking out!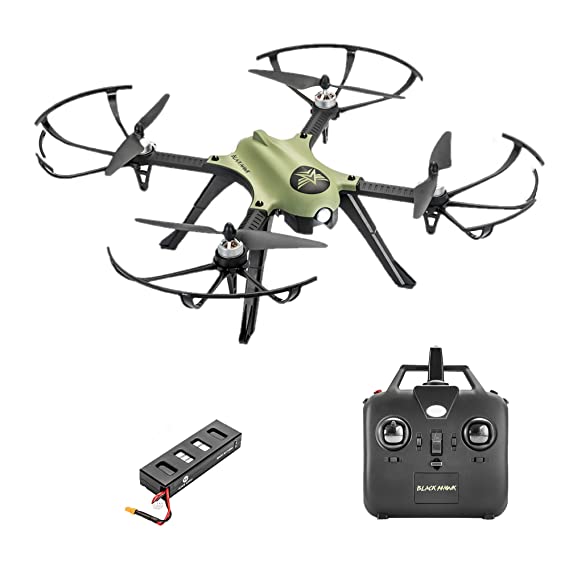 Specifications
Product Dimensions: 41 mm by 59 mm by 30 mm
Item Weight: 0.16 ounces
Maximum flight time – approximately around 15-17 minutes
Maximum flight range – 300-500 meter flight range
Comes with a 6-Axis Gyro and independent ESCs which helps users avoid burnout caused by a deadlock
Compatible with Action Camerassuch asGoPro Hero3 and 4, can capture great aerial footage with HD quality.
Durable, sturdy, and stable flight and can go fast depending on the user's preference.
Force1 Focus 5.8 GHz FPV Drone With Camera – Get Yours For $79.99
The Force 1 Focus drone is an improved version of the U28W WiFi FPV drone. It has an FPV mode which allows you to view the real-time video while flying the drone. You can get 2 extra flight batteries so you can enjoy longer flight times. It also comes with cool features such as Headless Mode. Its flight time can last up to 10 minutes and usually depends upon use.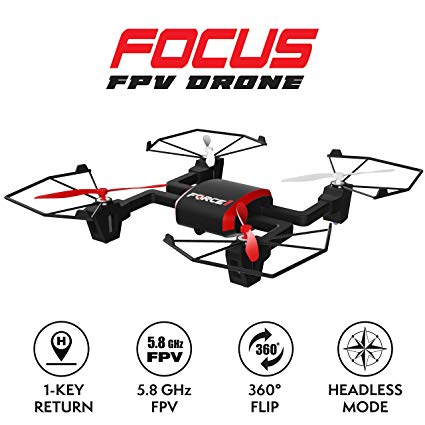 Specifications
Product Dimensions: 17 by 9.7 by 3 inches
Item Weight: 2.4 pounds
720P HD Camera drone capable of recording high-quality photos and videos. It also comes with a free 4 GB Micro SD card.
Remote controller with stable FPV – Use Headless mode and fly the Focus drone using FPV with live camera video
2 Extra Batteries – Battery for the drone and the remote controller
Force1 UDI RC U818A Discovery RC Drone with Camera –Get Yours For $49.99
The Force1 UDI U818A+ Drone is one of the best drones below $100. It is a lightweight drone that can fit in your hands. If you are an expert drone pilot, you can even fly it indoors. It has a stabilization system that allows users to fly it outdoors even in moderate winds.
It comes with 2 batteries that last around 9 minutes each and the charging time lasts 90-120 minutes accordingly. This drone is easy to fly; even beginner users can enjoy flying it. It also comes with a 4 GB Micro SD Card that allows you to save and view your videos and photos taken during the flight.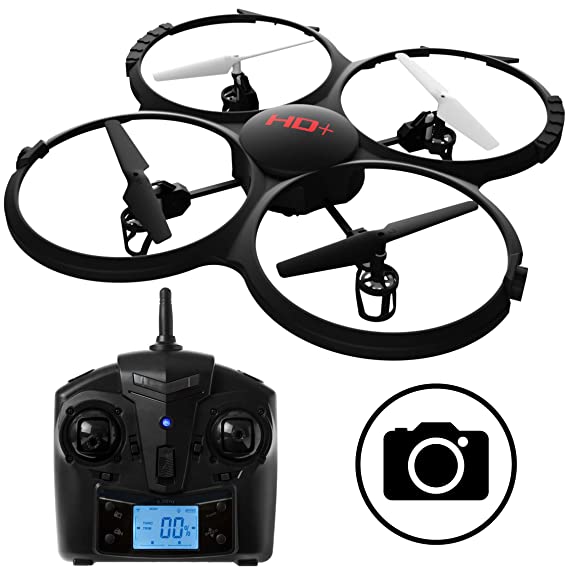 Specifications
Product Dimensions: 13 by 13 by 3 inches
Item Weight: 4.6 ounces
Flight Time: 9 minutes and charging time lasts up to 100 minutes
720 HD Camera capable of recording HD videos and photos during the drone's flight
Equipped with 6-axis gyro that ensures stable flights
360 degrees Flips – 1 Key flip button
Headless Mode – Ensures that the drone is oriented to the user's position
Remote Controller – Has joysticks to control the roll, yaw, and pitch of the drone
Remote Controller has an LCD screen with throttle, battery display, and trim
2 Speed modes to choose from
LED lights – Flashes when the battery is low
Are you interested our popular Traxxas Aton Review, as this is one of our favourite drones!
Hubsan X4 (H107L)–Get Yours For $25.99
One of the most popular drones below $100, the Hubsan X4 is small and fits on the palm of your hand with. It is extremely lightweight and has a durable body;it is designed with a 1-pc mainframe. It can also be flown both indoors and outdoors. Its battery life can last up to 5-7 minutes with just 15 minutes charging time.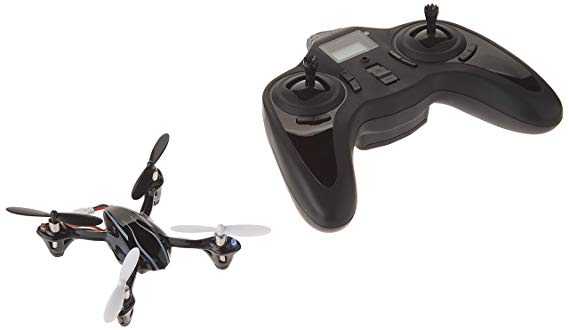 Specifications
Product Dimensions: 2.3 by 2.3 by 1 inch
Item Weight: 1.3 pounds
Camera: 0.3 MP video recording
Micro SD card (not included in the package)
Coreless motors
6-Axis gyro flight control system with adjustable gyro sensitivity for stable flights
4 Channel 2.4 GHz control
Equipped with a high-capacity 1S 240 mAh 3.7V Li-Po battery
Ready to fly out of the box (pre-assembled)
Charged with USB cables (included)
Capable of 4-ways flip
HOLY STONE HS170 PREDATOR – Get Yours For $25.99
The Holy Stone HS170 Predator is one of the best drones under $100. It is great and it is fun to fly, both beginner and expert users will enjoy flying it. It has 3 different speed modes, for beginners they can start slowly while they are learning the basic controls and they can adjust the speed as they get used to the controls.
The HS170 Predator can perform different stunts such as 3D flips and barrel rolls so you can easily impress anyone watching you fly it. It also features a headless mode, and it is equipped with LED lights. The flight time lasts approximately up to 6-8 minutes. It is steady and can fly in moderate winds. It can fly up to 35-50 meter range. The headless security system allows beginner users to fly the drone with ease. The motors and circuit board may heat up so allow 10-minute cool-down breaks in between flights to ensure that the parts of the drone will last longer. It is quite affordable which makes it a great choice for a beginner drone.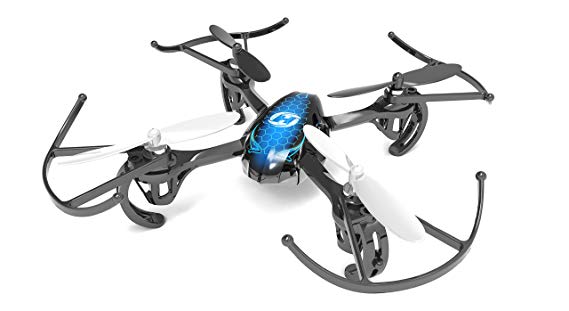 Specifications
Product Dimensions: 5.3 by 1.6 by 5.3 inches
Item Weight: 12.8 ounces
Low interference 2.4 GHz technology
6-axis gyro stabilization system for stable flights
Battery: 350 mAh 3.7V Li-Ion battery
Charging time: 45 to 60 minutes
Remote controller – 2.4 GHz (AA batteries not included in the package)
Headless flight orients the drone's flight on the controller which makes it easy to fly especially for beginners.
3 Different Speed Modes
Equipped with vibrant and colorful LED lights for enjoyable and easy night flights
Interested in Drone Cinematography?