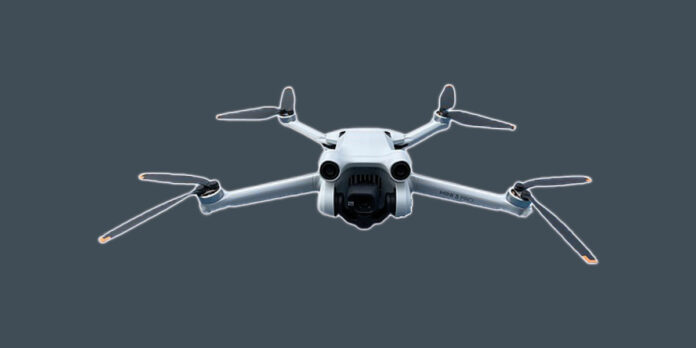 Are you considering purchasing the new DJI Mini 3 Pro drone?
Look no further; this article will provide a thorough overview of the recently released drone. From the design and build, to performance and camera specifications, this review covers all aspects of this revolutionary device.
The DJI Mini 3 Pro is one of the smallest and most portable drones on the market – it features foldable arms, making it highly portable. It has an impressive 4K/60fps camera with 2x zoom capabilities, along with motorized gimbal stabilization for smooth video footage even in windy conditions. Moreover, its controller has a maximum range of up to 10 kilometers which is ideal for capturing remarkable aerial shots unhindered or unimpeded by distance limitations.
In addition to providing information about what comes with the drone itself, we also include accessories in our review which can assist you in creating professional-grade films from your aerial shots. Plus an overview of pros & cons as well so that you can make an informed decision about whether or not investing in a DJI Mini 3 Pro is right for you! Read on to find out more!
Overview Of The DJI Mini 3 Pro
The DJI Mini 3 Pro is one of the best drones on the market and it's perfect for those who want a lightweight, portable and easy to use drone. It's priced at £639 without a controller, or £709 with the new RC standard controller. This fantastic drone packs an incredible 4K camera that can take amazing pictures and video. If you're looking for a great drone to get in the upcoming year, then you can't go wrong with the DJI Mini 3 Pro.
The DJI Mini 3 Pro has great features like Active Track 3.0 technology and automated gimbal stabilization to help you get high-quality footage without much effort. Its flight time of 31 minutes also gives you more time to capture all your memories in one go. The remote controller also has an LCD screen which you can use to track your progress while flying, and adjust settings with ease.
Aside from its amazing features, the design and build of the DJI Mini 3 Pro are also something to be admired. It's made out of sturdy plastic materials and is designed to be lightweight yet durable enough for outdoor activities or travel. In addition, it's small size makes it a breeze to take anywhere for beautiful shots or videos on-the-go. With its combination of quality design and excellent performance, it's no wonder why people are raving about this amazing drone from DJI.
The DJI Mini 3 Pro is truly an incredible drone for any outdoor enthusiast or photography hobbyist. With its high-tech features and quality design, coupled with its affordability price tag – this drone is definitely worth looking into if you're in the market for a reliable drone in 2022!
Design And Build Of The DJI Mini 3 Pro
The DJI Mini 3 Pro stands out due to its unique folding design and lightweight plastic material. Its sleek, compact form factor is impressive and makes it convenient to store. Weighing in at less than 249g, the Mini 3 Pro measures 145mm x 90mm x 562mm making it small enough to fit into your hand or possibly just the pocket of your jacket. Despite its size, the drone is packed with many helpful features for beginners.
You can find two function-specific buttons on the bottom of the remote controller that allow you to launch and land the drone safely even from a distance. Additionally, there is an on-board thumb switch located at the base of the controller that gives you access to multiple customized modes like Follow Me, Point of Interest (POI), Orbit Mode and Waypoint Navigation Mode. With these modes, users can create beautiful scenes and experiment with different shooting angles either manually or with one-touch automation.
In terms of performance specifications, this tiny drone features low noise motors, which enable it to have an impressive flight time of 31 minutes as well as speeds up to 16 m/s (36mph). Furthermore, it has an excellent camera onboard that takes 12MP photos and 4K videos using a 1/2.3″ CMOS sensor with an aperture range of f2.8 – f11 adjustable ISO 100-1600 range and a max shutter speed of 1/2000s essentially makes capturing stunning aerial footage easier than ever before! With all these features now available in one device, users will have plenty of possibilities for creativity in their aerial shots and videos. Ending off, the DJI Mini 3 Pro is undoubtedly a great entry-level drone device offering sleek folding design, superb performance specs and amazing image quality -all at an affordable rate!
Performance And Camera Specifications
The DJI Mini 3 Pro is the latest in the Mini series and is significantly smaller than its predecessors. It measures 145x90x62 mm when folded and 251x362x70 mm when unfolded, a size slightly larger than a standard Samsung S22. In spite of its size, the Mini 3 Pro has a large amount of power that can pack a big punch. It has been upgraded to be lighter on some of the big features that were present in the previous model. Moreover, this mini drone still has numerous capabilities.
The main highlight for most people will probably be the camera of the new Mini 3 Pro. It is equipped with a 4K camera which can capture high-quality footage at up to 60 frames per second, making it a massive upgrade from DJI Mini 2's 30fps limit. Furthermore, it also packs a 1/1.3-inch sensor which is larger than DJI Mini 2's 1/2.3-inch sensor, thus allowing for better low-light performance in addition to better image quality overall.
The controller helps make sure that this tiny once does not fly away easily, as it increases the range accommodated by your drone for smoother use and longer flights when extended to about 7 kilometers range with Remote Controller Plus Accessory device/. This makes sure that you can freely get creative with your aerial photography or any other activity from suitable areas without having to worry about losing your helpful drone friend to windy conditions or limited traveling distance!
Controller And Range
The DJI Mini 3 Pro is a great option for those looking for an affordable, yet high-quality drone. The controller itself has an impressive range of 10 KM, which is easily one of the farthest ranges among drones in this price range. Additionally, its 1.2GB of internal storage allows you to store some photos and video within the drone if you manage to forget your memory card.
If you're interested in speed and agility, the DJI Mini 3 Pro has you covered with max speeds reaching 13m/s. It also offers a reasonable ascent speed of 5m/s and descent speed of 4m/s making it ideal for outdoorsy explorers. Moreover, as this drone comes from a trusted manufacturer, you can be sure that it complies with the EU standards of safety, health, and environmental protection.
Overall, if you're looking for an affordable and quality drone with a suitable range, the DJI Mini 3 Pro is worth considering for your needs. To make the most out of this drone, it can be helpful to invest in a few accessories such as additional batteries or memory cards so that you can get more out of each flight!
Accessories
The DJI Mini 3 Pro Propeller Holder is a great accessory for any user of the DJI Mini 3 Pro. It is carefully crafted from soft silicone, which prevents it from damaging the drone when installed and removed. With this holder, it is simple to ensure the drone does not sustain scratches or abrasions, since the material is designed for this specific purpose. Owners of this product should also consider adding the hard carrying case for Mini 3/Mini 3 Pro RC to their collection of accessories. The bag provides enough room to accommodate the components of the drone; including 1x Mini Pro Drone, 1x Remote Controller, 3x Batteries, 1x Charger, 1x Charging Hub, RC Cable, Filter and even more.
Furthermore, with a single charge provided by two intelligent flight batteries included in this package, users can enjoy up to 31 minutes of flight time with each charge – an amazing value that any aerial photography enthusiast would appreciate. All these features are available at an attractive price point which makes these accessories essential for anyone wanting to get the most out of their experience with their DJI Mini 3 Pro Drone.
Price
The DJI Mini 3 Pro has been recently released and is available for as little as $669, but can go up to $909 depending on the version you buy. This makes it an exceptional value for those looking for professional drone performance within a relatively low budget. Ultimately, this is a great option for those just starting out in the drone world, or experienced professionals who require a reliable and feature-filled drone to help them achieve their goals.
For what the DJI Mini 3 Pro offers, it is an excellent deal. However, avid drone users may find some of this drone's features wanting. The lack of obstacle avoidance technology is one example that comes to mind; while it has improved sensors and flight capabilities over its predecessor, they don't compare to more expensive drones available on the market today. Additionally, its price point may still be too high for beginner pilots or those on a tight budget.
Ultimately though, the DJI Mini 3 Pro delivers powerful performance, impressive flight time, strong build quality and even cinematic footage with its 1/2 inch sensor size – all for under $1,000. Despite its downsides, pros still outweigh cons when it comes to making this purchase worth it. So if you're looking for a professional grade drone that won't break the bank then definitely consider the DJI Mini 3 Pro today!
Pros & Cons Of The DJI Mini 3 Pro
Are you looking to get your hands on the new DJI Mini 3 Pro? This drone offers a wide range of features and benefits that make it one of the best quadcopters in its class. The drone is easy to fly, compact in size, and packs powerful camera technology. Plus, it offers excellent value for money when compared to other drones in the same class.
To decide whether or not this drone is right for you, let's look at some of the pros and cons of the DJI Mini 3 Pro. The biggest advantage this drone has to offer is its ease of use. The controls are intuitive and you don't need any prior experience to pilot it with ease. Design-wise, it's very compact and can be used indoors or outdoors with no problem whatsoever. The camera is powerful enough to take stunning videos and photos from up high, and the pricing makes it exceptional value for money.
So far, no major cons have been noted with the DJI Mini 3 Pro; however, you should keep in mind that with any product there may be unforeseen issues that only manifest after purchase. All said though, this drone seems like an excellent option for beginners who are looking to take their aerial photography skills up a notch without breaking the bank.
Conclusion
The DJI Mini 3 Pro is an impressive drone packed with features and functionality aimed at making your aerial photography straightforward and reliable. Perfect for novice pilots who want more a feature-rich experience, the Mini 3 Pro packs it all into a small package without compromising on performance or quality of footage. Thanks to its intuitive design, easy-to-use controller, and extended range of 6 km maximum transmission distance, the DJI Mini 3 Pro is truly a great choice for using to capture stunning aerial images that captivate.