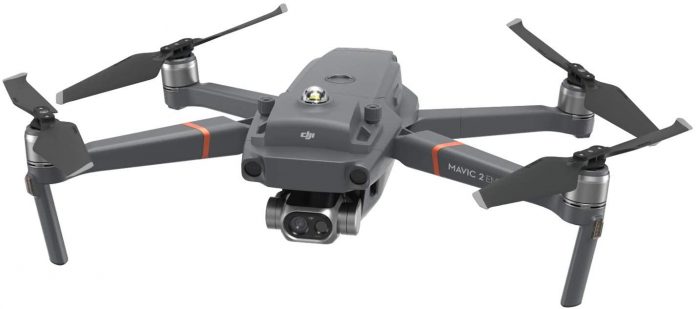 12 Best Drones Under $300 Price Range For The Money in 2021
Looking for the best drone on a budget? Check out our extensive list of best drones for $300 or less price range!
Hi people! Today, we will be reviewing the top drones for the money under 300 dollars! It can be difficult to know which drone to purchase when there are so many out there. We will be looking at the drones that are on the lower price range. So, by the time you've finished reading this article, you will be well aware of the best drones under $300 and be well on your way to finding the perfect one for you.
Before we get started and dive deep into the list, it's important to note that if you are looking for drones under $100 or $200, we also have reviews for these prices on our site too. It alls comes down to your budget and how much you are willing to spend on your soon-to-be favourite gadget. As you will know, every drone comes with a unique set of features and specifications. So, while the price is important, it's also crucial to look into the specs and features of the drones. In the list below, we've chosen drones that have generated quality user reviews and have proven to be favourites among the drone community.
Understanding the different features drones can have is a great way to weigh-up your options. Perhaps you want a drone that will take the most breathtaking images or you want to focus on a drone with stability and ease of use. Whatever your preference, you are first going to need to compare and consider before you purchase. Okay, let's stop stalling and get into the top 10 drones under $300!
Check out this useful YouTube video;
1. MJX BUGS 2W
First off, we are going to take a look at the easy to fly, high-quality MJX BUGS 2W. This is a drone that sports a small form factor along with an HD built-in camera and has a great transmission range. For people looking to have some fun with aerial photography, this is one of the best drones under 300.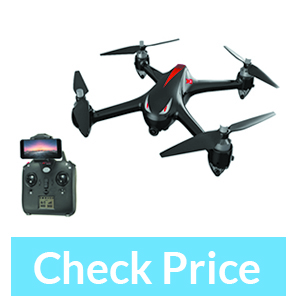 Like many of the other drones on this list, the MJX Bugs 2W has functionality that you would expect from higher-end drones. So, let's see what the MJX Bugs 2W is all about! If you like this drone, you will like the Blade 720 drone, and we have a review on this.
MJX BUGS 2W Features
Let's focus on the camera. This drone comes equipped with a 5MPX sensor that is capable of recording in Full HD. This could be the best camera drone for you! As compared to other drone models, which are overflowing in the market, this is better than the 2MPX entry-level drones. While the image quality is great, be careful of adverse weather conditions when taking your perfect shot. And it comes with different flight modes.
Due to its integrated GPS module, the MJX Bugs 2W is a clever drone, to say the least. This model comes with several handy features that include Altitude Hold, Return To Home and the recording of smooth and cinematic aerial footage.  And no we didn't forget, the controller is good too, with an ergonomic design and responsive controls.
As far as the specifications are concerned, MJX Bugs 2W is not lacking one bit. It offers an operating range up to 1000 meters (actually it is written on its spec sheet but users went slightly over 500m) and provides approximately flight time of up to 20 minutes. You will find it difficult to find these specs in other drones this price. So, that's number one done with, let's get into number 2.
2. UPAIR ONE is a great drone
We were very excited to get our hands on the Upair one, for many reasons. But, before we did, we went onto Amazon to check out the reviews and hear what the general consensus from users was. After we saw a great reaction from the drone owners, we knew that it was time to get our hands on it.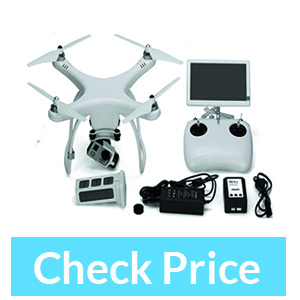 The first thing that stood out to us with this drone was that it is very similar to the high-quality DJI Phantom Models. Of course, the quality levels aren't quite the same, however, the Upair one makes a great alternative for a lower price.
UPAIR ONE Features
As far as specifications are concerned, the UpAir One drone comes with everything you would expect and more. Expect to find a dedicated 2K camera,  first-person view FPV and a built-in 7″ LCD screen. For those out there who are looking for an even sharper image, you can pay an extra $50 and get an upgraded 4K camera flight modes. It all depends on your needs. The drone offers a live feed from the camera which is transmitted straight through 5.8 GHZ frequency, providing you with a top-quality image of the surroundings.
On average, most people who buy this drone are getting usually around 16 minutes of flight time. Its operating or control flight range is around 500 meters. As far as GPS is concerned, UpAir also offers GPS functionality which is a big added bonus. One great thing which is fulfilled by Amazon for UpAir is you can have this drone through prime services + you may easily return to Amazon if you face any unexpected problems that occurred.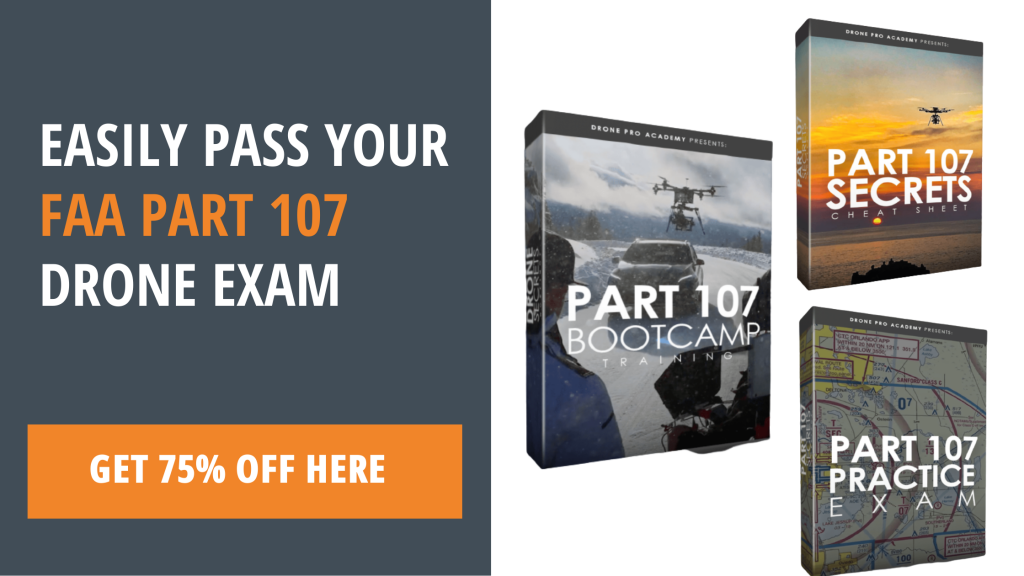 3. HUBSAN H501S has impressive features
There is no doubt that Hubsan offers its consumers quality model for affordable prices. And this first new drone model is the perfect example of that. The Hubsan H501S is an advanced drone with modern features that comes in at a price that is less than $300.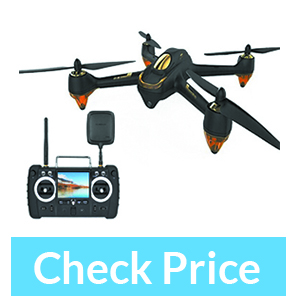 Okay, let's dive into the details and show you everything that the Hubsan H501S has to offer.
Firstly, the Hubsan H501S drone comes with brushless motors which means it provides you with more than enough power to propel the lightweight drone. Due to the quality of these motors, don't expect to be replacing these any time soon.  Moving forward, this drone offers a quality HD 1080p built-in camera with some impressive audio features. It also comes with a dedicated 4.3" LCD screen on the transmitter and also features 5.8GHz FPV – first person view.
Hubsan Features
Here are some of the Hubsan H501S functions that come with it: Automatic Return, Headless Mode, Altitude Hold Mode, GPS and Follow Me. As far as the specifications are concerned, let us have a closer look at what the Hubsan H501S can provide you with. You can expect to have a flight time of up to 16-18 minutes. And its official control flight range that is specifically mentioned in advertisement is 400 meters but sometimes you get around 350m as well.
4. TRAXXAS ATON a premium toy drone
The Traxxas Aton is one of the best drones under $300 and it's easy to fly. The Traxxas brand is known for its RC cars and its USA based company.
This company has got a lot of experience in manufacturing RC toys and many people questioned how successful they were going to be when producing a drone.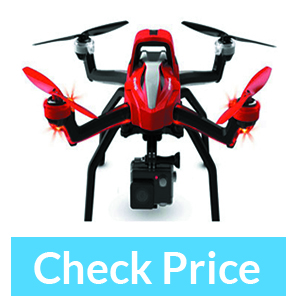 Traxxas Aton is one of their first drones, however, you wouldn't think that. It competes very well against other drones in the market and has sold hundreds of thousands.
Traxxas Aton Features
As a matter of fact, Traxxas Aton has some very impressive flight capabilities that other drones simply do not possess. For example, if we compare the Aton with the Phantom 3, the differences in speed and agility are very minimal. The Traxxas Aton offers two main flying modes that are Film and Sport. In Sport mode, it can get up speeds of 50mph, on the other hand in Film mode it's very smooth and very stable, at slower speeds. But moving forward, the model that is under $300 does not come with a camera in the standard package. But fortunately, you can use your action camera as this drone sports a 2-axis gimbal. Alternatively, you can purchase that separately or also with Traxxas Aton Plus bundle.
One of the best things about the Traxxas Aton is its sturdy and reliable body. This means you can rest assured that if you happen to do some crash landings, the drone should withstand the impact. This model comes with such interesting features such as Air brake, Return to Home and dual GPS. It comes with 3 cell 3000mAh battery which provides with 20 minutes of flight time. So it actually comes with decent battery life. Its operating or software flight range is limited to 160 meters that go up to 500 feet. One of our favourite features is that if you accidentally went out of range, then the drone will automatically return to its first takeoff location.
5. 3DR SOLO DRONE popular option
As most people are talking about its new model, let's make it clear that this drone used to cost more than $800 (in 2016) but now you can have it for less than $300. Because there is news that the 3 DR is about to ready to launch a new drone soon, this drone has started to become discounted, meaning people can pick it up for much lower prices. There is no better time to buy a model like this, especially because it's still an impressive drone. Of course, some people, however, will want to upgrade to the latest version.
Because of the wide array features that it has at its disposal, most people call would refer to this model as a "smart drone". The drone's data is specifically processed without any lag and all this happens through 1GHz processor that comes with this 3DR Solo drone. Moreover, 3DR Solo offers more modern features such as cable camera, orbit and selfie and follow me mode.
3DR Solo Drone Features
Thanks to GPS that comes with the drone, the 3DR Solo features Auto Return to Home in case it gets out of range, similar to the Traxxas Aton. It ranges up to 500 meters, hence 3DR Solo will automatically come back to its takeoff position. As far as its flight time is concerned, it goes up to around between 18 and 22 minutes. 3DR Solo comes with a GoPro (HERO 3+ and 4) gimbal. This model also comes with a transmitter that has an HDMI out port, meaning that you can have a live stream feed from the camera on any device that supports HDMI input e.g. a widescreen TV.
6. FORCE1 F100 Photography Drone
This drone is one of the best options for people who are searching for a model that comes with camera mounts for mounting your desired action cameras. The F100 by Force1 has received lots of praise due to its sturdy build and brushless motors.
The Force F100 drone is going to provide you with a great entry-level aerial photography platform for people who already own an action camera.
As a matter of fact, Force F100 is said to be "cameraless drone". Yes, it is true that this drone does not come with a camera, meaning that you must provide your own. On the other hand, if you are willing to provide your own then you will be happy after coming to know that it comes with a dedicated mount for GoPro and other action camera brands.
Force F100 has 2 different speed modes and tricks and flips but, when it comes to specification, it shines the most!
Force 1 F100 Features
As far as the specifications are concerned, the F100 sports powerful brushless motors. For the users unfamiliar with the drone world, brushless motors provide greater power efficiency and last much longer than brushed ones. In terms of operating range, it goes around 250 meters away from its controller. And you can have fun with its flight time of 10 to 15 minutes.
7. UDI U818 PLUS DRONE
UDI is focusing on rebranding and modifying in its toy-grade industry. Their U818 model has received a lot of great feedback from customers online, however, in this section, we will be looking at the U818 Plus. The U818Plus brings forth some awesome improvements that make this drone stand out compared to other low-end drones. If you want to hear about the specs and features, keep reading below!
UDI Features
The Plus model comes with a 2MPX sensor that can easily record in HD resolution. While some may be looking for a higher quality camera, when you factor in that it costs $150, this drone is a steal. If we could go back a few years, buying a drone of this quality for $150 would be unheard of.
It is normally said that UDI U818Plus is not a smart drone as a whole but it comes with some smart drone features that give it the edge over similarly priced competitors.
In terms of specifications, the flight time duration, for the price, will amaze you. You can get up to 12 minutes of flight time, which is less than MJX Bugs 2W but still admirable. It can fly away from its controller up to 150 meters which should surely satisfy the majority of its potential buyers.
8. MJX BUGS 3 a good cheap drone
At the time of writing this article, the MJX Bugs 3 is the cheapest drone on this chosen list and with a great flight time. The great thing about this drone is it offers the best value for money.
Currently, in the market, the MJX Bugs 3 is the cheapest drone that comes with brushless motors. And believe us, brushless motors show a clear difference in sense of efficiency and great power.
MJX Bugs 3 Features
With the specs in mind; this drone comes with a solid Lipo battery which provides you with 15 minutes of flight time. MJX Bugs 3 provides control range of somewhere around 300 meters. It is important to note that the MJX Bugs 3 does not come with a camera. However, this doesn't mean that your aerial photography dreams have to be squandered. The MJX Bugs 3 sports a camera mount that allows you to mount your own device and record aerial footage at your command!
As far as reliability and durability are concerned, this drone can pack a punch and take one! Especially, considering its price range. If you have a GoPro or any other action cameras, expect to capture stunning footage with a gimbal to support the GoPros or similar cameras.
9. ZEROTECH DOBBY DRONE
Drones boomed into the mainstream market through a variety of channels from Instagram and youtube, to influencer and affiliate marketing. Similar to this, the Zerotech Dobby shot to fame through marketing campaigns. Content creators on YouTube have helped with this a lot by making vlogs or reviews on products like the Zerotech dobby drone. This has helped massively to gain the attention of new audience's and drive sales.
Whatever you have heard about this model, we are going to throw the hype out the window for a second and talk about the facts.
Zerotech Dobby Drone Features
Firstly, let's talk about the hardware. This drone comes with a Qualcomm Snapdragon SOC with 2GB RAM and 2.3GHz Quad-Core Processor. As it comes with autonomous flight features and with that Zerotech Dobby incorporates such dual navigation features like GPS and GLONASS. And yes the Zerotech Dobby even features sophisticated Facial Recognition Software. Moreover, to have great graphics, Zerotech Dobby uses Aderno 330 as its graphics processor and sports a miniature 13MPX camera.
As we are talking about the camera, this model comes with Electronic Image Stabilization and even allows you to record crystal clear 4K camera resolution.
As far as the specifications are concerned, this drone has a flight time of around up to 9 to 10 minutes. Last but not least, its operating flight range goes up to 100 meters, making it a  great drone for selfies. And who doesn't like a selfie?
10. ALTAIR AA108 Drone
Some may consider the Altair AA108 to be a toy-grade drone. But it still makes this list due to its great quality and reliable performance.
As it is made by a new brand in the market, it's impressive that this drone has performed so well sales-wise. From its release date, it has received a lot of popularity in the category of toy-grade drones. In order to have a closer look about this drone, read the following paragraphs!
This drone is somehow suited for beginners, intermediate and expert flyers. It does this by sporting Custom Flight Routes, having 3 flying modes and Altitude Hold. Overall, these features contribute to an amazing flying experience.
Altair AA108 Features
Not only does it come with the features mentioned above but it also has a miniature imaging sensor and a camera capable of recording in 720p. It is clear to say that the Altair AA108 is a great value for money when it comes to the features and camera.
This drone provides standard airtime of around 10-minutes. One more thing which will amaze you is that that the Altair AA108 comes with a pack of extra batteries that will provide you with great fun of around more 20minutes per session. In that time, you can fly your drone in the flight range of 100 meters away from the provided controller.
11. Altair Outlaw SE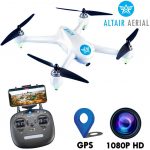 The Outlaw SE by Altair Aerial has some great features for a drone under $300. After testing this drone, we couldn't believe you can buy it for such as low price! And that's why Outlaw SE is one of our favourite cheap drones to buy.
Altair Outlaw Features
This is a top drone for taking good live video footage. And, it's a good photography drone that comes with a 1080p camera. Which is great for travel photos etc.
Is it good for flying? Yes, flying the Outlaw SE is really easy. It has a good GPS integration so you won't have to worry about losing your drone. Also, you'll have better stability in the air and with 1-touch take-off and landing you'll never stress about landing the drone safely.
12. Holy Stone HS720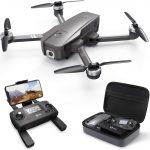 The HS720 from Holy Stone is one of our favourite cheap drones. And if you know the popular HS100, this is an actually better version. If you want t a good drone for live video footage, then this could be your best option. If you looking for a premium video drone, then the Holy Stone might not be the best. However, if you're looking for a beginner video drone, then consider this Holy Stone beast.
Holy Stone Features
The 12MP camera makes it an awesome outdoor drone, and if you like travel photos, then you can produce some epic photos with the Holy Stone HS720. This drone has very good Amazon reviews as well.
Overall, if you're looking for a good live video drone, then check out the Holy Stone HS720.
Flying Your Drones Indoor And Outdoor
Imagination and creativity are vital to get the full drone experience with live video. There's no doubt that all of the drones listed on this list can serve lots of different uses. As the matter of fact, these drones produce best flying trainers and if you are going to have first flying experience (first-time flyer) or you are some kind of beginner then these drones are great to practice with and try drone live video footage. It's always good to start off cheap and then work your way up as your skill level develops.
Casual Flying
After getting a lot of experience on cheaper drones, you will then be safe to invest more in future on the premium models. It's also important to say that each and every single drone mentioned on this list is made to have fun or to casually fly. They offer great responsive control, impressive flips and also provide good stability of flight.
Practice
As we told you before, these drones are suitable to get practice in order to be a master or a champ! They offer a worry-free or tension-free experience and prove to be good for your first steps into piloting.
Aerial Photography
When we talk about aerial videos and photography then the mentioned drones on the list can also do a great job. I would like to quote the example of 3DR Solo, as it provides a dedicated 3-axis gamble and it is much stable to shot some aerial footage that even works seamlessly with GoPro Hero cameras as well. In order to have some closer look, you should need to check their range! And also its battery duration!
IS IT WORTH GETTING A DRONE UNDER $300?
So, to conclude, the drones above all serve their individual purpose and make for great first time flyers. We've established the importance of brush-less motors and you will find that with most of the drones above. They are much durable than brushed motor and also work for much longer! Secondly, all drones are well built that can survive for a long period of time, but it does not mean at all that you fly them in full speed and hit them in the straight-through concrete wall and expect that nothing will happen. So, have fun, fly safely and get improving your skills!
Do you need a license to fly a drone?
The first drone laws were passed in 2020, which allowed the UK to operate drones in accordance with the law. The restrictions that are applicable to use of the machine were made clear at that time. However, it was also noted that the law was never enforced since there was no clear definition of what a drone actually was.
Some years later, a few new laws were introduced and all of them were based on the original UK legislation. These new laws state that the operator of the drone must be at least 18 years of age. It is also illegal to use the machine unless it has permission from the relevant authority. This includes military personnel who are operating it.
**Amazon Services LLC Associates Program**
Interested in Drone Cinematography?