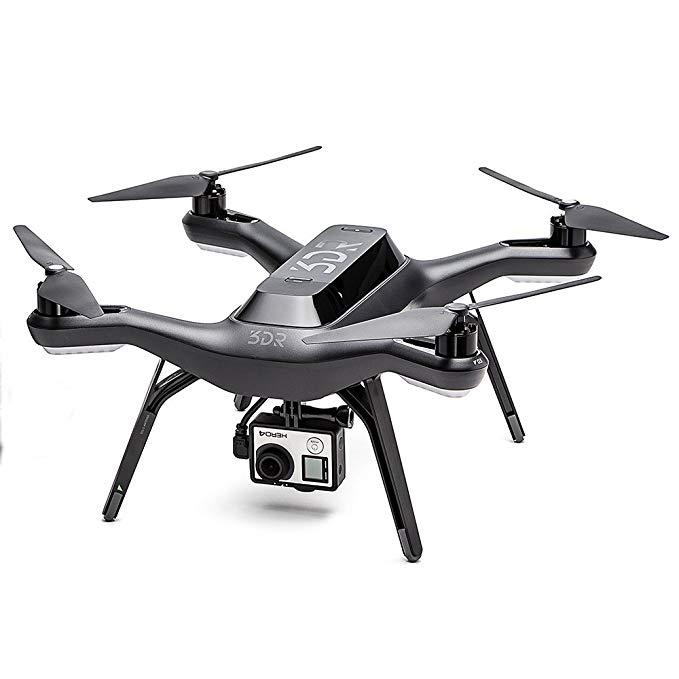 3DR Solo Drone Review: Complete Guide
Drones have become popular lately due to the increasing demand for devices that are capable of shooting and recording high-quality aerial videos and photos. The 3DR Solo Drone is one of the best drones under $300, and is a drone made by 3D Robotics. If you like flying drones and you have a GoPro Camera with you the Solo drone is perfect for you! It is capable of shooting high-quality videos. The 3DR's software is developed with consideration for the new users as well as experts so they will be able to fly the drone with ease. If you want to know more information we suggest that you keep reading this Drone review.
Is the 3dr solo worth it?
Yes, it's totally worth it! It doesn't matter if you're a professional or a newbie. The 3DR Solo gimbal is a drone stabilizer that you will love. The drone comes with many top features, making it totally worth the investment.
How long does the 3dr solo battery last?
With a 5200 mAh capacity, the drone's Smart Battery for Solo Quadcopter from 3D Robotics will let you fly for up to 25 minutes unladen and up to 20 minutes with Solo Gimbal and camera attached.
Which GoPro camera works with 3dr solo?
Obviously you want to use a GoPro camera with the 3dr solo, right. Well, the Solo includes the Solo Gimbal, a 3-axis stabilizer that you can with the GoPro HERO3+ or HERO4 action camera.
3DR Solo Specifications For An Awesome Flight
Still interested in the Solo Drone?
Let's check out the specifications;
Product dimensions: 18 by 18 by 10 inches
Weight: 3.35 pounds
Battery: 1 14.7V 5200 mAh lithium battery (included)
Rotors: 4 (2 blades per rotor), 10 inches in diameter
Battery life: 20-22 minutes
Camera: GoPro camera's 3+ or 4, max resolution is 4K/60 P
Controller: Video game-style controller (included) and can be controlled by a smartphone using an App (Android/iOS)
The 3DR Solo drone is designed with a minimalist look. It is an angular lump of matte black plastic and it is attached with a 5200 mAh battery on the top of its sleek body with the power button right next to it.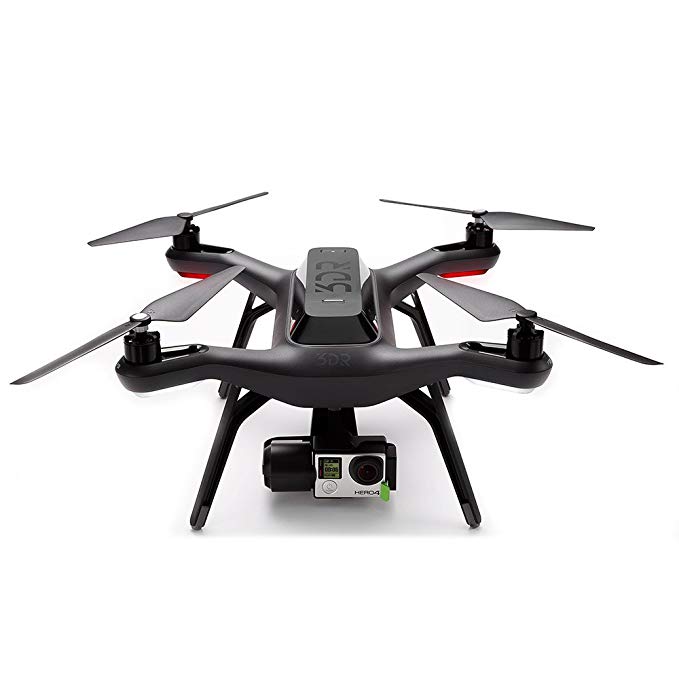 The quadcopter is quite large, measuring just below 19 inches from one tip to another. It is quite heavy when weighed together with the battery, gimbal, and a GoPro camera it will weigh around 3.35 pounds.
The quadcopter is designed with multicoloured LED lights that allow night flying to be manageable and easy. On the underside of the drone, you will find the accessory connector and smaller LED lights that indicate the status of the device when it is starting up.
Solo Drone Special Features
This drone has some awesome features!
Let's look at what to expect with the solo drone;
Two dedicated 1GHz Cortex-A9 Linux computers – One in the controller and one on the drone itself, it is capable of high-level flight scripting and this makes the drone reliable and there is a lower chance of the firmware freeze occurrence which can affect the flying ability of the drone.
Connected using Wi-Fi signal
Smart Shot Feature allows the drone to fly itself while the user focuses on taking videos. Taking great aerial shots or videos is now a few taps away.
It is the first all-in-one drone that offers live streaming of HD videos from your GoPro directly to your smartphone, it also has a built-in HDMI for HD live broadcast.
Solo Gimbal (sold separately) is capable of delivering smooth video footage.
Safety features like pause and safety net allow you to fly the drone with confidence and ease.
It can be easily flown with just a simple pushbutton flight.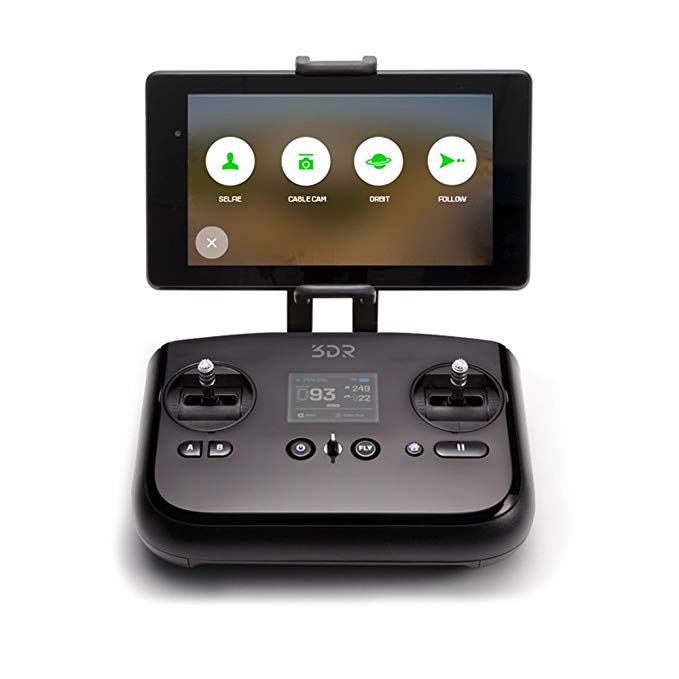 Solo Drone Main Features
Here's a list of the main features you can expect;
Follow Me – Allow users to go hands-free. It will allow you to fly the drone while travelling with your friends or when you are cruising around the lake on a boat. The Solo drone will automatically follow you and this mode will keep the camera centred at a specified subject at all times, capturing great moments is now easy.
Cable Cam – When this feature is used, the Solo is locked on a virtual cable; you can pan and tilt the camera without worrying about the drone. Solo is capable of memorizing shots at each endpoint and it can fly itself from one frame to the other while maintaining stability for the camera to take amazing shots.
Selfie – This feature keeps the subject in the centre of the shot, you can take portrait and landscape modes all at once, and the recorded clips can be saved directly on your smartphone for easy sharing in different social media platforms.
Orbit – This feature allows you to lock your GoPro on any object, so the solo will fly in a circular direction and its radius can be adjusted accordingly. While the drone is flying in either direction, the camera will be locked on the specified subject, you can also adjust the flight altitude and flight speed so you can create different amazing aerial shots all the time.
Gimbal – 3DR Solo Gimbal helps the drone's computers to take stable aerial shots. It is the only gimbal to offer in-flight GoPro controls, charging, and wireless streaming of HD videos from the GoPro camera directly to the smartphone.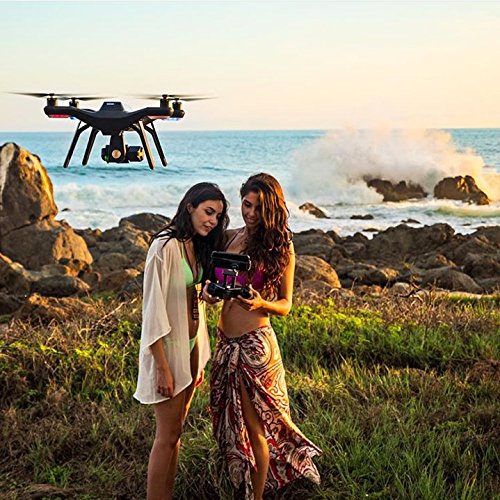 Price of 3DR Solo Drone
User Review
According to Jc:
the 3DR solo drone is an amazing technology! One great thing about the 3DR drone, it has an open-source nature. This drone is a perfect partner in crime of your Go Pro 4.
According to a user named Mark:
I have been enjoying my 3DR Solo since I purchased it last week. I have been able to fly it for a couple of hours and I also have disassembled and tested it properly. At a reasonable price, you can use it side by side with your GoPro 3, 3+ or 4. My experience with the Solo has been great so far. You must also purchase a gimbal that is sold separately, as well as some extra propellers, extra batteries and a neutral density filter kit for your GoPro camera.
What Is The Solo Drone Battery Life?
This Solo drone has a large, heavy 5,200mAh Lithium Polymer battery that latches into the top of the drone with good stability!
You can expect roughly 20-25 minutes of flying time average for this type of drone.
The Solo battery takes easy 60 minutes to charge up. Also, it's difficult to find a third-party provider for the batteries! So, you need to keep researching this one.
Final Thoughts
The 3DR solo drone is recommended for individuals who are looking for a drone that works best with a GoPro4 camera. The drone is well-built with an attractive design. It is easy to fly and can be used by beginners. This drone is perfect for anyone, even beginners because it has a simple control layout which can be learned easily while the skilled users will easily execute the more complex manoeuvres when flying the solo by using the advanced piloting modes. If you are searching for a reliable drone that can help you capture amazing aerial shots using your GoPro 3, 3+, or 4, the 3DR solo drone is worth checking out!
Make sure to check out;