HERE IS THE LIST OF THE BEST DRONES UNDER $200
Drones are great technological devices that are fun and exciting to use. Nowadays, a lot of individuals are using drones to take aerial photos and videos, choosing one from a vast number of options in the market can be quite confusing. If you want to purchase a drone under $200, you came to the right place. In this article, we will share with you the list of best drones under $200. If you are interested, make sure to keep reading below to find out more information!
Potensis D80 GPS
The Potensic D80 GPS drone is a great drone that costs less than $200. It is designed with 4 powerful brushless motors. It has a 600 meters control distance. This drone is not advisable for beginner users. It is recommended for users at the intermediate level. It is quite fast and it can reach up to 40 km/h speed.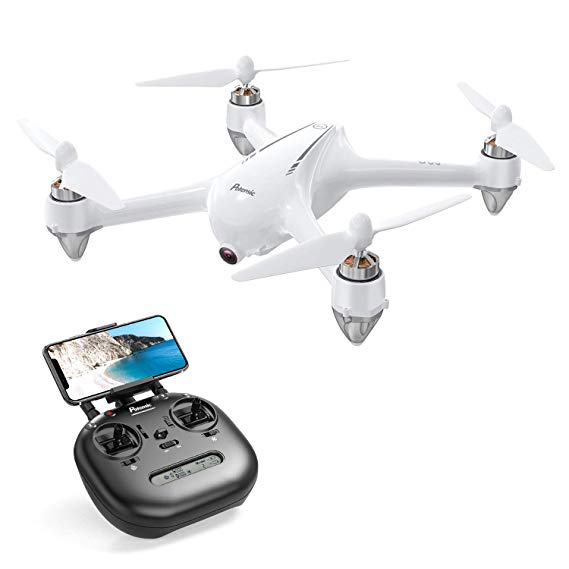 Specifications
The Potensis D80 GPS is powered by a 7.4V 1800 mAhLiPo battery. The flight time can last up to 20 minutes.
The max control range is 500-600 meters and it can fly up to 300 meters distance and stream full HD video footage without any connection issues.
Features
Camera: The Potensis D80 GPS is one of the best drones with a range of below $200 with a full HD camera. It has a built-in 1080P 5G Wi-Fi real-time transmission camera. It captures high-quality photos and videos even when the drone is flying at high speed. You can also pair it with VR goggles. It has a weak signal alarm and low voltage alert. It has 4 powerful 1800 KV brushless motors that can reach up to 40 km/h speed during its flight.
Pros
Brushless motors
Affordable
Great features
Accurate GPS Module
Cons
Not advisable for beginners
Does not come with prop guards
Altair Aerial АА108
The Altair Aerial AA108 has a similar design with the Parrot Bebop. If you want a cheap alternative to the popular Bebop drone from Parrot, this drone is worth checking out. It has a built-in 720p 120 degrees wide-angle camera. You can fly the Altair AA108 both indoors or outdoors. It has 3-speed modes to choose from.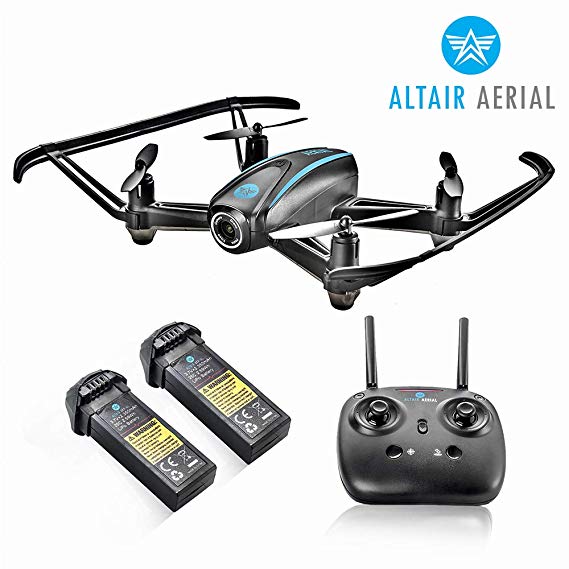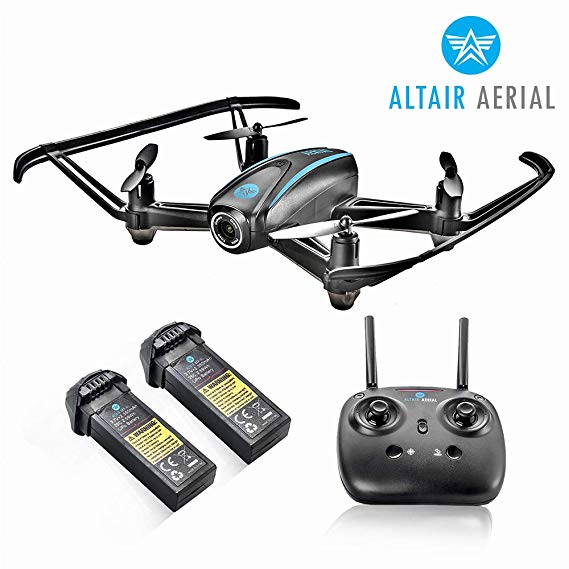 Specifications
Flight time is approximately 7 minutes.
Powered by a 3.7V 1S LiPo battery (included)
The control distance is 100 meters.
Features
Camera: The Aerial AA108 drone has an amazing camera. It is designed with a 720p HD camera with 120 degrees wide-angle lens. If you want an affordable drone that costs less than $200 and capable of taking high-quality images and videos, the AA108 is worth checking out. The live stream video is also great even though it has a short range of 50 meters.
The Altair Aerial AA108 has many cool features such as Altitude Hold, Custom flight route, Headless Mode, One-key Takeoff and landing, Out of range and low battery alarm, Return to Home, and VR compatibility.
Pros
Custom flight route – Allows the users to draw a flight path on their smartphone
Easy to use
Great camera quality
Live Video
Affordable
Cons
Limited flight time (approximately 7 minutes)
Snaptain SP510
The Snaptain SP510 is a foldable and compact drone. It is recommended for individuals who are always traveling. It has a durable build and comes with great features.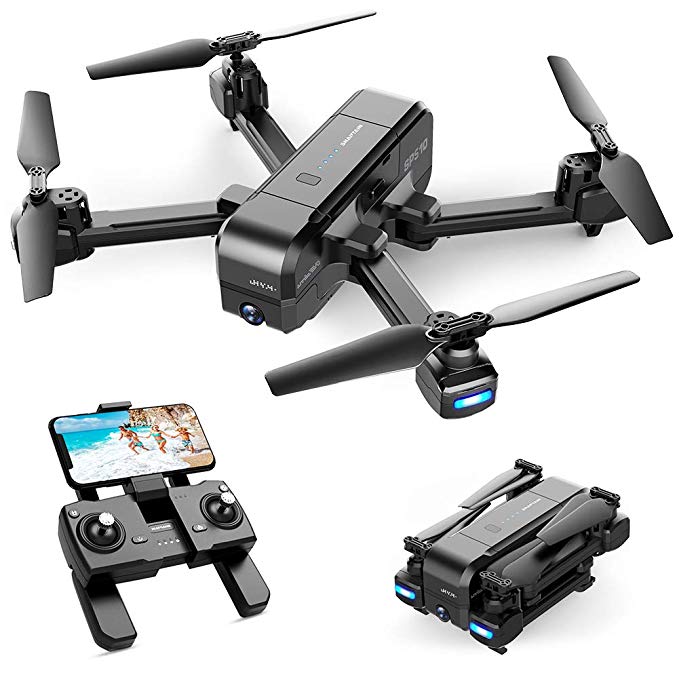 Specifications
It has a high-quality modular battery that lasts approximately 16 minutes of flight time. The charging time of the battery is 3 hours to fully charge it. You can also purchase an extra battery so you can enjoy long and exciting drone flights.
The controller range is 500 meters. It has a GPS module which makes it easy for beginners to fly the drone. The return home feature allows the drone to go back to its takeoff position when the battery is low or when it accidentally flies out of range.
New users or beginner drone pilots will benefit by using the one key takeoff/landing to fly the drone with ease. It also has other smart flight features such as Waypoints, Point of Interest, Follow Me mode, and Intelligent Geofence that helps improves the user's drone flight experience.
Features
Camera: The Snaptain SP510 drone is equipped with a 2.7K resolution HD camera. It is capable of capturing high-quality videos and photos. The camera has a 110 degrees field of view that can be adjusted through a 90-degrees angle. This allows users to take awesome shots and customize the viewing angles accordingly.
The Snaptain SP510 has a 6-axis gyroscope stabilizer for stable recordings and avoid distorted or shaky shots on moderate wind conditions. It is also compatible with 5G Wi-Fi, you can connect the smartphone through the Wi-Fi signal and share real-time footage videos of the drone during its flight.
Pros
User-friendly
1080p HD Camera
GPS Module for easy flight
Follow Flight Mode
15 minutes of flight time
Cons
First Person View Mode requires a smartphone/tablet
Parrot Mambo FPV
The Mambo FPV drone is manufactured by the company Parrot. This package includes Parrot Cockpit glasses to make your drone flying an amazing experience. This drone is recommended for expert users. It is quite fast and acrobatic; it will require an intermediate level to control it properly. It is a nice racing drone and quite affordable.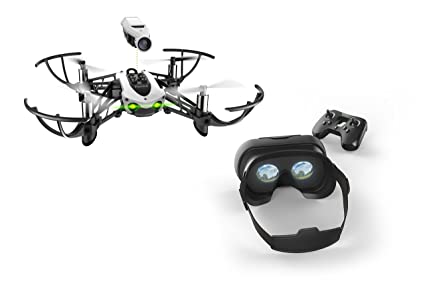 Specifications
The Mambo FPV is controlled by a 2.4 GHz remote controller or a smartphone with an app. It has a control distance of 100 meters. The Bluetooth app has a range of 20 meters. Its flight time lasts approximately up to 10 minutes.
Features
Camera:The Parrot Mambo has a 0.3-megapixel camera, although it has a low resolution it is capable of providing decent video footage when streaming live video straight to the FPV Goggles. The camera can transmit lag-free FPV video and it can be streamed directly on your smartphone or the FPV Goggles.
Aside from the FPV Goggles, the Parrot Mambo is packed with great features. It has a remote-controlled gun that can fire up to 6 airsoft pellets. It also has a claw that can be controlled to carry and drop payloads.
The Parrot Mambo has 3 flight modes: easy, drift, racing. It also has an optical position hold system with acoustic sonar altitude hold.
Pros
FPV package (includes FPV Goggles)
Live Video
3 Flight Modes
Cool Features: Claw and remote-controlled gun with airsoft pellets
Affordable
Cons
Limited Bluetooth range (20 meters only)
Captured photos are overexposed when taken in bright daylight
DJI Tello
DJI released a great beginner drone, the Tello. It is designed with a 5-megapixel camera and its maximum flight time is approximately 13 minutes. The flight range is around 100 meters, which is quite limited but you can compromise if you prefer an economical drone like the DJI Tello.
The Tellocan be controlled using your smartphone; you can fly it anytime or anywhere. For beginner users, they can record high-quality videos using the feature EZ Shots and share them easily on social media using your smartphone.
The controller is customized for UAV flights. The control handle allows you to use your smartphone as an unmanned aerial vehicle controller. It has convenient controls so you can fly your Tello drone with ease.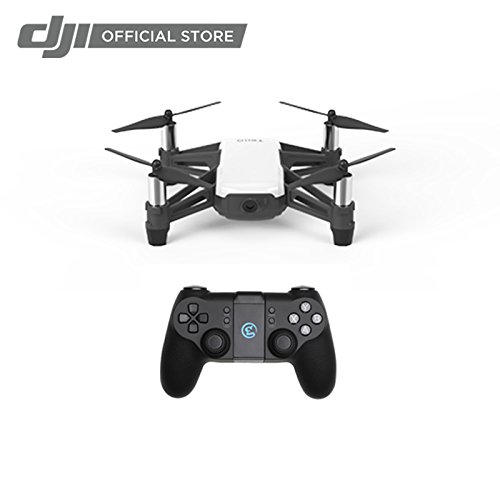 Specifications
The DJI Tello has a flight range of 100 meters. Its battery is 3.8V 1100 mAh. Its weight is 80 grams. Its size is3.86 by 3.64 by 1.61 inches.
Features
Camera: The Tello drone has a 5 Megapixel camera with an 82.6-degree field of view that shoots 720p video at 30 fps.
Digital image stabilization is one of the features that improve the footage quality and prevents shaky and blur shots.
The Tello drone has a cool feature called EZ shots, which allows shooting accurate videos and photos.
It can stream to a smartphone or tablet or VR headset.
Pros
Decent Camera 5-Megapixel
Easy to fly
Easy to assemble
Great specifications
Flight time of 13 minutes
Cons
Limited range – 100 meters control range
Interested in Drone Cinematography?