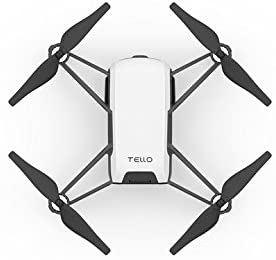 The DJI Tello is a drone that resulted from the collaboration of three companies Ryze Robotics, DJI, and Intel Corporation. It is a small and lightweight drone. Ryze engineered the drone while Intel Corporation and DJI worked on the flight control system and processor.
If you are searching for an affordable drone with great features, the DJI Tello is worth checking out. It comes with a 720p camera, range finder, and a barometer. It also comes with the Scratch programming language that allows you to create software applications for the drone by using the Tello SDK. It comes with a bunch of accessories such as 4 extra propellers, 1 propeller remover tool, battery, a quick start guide. If you are wondering if the DJI Tello is the perfect drone for you and you want to know more information, make sure to keep reading below to find out.
DJI Tello Specifications
Here's a list of the DJI Tello drone's specifications.
Size: 3.86 by 3.64 by 1.61 inches

Weight: 80 grams including battery

Battery: 3.8V 1100mAh two-cell battery

Range: 100 meters

Camera: 5 Megapixels

Video: 720p Resolution at 30 frames per second with EIS

Field of view: 82.6 degrees

Maximum Flight time: Around 13 minutes

Maximum Top speed: 30 km per hour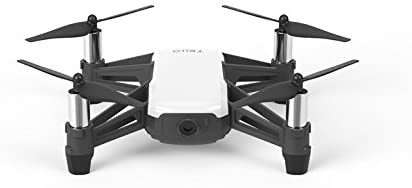 Drone Design and Features
Design
The DJI Tello drone is slightly smaller than the DJI Spark. The Tello is a budget drone; it has brushed motors – which are less durable and efficient than those drones with brushless motors. It has a plastic body and its propellers are designed to thrust and make less noise. The drone's body is compact and durable, it can withstand a few bumps and low-impact crashes. The DJI Tello uses 2.4 GHz. It can be operated by your iOS or Android smartphone or tablet and it can be controlled with a Wi-Fi-enabled remote controller. Users can use their tablet or smartphone for live viewing as well.
The drone is capable of operating range around 100 meters. Its maximum altitude is capped at 10 meters. DJI Tello does not auto return to its original position but it auto lands. It also uses two antennas that offer the best connection possible. It does not have a GPS module. It only uses optical sensors found on the button of its fuselage and it is used for hovering and positioning. The DJI Tello uses the same processor found on the DJI Mavic Air and Spark, so it is capable of responding to hand gestures.
Camera
The DJI Tello is not the drone for you if you are searching for drones with high-quality cinematography or photography. It does not have a mechanical gimbal that offers stabilization. The camera uses digital image stabilization and when the drone is exposed to a gust of strong winds, it will be noticed in the video recording.
It has a 5-megapixel camera and it can record 720p HD resolution. Video recording can be a bit laggy and the photograph quality is decent. The drone records straight on the smartphone's storage and not on the SD card. Latency is visible when the drone is flying and it is quite visible when viewing the video recording.
Battery
The DJI Tello has a 3.8 V, 1100 mAh two-cell battery that can offer a maximum flying time about 12-13 minutes. If you want longer drone flight sessions, you can get a charging station and an extra battery.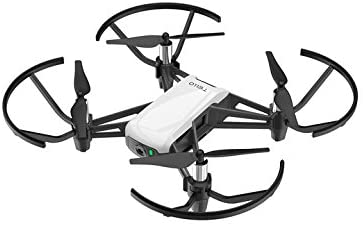 Drone Special Features
Bounce Mode – This feature allows the Tello drone to bounce up and down from your hand or other surfaces within the range of 1.6 to 3.9 feet.

One-Touch Takeoff and Landing – This feature is quite helpful for new beginners. You can easily start your drone with just a single tap Lift off and Auto land. This feature makes the drone easy to use and new users can fly it with ease.

Pressure Sensor Altitude Hold – Altitude hold is a useful feature when the user needs to focus on other aspects such as recording aerial videos or photos. This feature is useful for new users so they can easily operate the drone. The pressure sensor of the drone will help calculate the altitude while the drone is flying.

Throw and Go – This feature is a fun way to fly your drone. Just simply throw the drone gently in the air. You must throw the drone in the air within the first 5 seconds its propellers start operating.

Tricks – 8D Flips – This feature can be done by simply swiping the controller. You can safely flip the drone in any of 8 directions.

Vision positioning system – This allows the user to hover their drone on a chosen target or subject.
The drone will alert the user when the battery becomes too low and you can take action to prevent an accident. This low battery protection feature is great and will help prevent any accident when the battery becomes extremely low. The failsafe protection will allow the drone to land safely when the connection is suddenly cut off or lost.
What does the package include?
1 DJI Tello drone (the propellers and prop guards are installed)

4 spare propellers

1 propeller removal tool

1 3.8V 1100mAh two-cell battery

Tello start guide
Price of DJI Tello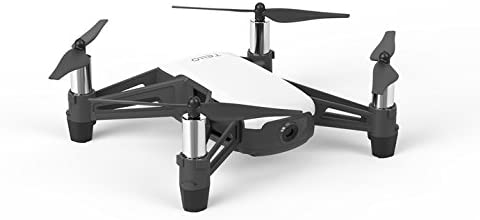 Check the current price of the DJI Tello drone
User Reviews
According to Edward, the DJITello is an indoor drone as it cannot fly in strong wind conditions. It is easy to use and it functions well. It has optical stabilization and can be programmed thanks to the Scratch programming language. It works best with the remote controller although it is compatible with smartphones or tablets. The app has virtual joysticks but it is better to fly your drone with real remote controller sticks.
According to Howard, the DJI Tello drone is an affordable beginner drone. It has a 5-megapixel camera capable of recording 720p resolution videos. It is easy to fly and has a durable plastic body capable of receiving a few beatings from low-impact crashes. It works with a smartphone or tablet but using the remote controller is so much better. You can do tricks like 8D Flips. My small son is having a lot of fun flying the Tello drone in our backyard. Be careful though, it is not advisable to use outside during windy days.
Final thoughts
The DJI Tello is affordable and easy to use; it is a great beginner drone. It comes with cool features such as Throw and Go, One-touch takeoff and landing, and pressure sensor altitude hold. It is an indoor drone because it is not advisable to fly during strong wind conditions. It comes with a 720p resolution camera with 5 Megapixels. It works with smartphones or tablets and it also works with a Wi-Fi-enabled remote controller.
It is programmable with the Scratch programming language. It does not have a micro SD slot or internal storage. The photos and videos are recorded on the smartphone's storage. It comes with an 1100 mAh two-cell battery that can give you a maximum flying time around 12-13 minutes. If you want longer flying time, we recommend you to buy a charging station and an extra battery.
You May Like;