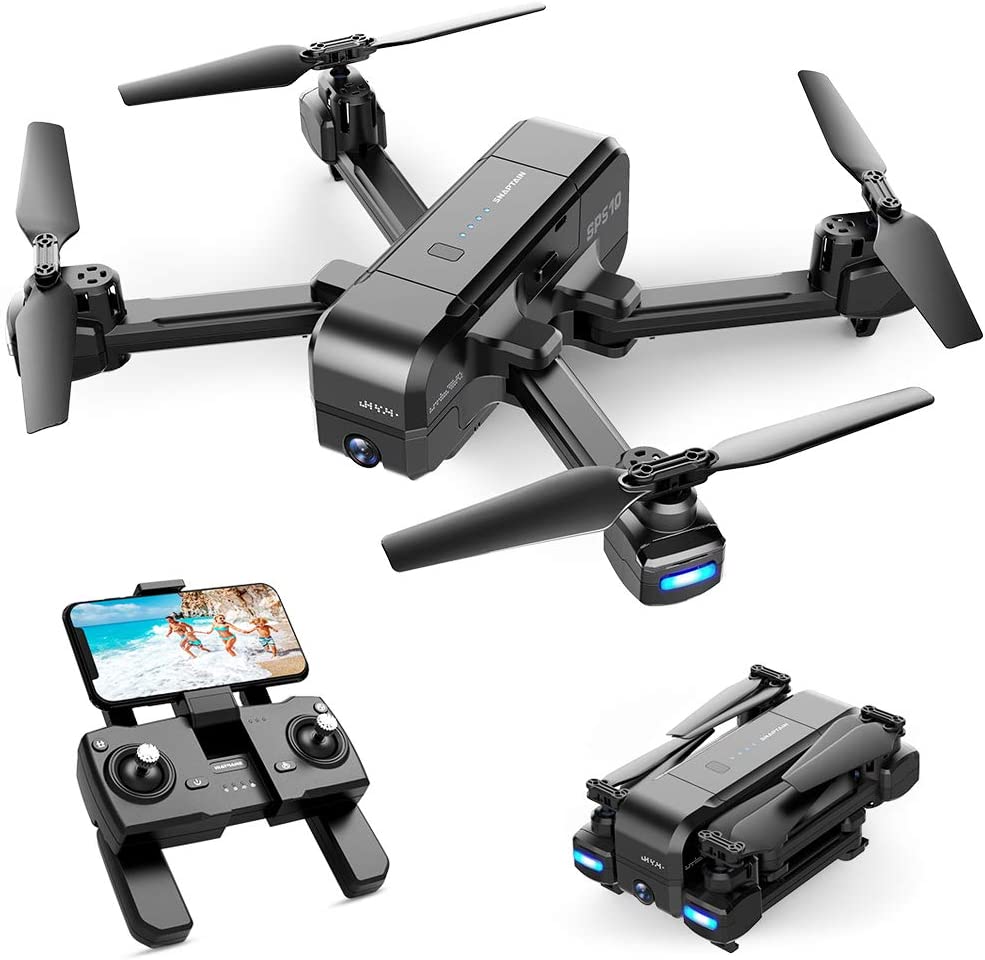 Snaptain SP510 Review: 2020
If you are in the market for a beginner drone under $200 with a great camera? Then, you must check out the Snaptain SP510 drone.
It comes with a 2.7k resolution camera. It is capable of capturing aerial videos and photos in Ultra HD quality. It also comes with a GPS module with excellent performance. If you are searching for a camera drone for personal and family use, the Snaptain Sp510 is work checking out. If you are wondering if this drone is perfect for your needs, make sure to keep reading below to find out more information. 
Snaptain SP510 Specifications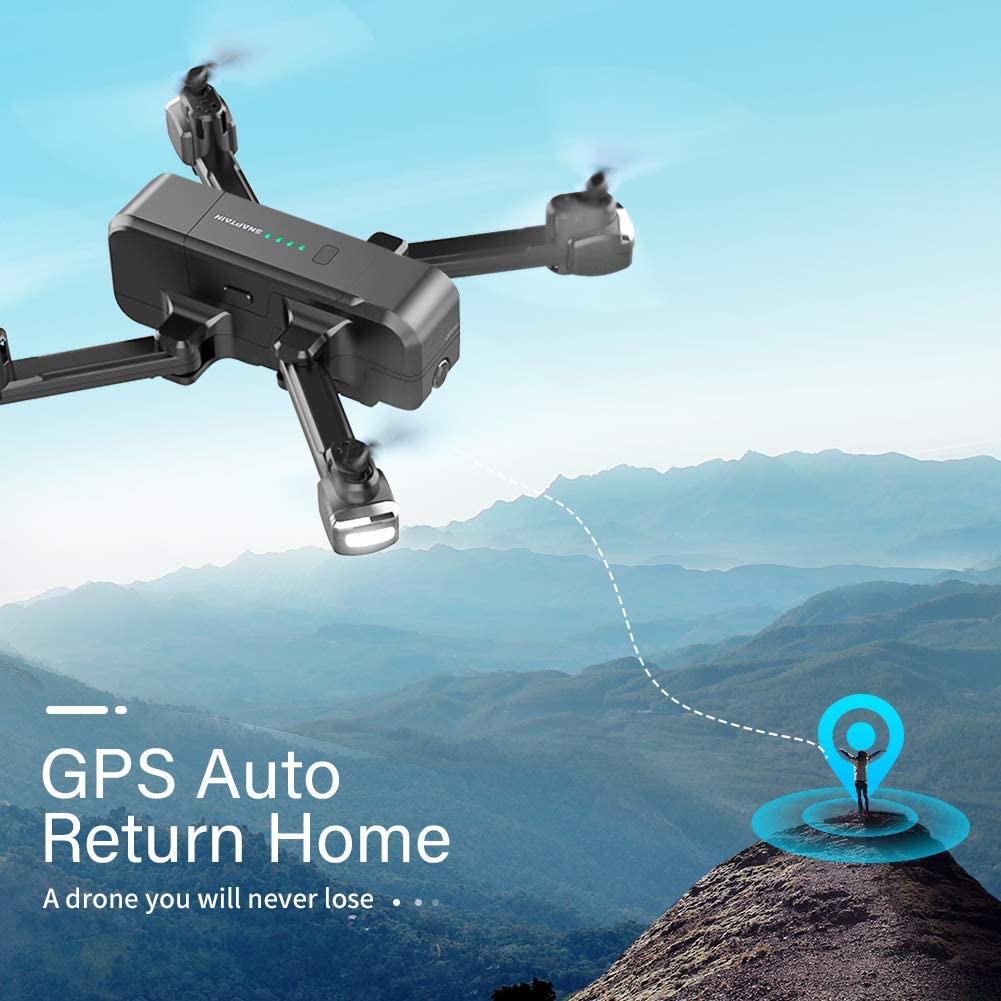 Here's a list of the Snaptain drone's specifications.
Product Dimensions: 13.8 by 12.4 by 2.4 inches

Item Weight: 9.6 ounces

Camera: 2.7K resolution, 12 Megapixels

Intelligent Flight Modes

GPS Module

Automatic Low Battery Return Home

Maximum Flying Time: 16 Minutes

Maximum FPV Transmission Distance – 1000 feet

Maximum Remote Control Distance – 1600 feet

Charging Time: Approximately 3 hours

Battery: 1500 mAh modular battery

Remote controller: 2.4GHz 
Drone Design and Feature
The Snaptain Sp510 drone looks great. It is boxy and square which gives it a unique look and appearance. It is a foldable drone that makes it easy to transport – a perfect thing for individuals who are always on the go and traveling to different places. There is no need for you to remove the propellers or other parts of the drone. You can just quickly unfold it and launch it in the air. 
The Snaptain Sp510 drone measures 5.7 by 3.5 by 2.4 inches when folded. When unfolded it measures 13.8 by 12.4 by 3.4 inches. It weighs around 273 grams, a lightweight drone that makes it easy to pack for traveling. The drone's body is made from durable high-quality ABS plastic which makes it sturdy and durable even when it experiences any crash or accident. It is equipped with brushed motors, it should have used brushless motors to consume less power, produce less noise, and fly longer. 
Camera – 2.7K HD Motorized Camera capable of 1000 feet FPV Transmission distance. It can capture aerial videos and photos with great clarity and vivid details. It is adjustable up to 90 degrees angle. It allows the user to adjust their focus to get better FPV transmission. 

Remote Controller – Comes with 2.4GHz remote controller. It has a rechargeable built-in battery. It has a compact and solid design. It has a smartphone holder and extendable arms so you can hold it with ease. The button and joysticks are responsive. 

SD Card – It is compatible with SD cards and it supports up to 128 GB SD card. The footage recorded and saved on the SD card has higher quality. 

Battery – The drone's battery is unique. It is installed on top of the drone and it can be easily removed to charge it. It has 1500 mAh capacity and it can last up to 16 minutes flying time. The charging time is almost 3 hours. It is advisable to get a spare battery so you can enjoy longer drone flights. 
Special Features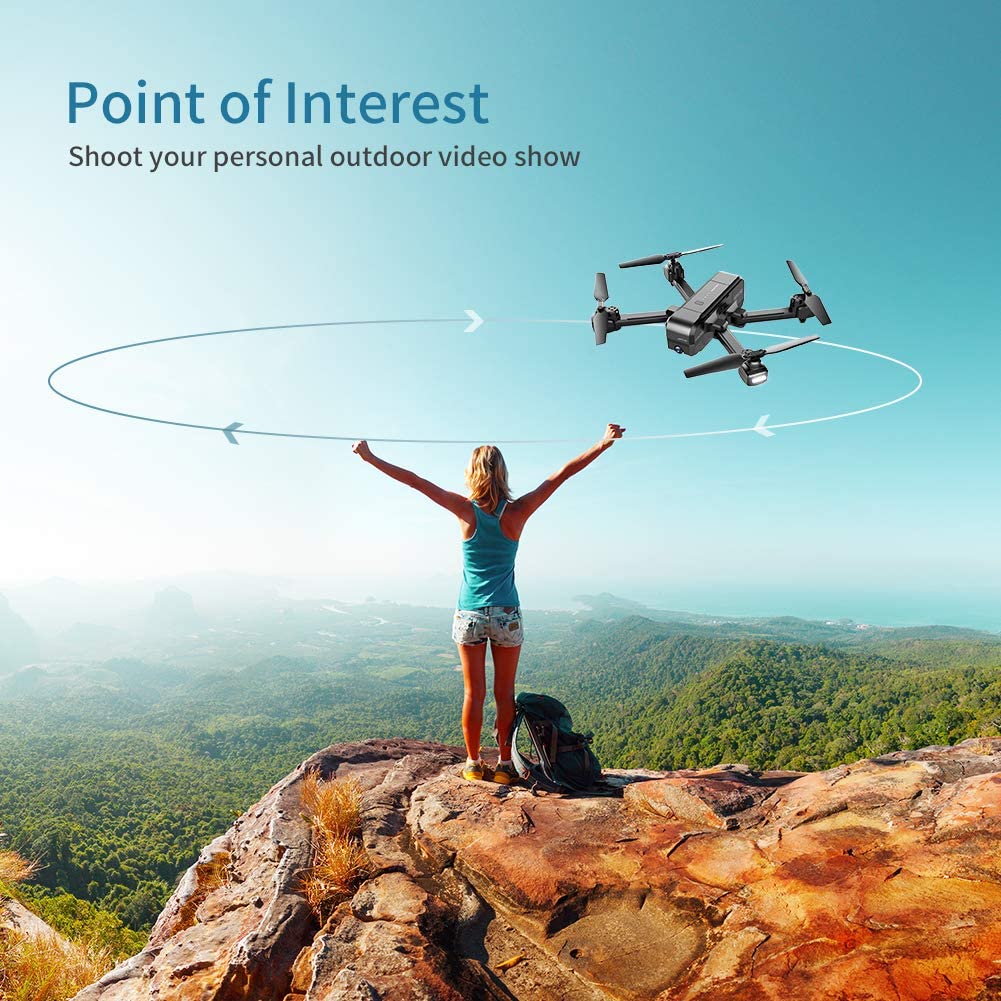 Follow Me – This feature uses the GPS module. When this feature is activated, the drone will follow the user. It is a useful feature for times when you cannot use both of your hands such as biking or riding in a car. You can easily take photos and videos hands-free. 
GPS-Assist – This feature uses the GPS module. It allows the drone to remember the home point or the location where it was launched from. This feature also enables the auto return home function. When the battery is low or when the drone loses contact from the controller, it will automatically turn back and come home. The drone also gives important flight data – the height, flight distance, and speed. 
Headless mode – This feature allows the drone to realign itself to face the right direction in regards to the position of the user. It is a helpful feature for beginner users. 
One key takeoff and landing – With just a single touch of a button you can fly or land your drone. Just press the button to launch your drone and it will take off and hover at a specific height while waiting for your next move.
Point of Interest – This feature allows the user to designate a point of interest and once the drone is launched, it will fly around it. You can choose a beautiful location so the drone can capture good videos and images during its flight. You can also record amazing aerial videos and photos from all angles. 
Smart geofence – This feature allows the user to set a range limit where the drone is allowed to fly. It is quite helpful for beginner users as it can prevent the drone from flying away. 
WayPoint Mode – This feature allows the user to choose a spot or location where the drone will fly. When the drone is launched, it will follow the route and it can fly autonomously allowing the user to fly it hands-free
Price of Snaptain SP510
Check the current price of Snaptain SP510 on Amazon.
Flight Performance
The drone flies very well for the low price! It holds up and maintains a steady altitude when in have it in hover mode. Also, it's easy to control which is why it's a great beginner drone.
There's three-speed modes to choose from and it moves fast. You can expect a 400 – 500-metre flight distance.
User Reviews
According to John, this is the second drone I purchased from Amazon. It looks great, comes with great packaging, parts, and instruction manual. It is easy to fly and has a user-friendly remote controller. It has GPS, return to home and follow me mode features. The video and photos captured by the drone are quite clear. I just wish it comes with brushless motors. 
According to Geoff, the Snaptain Sp510 is a great and affordable drone. It comes with a working GPS module and 2.7K adjustable camera that can capture amazing aerial videos and photos. It comes with smart fly modes! I highly recommend to anyone who is searching for a level-entry drone with an Ultra HD camera and great features such as headless mode, follow me, and smart geofence.
Final thoughts
If you are searching for an affordable drone with a great camera, you must check out the Snaptain Sp510 drone. It is well-built with a high-quality and durable ABS plastic body. It comes with a 2.7K resolution camera that is capable of capturing great aerial photos and videos. Beginner users will find this drone quite useful because it comes with great features such as Smart geofence and Headless mode.
It has a working GPS module that works great with a return to home feature when the drone's battery becomes low or when it loses signal from the remote controller. We highly recommend for you to get an extra battery if you want to enjoy longer drone flights. Its battery has a capacity of 1500 mAh and it lasts approximately 16 minutes and takes around 3 hours to charge. 
You May Like;