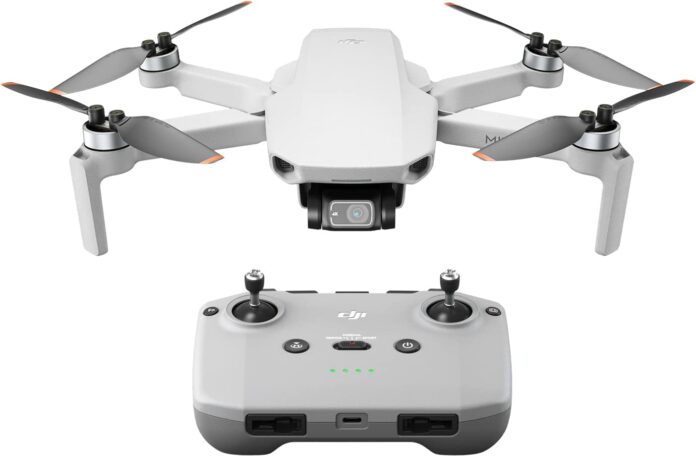 Hey there, drone enthusiasts! Are you looking for a new addition to your collection? Look no further than the DJI Mini 2. This compact drone packs a punch with its impressive features and capabilities.
In this review, we'll dive into the design and build quality of the DJI Mini 2, as well as its camera and video capabilities. We'll also take a closer look at the flight performance and stability of this drone, and explore the remote control and app features.
But that's not all – we'll also cover battery life and charging options, and compare the DJI Mini 2 to other drones in its class. And of course, we'll give you the lowdown on the pros and cons of the DJI Mini 2 for different types of users.
So sit back, relax, and get ready to learn all about the DJI Mini 2. Whether you're a seasoned drone pilot or a newbie, this review will give you all the information you need to decide if the DJI Mini 2 is the right drone for you.
1. Introduction To The DJI Mini 2 And Its Features
The DJI Mini 2 is an entry-level drone that is perfect for beginners who want to explore the world of aerial photography and videography. It is a rebrand of the Mavic Mini, which was already popular due to its compact size and portability.
The DJI Mini 2 boasts some impressive features for its price range. It has a 1/2.3″ CMOS image sensor and a 24mm equivalent lens with an F2.8 aperture, which allows you to capture high-quality images and videos even in low light conditions. You can shoot up to 4K resolution at 30 frames per second and take still images of up to 12 megapixels.
Additionally, it has five QuickShot modes that allow you to create cinematic footage with just a few taps on your smartphone screen. With OcuSync 2.0 transmission technology, you can fly the drone up to distances of six miles away while maintaining clear video transmission.
One downside is that it doesn't have obstacle detection, so users should fly with caution when near any obstacles like trees or buildings.
Overall, the DJI Mini 2 is lightweight and portable at only 249 grams, making it easy to carry around on adventures everywhere you go!
2. Design And Build Quality Of The DJI Mini 2
The DJI Mini 2 is a compact and lightweight drone that is easy to carry around. Weighing in at just under 249g, it can fit in the palm of your hand, making it ideal for travel and on-the-go shooting. Despite its small size, the Mini 2 has a sturdy build quality that feels robust and well-made.
The new antenna-free controller design is a standout feature, making it easier to transport without worrying about antennas getting in the way. The charging port with USB-C connectivity allows for faster charging times compared to its predecessor.
The addition of real vents at the front for cooling helps keep the drone running smoothly during flights. However, one drawback is that there are no obstacle avoidance features on this model.
Overall, the DJI Mini 2 SE offers strong build quality than the original Mini and reuses old tech for budget-friendly version yet doesn't compromise on functionality or image quality. While it does not have automated flight modes, The higher price to upgrade to this model from previous versions of mini drones by DJI comes with significant improvements like a 4K camera with shiny trim and changing light indicator above it which makes buying this model worth considering when choosing among DJI's mini drones offering with an assurance that "this drone grows with you" until you outgrow its features which will most likely take years depending how soon subsequent version will be launched by Dji
3. Camera And Video Capabilities Of The DJI Mini 2
If you're in the market for a small, portable drone that offers impressive camera and video capabilities, look no further than the DJI Mini 2. This drone packs a punch with its 1/2.3″ CMOS image sensor and 24mm equivalent lens, providing a wide 84º field of view and an F2.8 fixed aperture. Plus, with 12MP photo resolution offered in both JPEG and RAW images, you can capture stunning aerial shots from high above.
But the DJI Mini 2's capabilities don't stop there – it also records crisp 4K/30p and 1080/60p video at a bit rate of 100 Mbps. And with up to a 4X (2X lossless) zoom available, you can take your videos to the next level by capturing close-up shots from high above. Plus, thanks to an improved sensor for higher video resolution, your footage will look better than ever.
One thing that sets the DJI Mini 2 apart from other drones on the market is its electronic shutter offering speeds ranging from 4-1/8000 sec., giving you ultimate control over your photos and videos. And with its ability to handle ISO settings between 100-3200, you'll be able to take crisp shots in any lighting condition.
Overall, whether you're a hobbyist or professional photographer/videographer looking for a reliable mini drone that offers top-notch camera and video capabilities while still remaining portable for on-the-go use, the DJI Mini 2 definitely fits the bill.
4. Flight Performance And Stability Of The DJI Mini 2
The DJI Mini 2 is a powerful drone that offers impressive flight performance and stability. It features upgraded motors that are both more powerful and power-efficient, providing a longer battery life of 31 minutes compared to the previous Mavic Mini's 30 minutes. At around 30mph (48kph) flight speed, the Mini 2 is quick and responsive.
One of the most notable improvements in the Mini 2 is its ability to withstand wind better than its predecessor. With level 5 wind resistance, it can handle winds up to 22mps, which makes it more reliable even in turbulent conditions. The drone's agility and responsiveness make it ideal for capturing shots on the go while maintaining remarkable stability due to its lightweight build.
The DJI Mini 2 comes with three different flight modes: Normal, Sports, and Cine. In Sports mode, it has a maximum speed of up to an impressive 57kph. This means that pilots can fly faster while retaining excellent stability when necessary.
In conclusion, with advanced technology features such as enhanced motor performance for longer battery life and better wind resistance capability combined with top-of-the-line motion control performance for a lightweight drone-sized model such as DJI mini2 during flights help you achieve outstanding images without any lag or drop-offs during your shooting sessions in various weather conditions.
5. Remote Control And App Features Of The DJI Mini 2
The DJI Mini 2, one of the best drones for casual flying and beginner pilots, comes with the DJI RC-N1 remote as part of its basic package. Unlike many other models, this control does not have an app or a screen built in.
Unfortunately, those who own a Mini 2 SE will need to use a different remote since it's not compatible with the DJI RC-N1. To finish setting up and fly using this particular controller, users must pair it with their smartphone's free DJI Fly app.
With all that said, the DJI Mini 2 drone offers some impressive features despite its simple-looking remote control. Its flight performance is unmatched thanks to its light weight and powerful motor that enables it to fly smoothly for up to 31 minutes at up to 45 mph speed.
Overall, even though there is no built-in screen or app in the DJI Remote Control N1 for Mini 2 owners will find using their phone still makes flying quick and easy. This small drone can take incredible pictures and videos even if controlled by one hand on your mobile device – making it an excellent choice for beginners looking for a good bang-for-the-buck model without too much gadgetry involved.
6. Battery Life And Charging Options For The DJI Mini 2
One of the best things about the DJI Mini 2 is its battery life which lasts up to an impressive 31 minutes. To maximize the life expectancy of the LiPo Battery, it is recommended that you use it between 50% and 80% charge levels. Charging it fully all the time can ruin individual cells in your battery.
If you need more power on-the-go, it's good to know that DJI has made charging incredibly easy. The Intelligent Flight Battery can be charged with a compatible portable battery bank. Additionally, there is a Two-Way Charging Hub that charges up to three batteries in sequence and can also act as a power bank for other devices.
It's important to note that at this time, there is no obstacle detection for the DJI Mini 2 model. However, DJI is working on a firmware update for both the drone and its battery system to initiate auto-discharge capability.
Overall, if you are looking for a drone with impressive flight time and easy charging options while taking into consideration preserving your batterys lifespan then look no further than the DJI Mini 2!
7. Comparison To Other Drones In Its Class
The DJI Mini 2 is a game-changer in the world of small drones. With its 31-minute flight time and 4K video capabilities, it outshines many other drones in its class. Unlike the first-generation Mavic Mini, which has a slightly higher-capacity battery pack but shorter flight time, the Mini 2's long-lasting battery allows longer periods of uninterrupted filming.
One of the closest competitors to the DJI Mini 2 is the Ruko F11. While it boasts a 30-minute flight time and a 4K camera, its range is significantly lower at only 1.2 km. In contrast, the DJI Mini 2 can fly up to an incredible distance of 10 km, making it ideal for videographers who need more range.
The FIMI X8 MINI and MINI 2 both have comparable battery life to that of the Mini; however, they lack some features such as one-tap QuickShots and Enhanced Photo that come with DJI's drone. Additionally, while they are great alternatives for those who seek good image quality on a budget price point or lighter-weight portrait-style designs compared to others in their class; users should expect less advanced hardware when compared to other accompanying parts' capability.
Overall, if you're looking for a compact drone with excellent image quality and long battery life that can shoot at greater distances than most others in its class–the DJI Mini 2 is definitely worth considering over others mentioned here!
8. Pros And Cons Of The DJI Mini 2 For Different Types Of Users
The DJI Mini 2 is a popular drone choice for both beginners and experienced drone enthusiasts. It boasts some great pros and a few cons that are worth considering before purchasing.
One of the biggest pros of this drone is its portability. Weighing in at only 249 grams, it's easy to carry around and doesn't require FAA registration in the US. Additionally, it's incredibly easy to use, making it an ideal option for beginners who want to capture aerial footage without too much hassle. The 4K camera with excellent stabilization and RAW shooting capabilities make it a great choice for both outdoor footage and still shots. The battery life is also pretty good, offering around 90 minutes of flight time with the included batteries.
However, there are some cons to consider as well. The lack of obstacle detection sensors can make flying potentially hazardous, especially in crowded areas or tight spaces. Some features like Hyper Lapse or Active Track are also not available on this model; however, you can still get excellent motion tracking if you plan your shots accordingly.
In conclusion, the DJI Mini 2 is an excellent drone that offers incredible versatility for professional photographers looking for an easy-to-use yet powerful drone or hobbyists simply wanting to capture stunning aerial footage wherever they go. While there may be some limitations like motion tracking or obstacle detection when compared to other drones on the market today (like Mavic Air 2), those shortcomings do not outweigh its many benefits if you're looking for an affordable all-around drone that can handle most any situation thrown at it!