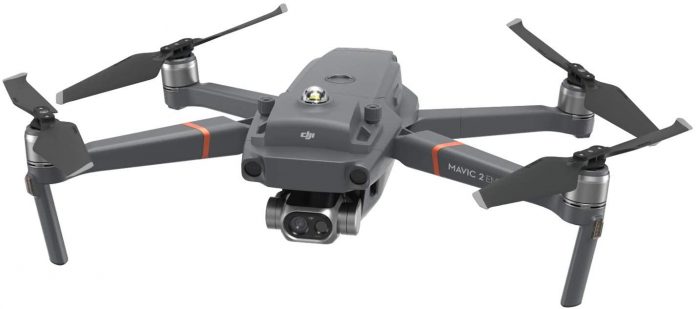 DJI Mavic 2 Enterprise Review: Read Before Buying!
Do you love flying drones and willing to buy a high-performance one? The Mavic 2 Enterprise and the Mavic 2 Enterprise dual offers you various latest technologies. If you are a professional photographer, then it will take your skills to another level.
The attachments allow the drone to deal with a variety of jobs in the industrial sector too. Moreover, you will be glad to know that the latest DJI Mavic 2 Enterprise was precisely developed to support sectors associated with public health, monitoring, fire prevention, enforcement agencies, rescue operations and criminal investigations.
Mostly it was recognized as the M2E. If you want a lightweight with foldable functionalities, then this drone is best for you. The main advantage you will get with this drone is that it supports all the attachments and features of Mavic 2 Zoom.
There are mainly 2 motives behind buying a drone firstly to have the fun experience of flying a drone and capture high-quality pictures and videos. 
The Mavic 2 Enterprise includes a 4k resolution camera for the capturing sharp, high-quality footage and a FLIR Lepton temperature scanner for the capture of thermal details.
The Mavic 2 is a great quadcopter drone, and here we are going to review the features, functionalities and the attachments of Mavic 2 Enterprise for your better understanding.
So, stay tuned and grab every single technical detail the drone comes with.
The Mavic 2 Enterprise – Overview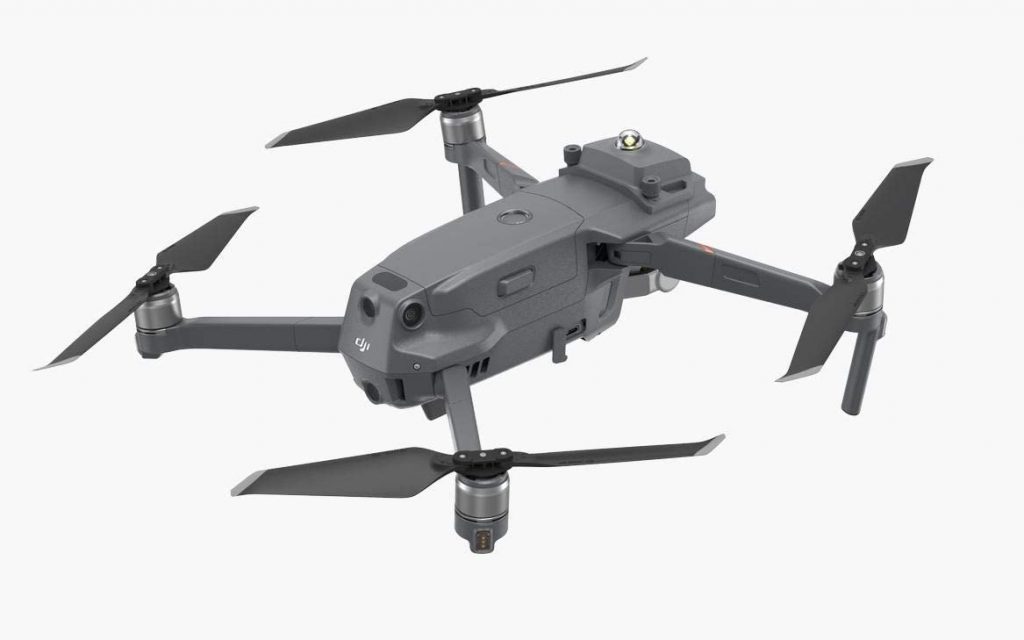 You will be getting 2 types of Mavic 2 Enterprise drones. One is integrated with a 4k optical sensor with 2 x optical zoom and the other with 3 x Digital Zoom. 
The Mavic 2 Enterprise Dual ships with an innovative FLIR 4k image sensor including radiometric temperature detector and it plays a vital role in harsh weather conditions.
The Mavic 2 Enterprise provides all essential features including speaker system, spotlight functionalities with beacon assistance. It helps in ensuring secured fight.
The Mavic 2 Accessories and Attachments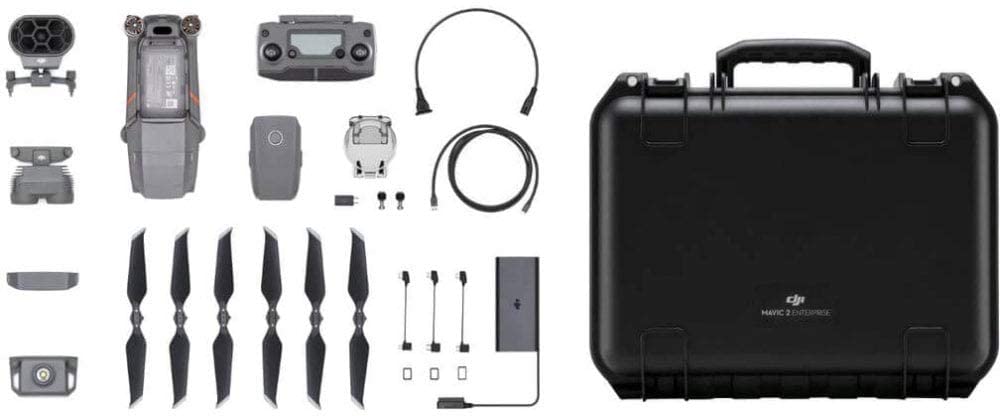 Both Mavic 2 Enterprise and Mavic 2 Enterprise Dual drones offers an additional channel to upscale your drone flight experience.
The Mavic 2 Enterprise Thermal Camera
The Mavic 2 Enterprise Dual includes a multi-axis gimbal-controlled camera hosting a 4k ultra HD visual sensor to capture visible light as well as a Lepton temperature precision-camera FLIR for collecting temperature details.
Together, these detectors enable you to operate the drone at nighttime as well as makes it capable of operating in challenging weather environments including fog & smoke.
You can choose among various advanced viewing configurations within the DJI Pilot Flight application. It also helps you to evaluate information from its double-sensor system.
More about Radiometric Thermal Cameras
A radiometric temperature sensor evaluates the top layer temperature by measuring the strength of a thermal imaging pulse hitting the sensor of your drone.
Incorporating radiometric capabilities to its sensor will allow you the opportunity to capture images for post-flight image processing. You can precisely calculate the temperature of independent pixels. The implementation of radiometric imagery will enable drones to collect temperature records in each pixel of the picture.
As a consequence, drone pilots could review and submit comprehensive information and photos that evaluate the temperature readings over the whole environment to have testable information.
Spotlight
The latest DJI Mavic 2 Enterprise offers a powerful dual spotlighting with an intensity of 2,400 lumens.  It enables you to perform operations in darkness or low-light environments. The lighting is perfect for searching and evacuation and testing purposes.
This Mavic 2 Enterprise dual flashlight helps tremendously mostly in searching for missing people in the inadequate visible region, including late-night search operations.
It is best for the visual inspection process when buildings have low lighting or even in non – ideal environments.
Mavic 2 Speaker
The Mavic 2 Enterprise does offer you a speaker system which includes a full range output of 100 decibels. The functional distance is approximately 3.2 feet. You can perform 10 personalized audio recordings on request.
You can also use it as a piece of communication equipment for local persons. It creates a massive difference in life – saving operational rescue activities.
M 2 Enterprise – Beacon
Crafted for U.S. Federal Aviation Administration (FAA) nighttime exemption requirements in consideration. So, the Mavic 2 Enterprise Signal incorporates a powerful blinking flashing light, which you can quickly notice from 3 miles or 4 kilometres away.
It enables you to conduct flights in low lighting environments or even more quickly at nighttime. It offers extra airspace visibility to you when you are flying your drone in congested airspace.
Local Data Mode
It offers users 24 GB of password-protected onboard file storage memory. A modern GPS is all we need in, and it provides time stamping function via its localized information Configuration app.
The Mavic 2 enterprise provides improved information encryption and safety for confidential information including as images, video clips and flight records.
New AirSense Technology
The Mavic 2 Enterprise includes AirSense technologies from DJI to boost your operational capabilities. DJI AirSense improves air transport protection by offering automatic actual-time tracking warnings on a neighbouring operational airplane.
AirSense utilizes an embedded detector to instantaneously warns you via ADS-B indications through surrounding aircraft and unmanned aerial vehicles, delivering real-time location warnings via the DJI Operator smartphone application.
It offers you an additional extent of protection while operating in densely populated airspace or adjacent to complex activities, including some fire prevention, emergency relief and construction surveillance.
DJI AirSense technique is a crucial framework that assists the drone and delivers an assurance for successful quadcopter handling.
Video and Data Transmission Systems
The Mavic 2 Enterprise and Mavic 2 Enterprise Dual is equipped with the latest DJI's Ocusync 2.0. It is the newest Video and data transmission system developed by DJI. 
The Ocusync 2.0 platform now offers improved noise tolerance and auto-switching technologies. It accepts all 2.4 GHz & 5.8 GHz frequencies levels as well as the option for using separate frequency bands for uplink and downlink streaming data.
Flight Time

DJI's FOC combustion & powerful rotor blades improve the Mavic 2 Enterprise flight distance.
It provides you a flying time close to 31 mins as well as a maximum acceleration of up to 45 mph or 72 km / h.
The Mavic 2 Enterprise with the attachments loaded such as Mavic 2 Enterprise spotlight, speaker system or transmitter. The flying time varies with the conditions mentioned below:
When the Beacon is ON the Drone offers 27 minutes of flight time.

 

When the Beacon is OFF the Drone offers 28 minutes of flight time.

When the Spotlight is ON the Drone offers 22 minutes of flight time.

When the Spotlight is OFF the Drone offers 26 minutes of flight time.

When the Speaker is ON the Drone offers 25 minutes of flight time.

When the Speaker is OFF the Drone offers 26 minutes of flight time.
Mavic 2 Enterprise Obstacle Sensing
In order to keep your Mavic 2 Enterprise secured, it includes your video footages. The DJI is well equipped with all-sided interference sensors. The system utilizes in a total of 8 high-quality sensors for vision and 2 infrared sensors.
Mavic 2 Enterprise – Camera Features and Specifications
The Mavic 2 Enterprise is configured with 2-x optical and 3 X digital zooming facilities. The camera offers high-resolution footage with its 12-megapixel sensor.
Sensor size – 1/2.3" CMOS

Pixel density – 12 million

Field of View – 82.6° (24 mm), 47.8° (48 mm)

Electronic Shutter Speed – 8 – 1/8000s

Color Mode – D-Cinelike

Video Format – MP4 / MOV (MPEG-4 AVC/H.264, HEVC/H.265)

Aperture – f/2.8 (24 mm) to f/3.8 (48 mm)

Still Image Size – 4000 × 3000

Photo Format – JPEG and DNG (RAW)

Max Video Bit Rate – 100 Mbps
Still Camera Photography Modes
Burst mode shooting – 3/5/7 frames

Auto Exposure Bracketing (AEB) – 3/5 bracketed frames at 0.7 EV Bias

Interval – JPEG at 2/3/5/7/10/15/20/30/60s and RAW at 5/7/10/15/20/30/60s

Single Shot
 ISO Range
Video: 100 – 3200

Photo: 100 – 1600 (auto)

Photo: 100 – 3200 (manual)
Video Resolution;
4k – 3840 × 2160 at 24/25/30p

2.7k – 2688 × 1512 at 24/25/30/48/50/60p

FHD – 1920 × 1080 at 24/25/30/48/50/60/120p
Thermal Camera Specifications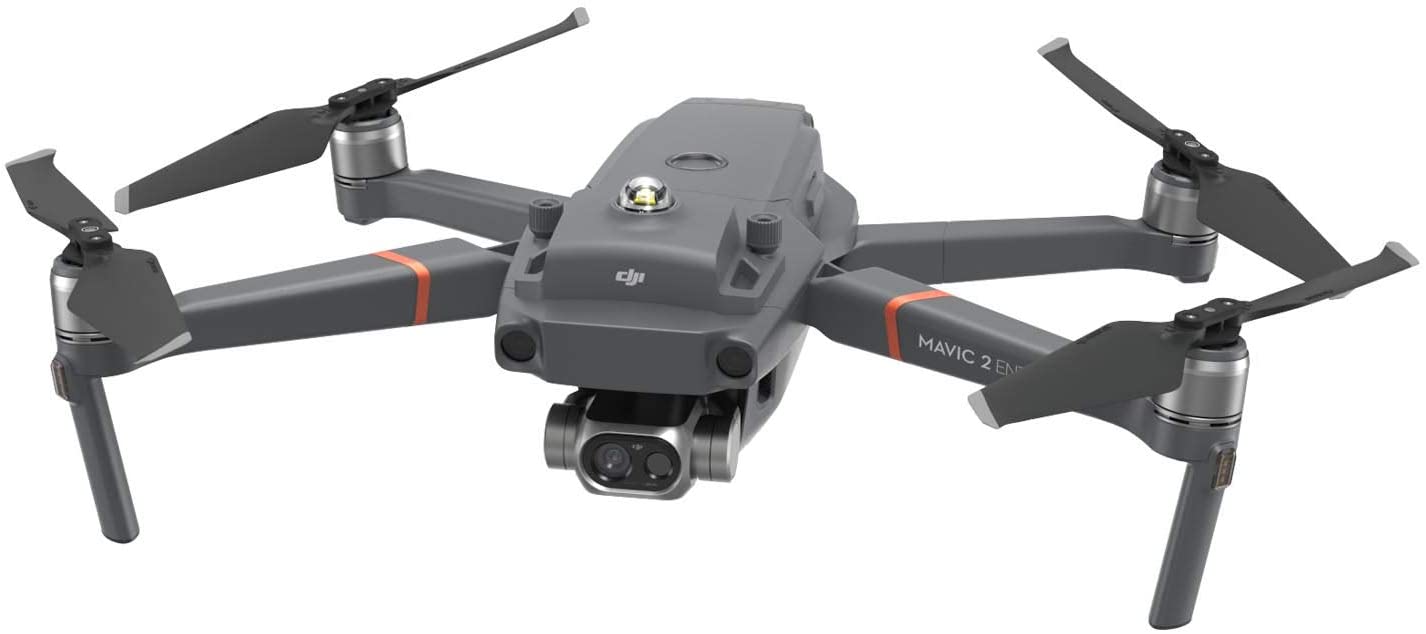 Here are some of the best features and specification The Mavic 2 Enterprise Dual offers via its thermal camera.
Scene Range – High Gain: -10° to +140°C

Scene Range – Low Gain: -10°to +400°C

Photo – JPEG

Spectral Band – 8-14 μm

Image Size – 640 × 480 (4:3); 640 × 360 (16:9)

Still Photography Modes – Single Shot

Accuracy – High Gain: Max ±5% (typical)

Low Gain – Max ±10% (typical)

Burst shooting – 3/5/7 frames

Video Recording Modes – 640 × 360 @8.7 fps

Video – MP4, MOV (MPEG-4 AVC / H.264)

Sensor – Uncooled VOx Microbolometer

Lens – HFOV: 57°

Aperture – f/1.1

Resolution – 160 × 120

Pixel Pitch – 12 μm
Final Words
The Mavic 2 Enterprise is a capable and affordable premium drone for you with a variety of features and attachments. It is very compact and foldable which is best for carrying it anywhere. The cameras you experience with it are best in its class with options like zoom camera for viewing and thermal camera for sensing. 
The flight time you get with Mavic 2 Enterprise is merely excellent when you compare it with other options. You can operate it any weather conditions thanks to its advance sensors. The field of operation is also very long without any quality compromise.