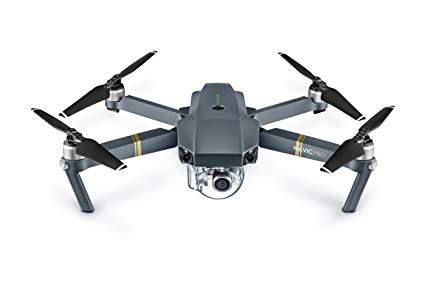 DJI Mavic Pro Review; You Need To Read This!
Are you ready for a full DJI Mavic Pro Review?
The Mavic Pro is a small drone that packs a powerful punch at the same time. If you are in the market for a small, portable drone that can be carried whenever you have to travel, the DJI Mavic Pro is worth checking out! In this article, we will be sharing our DJI Mavic Pro Review. If you are wondering if it is the perfect drone for you, make sure to keep reading below to find out more information!
Looking for which under $300 drone to buy? Then carry on reading!
Is the DJI Mavic Pro worth it?
Yes, the newer Mavic 2 drones have better cameras and more you will get more security features that other drones so it's worth it for this. The popular Mavic Pro is almost half the price of the other newer drones now so it's worth it.
Is the Mavic pro worth it in 2020/2021?
If you are looking for a good drone to fly in 2020, you will enjoy flying the DJI Mavic 2 Pro. The Mavic 2 may seem a little out of your price budget or expensive, but it's probably the best drone for the money in 2020! It has a long flight time of over 30 minutes from a single charge and a top speed of 44 miles per hour.
Mavic Pro Specifications
DJI Mavic Pro has a 4.3 miles flight range
4 vision sensors
4K camera with a 3-axis mechanical gimbal
The remote controller is powered by the new OcuSync transmission technology
Full HD 1080p resolution real-time video streaming and produces high-quality videos and photos.
Flight Autonomy protects the drone from any obstacles 15 meters away in front of it.
Flight speed ranges up to 22 mph
Hovers precisely in environments and it can land on the area where it took off
It flies up to 27 minutes
It has an automated landing and takeoff
Has GPS, GLONASS and Vision Positioning System
Main Features Of The Mavic Pro
The Mavic Pro drone measures 3.27 by 7.8 by 3.27 inches when folded and it is nearly the same size as a water bottle. Its air frame is extremely light and only weighs 743 grams, making it a great choice for individuals who are searching for portable drones.
Battery life is impressive: it is capable of delivering 27 minutes of flight time on a single charge. Its maximum flight speed can range up to 40mph. It comes with a 12 Megapixel camera with a 3-axis mechanical gimbal. The remote controller works well and can be used with an iOS and Android smartphone or tablet. It is compatible with the wireless DJI Goggles.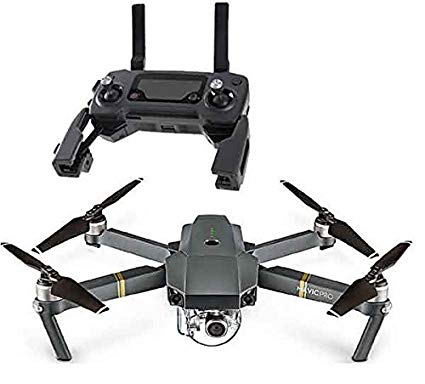 Special Features Of The Mavic Pro Drone
Flight Autonomy – This feature keeps your drone safe from any obstructions during its flight. It can see obstacles as far as 15 meters in front of the drone.
Absolute Precision Flight Autonomy – The Mavic Pro can hover and land on its takeoff spot.
Fly Further – Mavic Pro's controller is designed with OcuSync transmission technology and boasts an excellent range of 7km and capable of filming HD 720p long range and Full HD 1080p short range videos.
Gesture Mode – While the Mavic Pro drone is flying and pointing at you, with just a single gesture, it can take your photo. For individuals who love taking selfies, the Gesture Mode is perfect for you!
Precision Hover – The Mavic Pro is designed with downward and forward vision sensors that help the drone hover in an area free of obstructions and interference.
TAPFLY – This feature allows the drone to fly wherever you want to go with just a single tap. This allows new users to focus on controlling the gimbal and capturing great aerial photos and videos.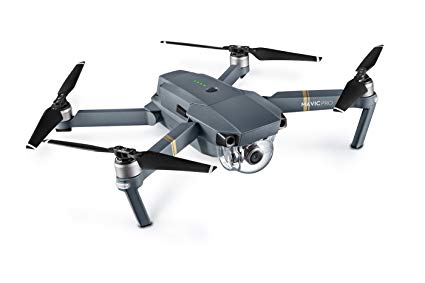 What does the package include?
1 DJI Mavic Pro Drone
Battery
1 16 GB Micro SD
3 Pairs of Propeller
1 Remote Controller
Price of DJI Mavic Pro
The DJI Mavic Pro drone costs $898.98 with free shipping. You can get yours here.
Pros
foldable, small size, portable (perfect for individuals who are always on the go)
Compatible with iOS, Android smartphones, and tablets
4K stable video footage
High-quality 12MP photos
Cons
Gimbal and camera are not removable
Images are a bit blurry in low light conditions
User Review Of The Mavic Pro In 2020
According to Harry, I previously owned a DJI Phantom 3 and I am so glad I bought the Mavic Pro drone. It is perfect for aerial photo and video photography. The Mavic Pro is easy to fly. It works out of the box; I was able to get it flying into the air in a few minutes after opening the package. I tried flying the drone in an area with moderate wind conditions and I was able to fly it with ease and I was able to avoid any obstacles thanks to the drone's front-facing obstacle avoidance sensors. You can fly the drone using the remote controller or the app on your Android or iOS smartphone or tablet. The package comes with a battery, remote, cables, and Micro SD. The DJI Do 4 app can record the audio via your phone. The wing mode and find my drone feature and no-fly zone map is updated as well.
According to Matthew, The drone looks great and it flies smoothly. It is a great choice for individuals who loves aerial photography and prefers smaller drones. It has a 4K camera and can shoot amazing quality videos and photos. It can fly up to 40 mph speeds while on sport mode. If you are always travelling, this drone is perfect for you! The flight time lasts around 27 minutes, which is quite impressive compared to its counterparts in the market that usually lasts around 15-19 minutes of flight time on a single charge. If you love to travel, you can fold the Mavic pro and it is compact enough to fit inside your backpack. Another great thing about the Mavic Pro drone isthe gesture control allows you to take selfies while flying your drone at the same time.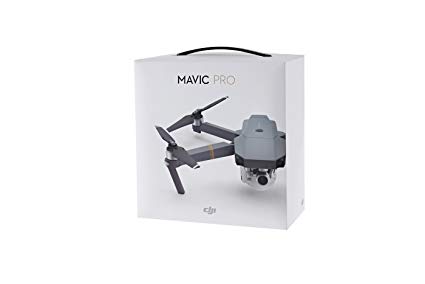 Final Thoughts
If you want a small drone that has a long battery life and captures high-quality photos and videos, the Mavic Pro drone is highly recommended for you! It can shoot 4K video at 30 fps and take 12-megapixel aerial photos. It is compact and easy to pack inside your bag when you are going on a vacation. The Mavic Pro offers superior stabilization and the image and video quality are quite impressive.
It is a great drone that costs less than $1000 and it already includes a camera with 3-axis mechanical gimbal. The package includes a 16 GB Micro SD so you can immediately enjoy your drone after opening its package. It is compatible with iOS and Android smartphones and tablets; you just need to download the DJI app on Play store or App store. It is easy to control and can be a great beginner drone for individuals who can afford it. With the Mavic Pro, you can enjoy a long flight time, long-range remote controller, a live video feed streamed on your smartphone, stable 4K resolution video recording, and 12 MP high-quality photos. Make sure to get its replacement parts, carrying case, and charging hub so you can charge up to 4 batteries at once.
Check out;