HERE IS THE LIST OF THE BEST DRONES FOR BEGINNERS UNDER $300
Finding the best drones for beginners can be difficult especially with so many options in the market. If you are searching for the best drones for beginners under $300, you came to the right place. In this article, we will share with you the list of the best drones under $300. Make sure to keep reading below to find out more information. Hopefully, after reading this article, you will have an informed decision and you can choose which drone fits your needs.
Holy Stone HS700D FPV Drone
If you are searching for the best beginner drones under $300, you must check out the Holy Stone HS700D FPV Drone. Even though it is one of the heaviest drones among this list, it weighs around 4.4 pounds and it includes an action camera, it is quite stable and easy to fly. It is equipped with a powerful propulsion force that gives it an impressive flying speed. It is also equipped with GPS/GLONASS positioning system that helps users to fly with ease.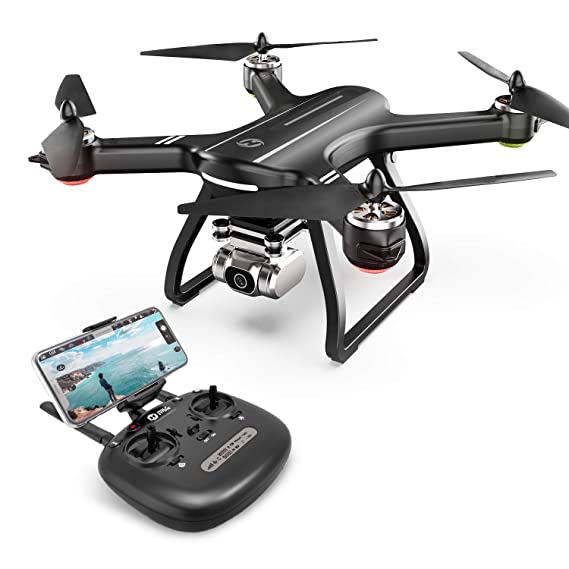 Specifications
Size: 15.2 x 15.2 x 6.1 inches
Weight: 4.4 pounds
2K FHD 90-degrees adjustable camera with 5G transmission with 110-degrees Field of View
Quick Release Propellers
Brushless motors for quiet and powerful flight
The battery lasts around 22 minutes per single charge
The remote controller has a maximum control distance of 1000 meters
You can change the action camera and use a GoPro camera like the HERO6.
Charging time lasts around 5-7 hours
Features
5 GHz Live Video Transmission up to 2600 Feet
Intelligent flight modes such as Orbit and Follow Me Mode.
GPS assisted flight
Auto Return, Custom Flight Path
Pros
2K FHD Camera
High capacity battery 2800 mAh
Brushless motors
22 minutes of flight time
Stable
Easy to control
Decent Flight Time
Can use different action cameras
Cons
No 3-axis Gimbal
Heavy
Long charging time (5-7 hours)
Yuneec Breeze Drone
If you are searching for one of the best drones for beginners below $300 that can take amazing selfies, the Yuneec Breeze drone is worth checking out. It has a durable and portable design and it is equipped with a 4K camera capable of shooting high-quality aerial videos and photos.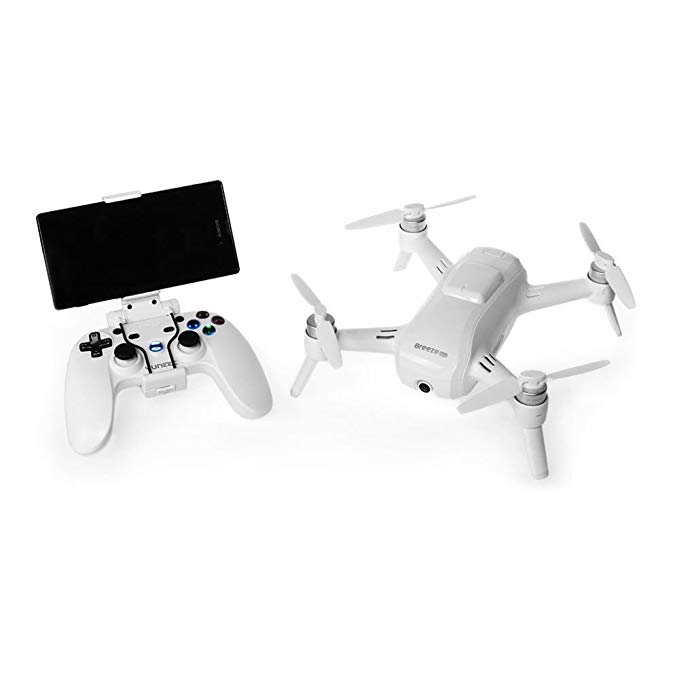 Specifications
Size: 7.7 x 7.7 x 2.6 inches
Weight: 13.6 ounces
Flight Time: 10 minutes per battery
2 Batteries are included in the package
4K camera at 30 frames per second
13-megapixel camera
Has a maximum range of 100 meters
The app must be downloaded for Android and iOS smartphones and tablets
Features
Has a Selfie Mode
Orbit and Follow Me
Can be programmed to follow a specific route guided by its GPS module
Pros
4K Camera
High-quality aerial photos and videos
Takes perfect selfies
Affordable
Autopilot
Portable design
Cons
Limited speed and control range
No gimbal
Potensic T35 Drone
One of the best drones for beginners under $300, the Potensic T35 drone is one of the must-have drones if you want to buy an affordable but delivers great images and decent flight time.
Equipped with a 1080P HD camera that can be adjusted up to 90 degrees, it has a Dual GPS module that provides the drone with accurate positioning and smooth flight controls.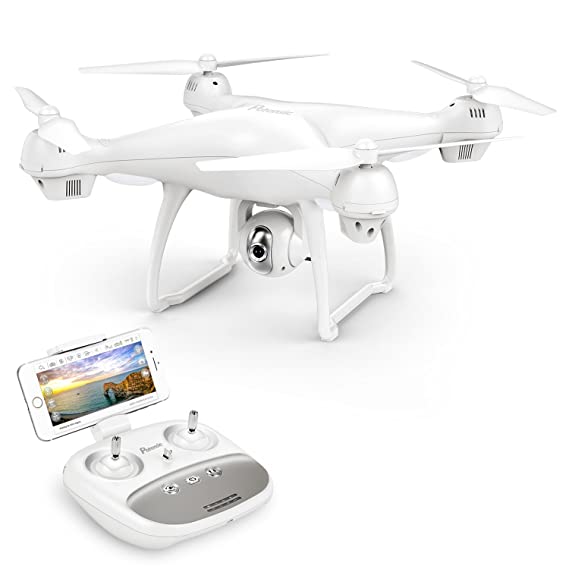 Specifications
Size: 16.5 x 16.5 x 6.7 inches
Weight: 3.8 pounds
Designed with a Jet white chrome design
1080P HD Camera 90-degrees adjustable camera
Flight time lasts approximately around 20 minutes
Micro SD card slot
GPS and GLONASS positioning system
Control distance: 300 meters
Flight Altitude: 120 meters
Remote Control distance: 500 meters
Battery capacity: 2500 mAh
Features
Smart return to home
Intelligent flight modes that can be helpful for beginner users
Follow Me Mode
Headless, Altitude Hold, and One-Key Takeoff/Landing
Pros
User-friendly
Easy to assemble
Good picture/video quality
Affordable price
Cons
Short Flight time (around 15 minutes)
No Brushless Motors
Not stable in moderate wind conditions
Zerotech Dobby Pocket Selfie Drone
One of the best drones for beginners under $300 is the Zerotech Dobby Pocket Selfie Drone. It is a pocket-sized selfie drone that you can take with you wherever you go, a perfect companion for individuals who are always on the go.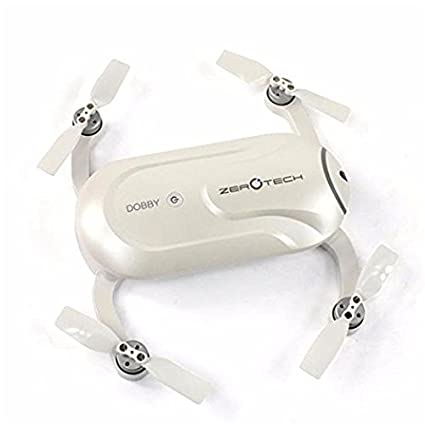 Specifications
Size: 6 x 3 x 3 inches
Weight: 15.8 ounces
Compatible with iOS and Android smartphones and tablets
Maximum operating distance: 328 feet
Package: USB type C cable, Battery charger, Power adapter
Flight time: 5-7 minutes
Flight range: 100 meters
Can be folded
Blades can be replaced
Need to purchase propeller guards
Removable battery (970 mAh battery)
Features
4K HD camera
Can fly up to 100 meters using Wi-Fi connection with an Android/iOS smartphone or tablet
Can be controlled using an Android/iOS smartphone/tablet app
Has an electronic image stabilization onboard
Flight modes such as Face/Object tracking
Pros
Capable of 4K video but have to disable digital stabilization
13-megapixel photos
Portable and pocket-sized
Takes decent images and videos
Easy to fly
Affordable
Can be launched in the palm of your hand
A great traveling companion for individuals who are always on the go
Cons
If digital stabilization is on, the image or video will shoot with 1080P resolution
Short flying time, lasts around 5-7 minutes only
The camera cannot be tilted remotely
Does not have a gimbal
Wobbly video recording
EACHINE E520S GPS Drone
A folding budget drone from China, the EACHINE E520S GPS Drone is one of the best drones for beginners under $300. It is equipped with GPS, high-speed Wi-Fi technology and autonomous flight modes. It resembles a mini version of the DJI Mavic drone and the remote controller looks like the Mavic Air. It is affordable and can be used for beginner users.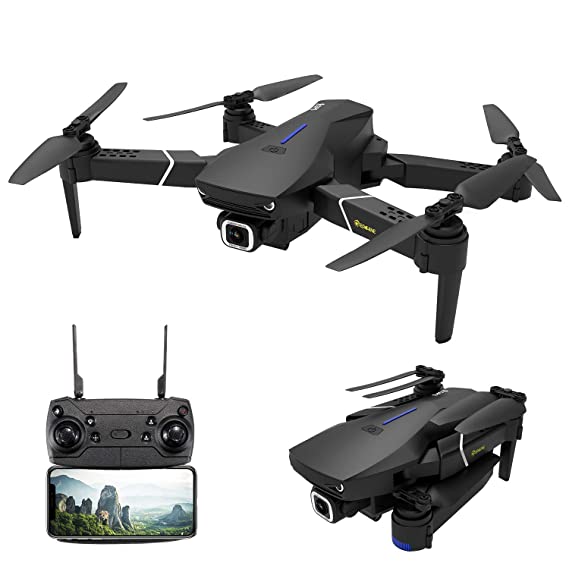 Specifications
Size: 40 x 28 x 7.5 cm (the arms not folded, with props guard) 15 x 11 x 7.5 cm (when arms are folded)
Weight: 1.7 pounds
5G Wi-Fi FPV 4K HD camera that can stream videos within 250 meters
7.4 V 1200 mAh Battery lasts about 16 minutes of flight time
GPS positioning for precise positioning of the drone and keep track of its flight path and automatic return feature
The control distance is approximately 250 meters
Compatible with 3D VR Mode
6-Axis Gyro
Features
Different Modes such as:
Headless, Altitude Hold, One-key takeoff and landing
Return to home
Waypoint
Follow me – Drone follows the GPS in your smartphone, it will automatically follow and capture videos and photos wherever you go
Orbit Mode
Pros
4K front-mounted camera
Different features can be used for easy flying for beginner users
Affordable
Cons
No gimbal
Videos can be unstable
The camera cannot be tilted remotely
Noisy