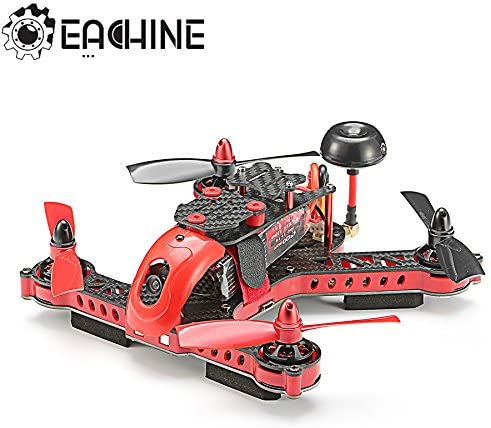 If you are searching for a racing drone that comes with cool features, you came to the right place. We have tried and tested the Eachine Blade 185 and in this article, we will be sharing with you our thoughts on it. If you are wondering if it is the right drone for you, we encourage you to continue reading below to find out more information.
Eachine is a company known for releasing affordable racing drones with FPV features that perform well and it caught a lot of people's attention especially in the drone industry. They have successfully released some amazing drones such as the Falcon and Racer in the market.
The Eachine Blade 185 is a drone that comes with a 3s 1300 mAh Li-Po battery that offers around 6-8 minutes of flying time. The Blade 185 has a remote controller that resembles the FlySky FS-i6 controller. It also has a 520TVL camera and its angle can be adjusted accordingly.
Eachine Blade 185 Drone Specifications
Here's a list of the Eachine Blade 185 drone's specifications:
Size: 170 mm by 155 mm by 55 mm

Weight: 364 grams (including the AIO Plate, Motor, Propeller, GPS, Antenna)

The airframe is made from durable carbon.

It comes with powerful brushless motorsthat give the drone the much-needed power to take off and land.

It works with Naze 32 flight controller that has a 5.8G real-time image transmission.

The camera has an adjustable angle.

The built-in OSD shows useful information such as battery voltage, flight time, flight speed, GPS, etc.

Has a working NZ GPS positioning system.

Has a Black Box flight data logging.

It works with the CleanFlight App.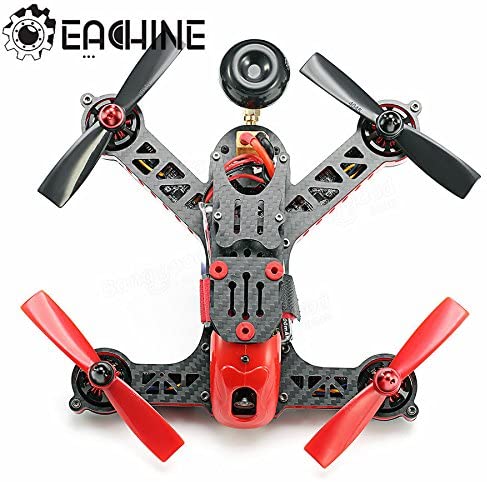 Drone Design and Features
The Eachine Blade 185 drone has a durable design. Its body is made from carbon fiber plates and a red plastic reinforcement separator that goes around the drone's body. It has a red cockpit that surrounds the drone's camera which also serves as the camera's mount. It has an aerodynamic appearance and the headlights are quite bright which makes it useful for night time racing or flying. The GPS module and the spare camera mount can be found on the top of the drone while the battery is strategically placed underneath it. It has a branded antenna on the back of the drone.
Camera – The Eachine Blade 185 is equipped with a 520TVL CMOS 120-degree angle adjustable FPV camera.
Remote Controller – The Eachine Blade 185 drone uses the Naze32 Flight Controller.
Cleanflight App – This app is an open-source flight controller software. It can be used on drones like quadcopters, tricopters, hexacopters, etc. It is a 32-bit version of the original 8-bit MultiWii code.
What does the package include?
Eachine Blade 185 drone

FPV transmitter Antenna – that works great to transmit the signal from the drone to the monitor

4 1806 2300 KV motors – brushless and powerful that give the drone enough power to takeoff and land

8 X 4045 propellers – durable

520TVL CMOS 120-degree FPV camera – with adjustable angle

3s 1300mah 30C Li-Po battery – lasts up to 6-8 minutes

B3PRO charger

Eachine I6 transmitter and Eachine I6 receiver

TX60 receiver signal Installer, Spektrum DSM/DSMX receiver transfer cable

OSD tool, Allen wrench, Battery Tie
Price of Eachine Blade 185 Drone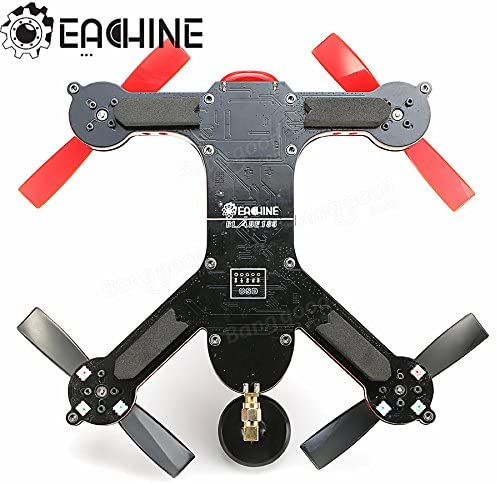 Check the current price of the Eachine Blade 185 Drone
Frequently Asked Questions for Eachine Blade 185
How to assemble and tune the Eachine Blade 185 drone?
If you purchase the ready to fly version, it comes with a controller, battery, charger, set of rotors, and the antenna. It has a removable USB port that can be plug on the bottom of the drone if you want to reprogram it or to access the OSD flight system. It has a permanent USB port on the side of the drone that can be used to reprogram the Naze 32 flight controller. You can configure everything in a few minutes and you can fly your drone and don't forget to charge the battery first. If you are using FPV mode, you have to use a video monitor to view the 5.8 GHz video signal, you can use the Eachine 007 VR glasses. The rotors are durable and work great. The Naze 32 flight controller is easy to use and the OSD system is helpful as it provides the users the important flight information and a black box system that records the drone's flight date. It allows users to check the drone's top speed, or how far or high it flew.
How to fly the Eachine Blade 185 drone?
You do not have to tune any of the flight controls before flying the Eachine Blade 185 drone. For a more enjoyable FPV experience, you must use a pair of Eachine 007 VR glasses and you can start flying your drone. It can fly at high speeds and can avoid obstacles while doing so. Although it is not as fast and as powerful compared to other racing drones in the market, it is quite agile and easy to steer. When we tested the Eachine Blade 185 drone, we were able to fly it through the trees with a speed of 30 miles per hour and it is quite manageable and it can go faster but make sure you are comfortable doing so. It has two flight modes and it has a GPS module and altimeter that provides real-time data regarding the drone's altitude, heading, speed, direction, etc.
User Reviews
According to Luke, the Eachine Blade 185 drone is a great racing drone if you want to try out racing drones in your backyard. It is safe to use as you can go up to 30 mph or you can also use it in the park or an open space where you can race other pilots. It is easy to control and it is an affordable drone so I suggest that you purchase the RTF version. Although it is not the fastest racing drone in the market, it is a great choice if you want to know the ropes on how to race a drone. It comes with an FPV camera, but you have to purchase a monitor so you can view it if you are using the FPV mode. It has an onscreen display and it works great. I just wish it hasanobstacle detection and avoidance system and a return to home feature.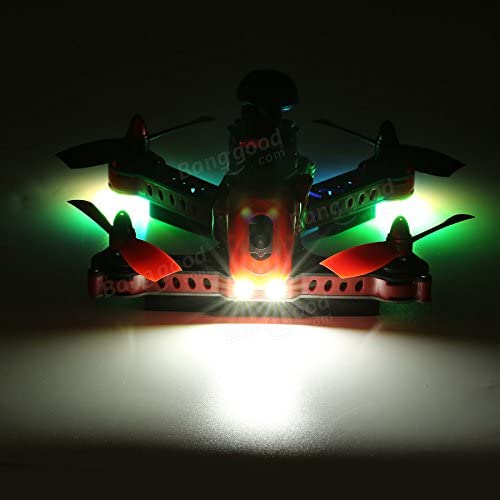 Final thoughts
We are happy to say that we have tried and tested the Eachine Blade 185 drone. It is a great level entry racing drone. We suggest that you purchase the Ready to fly version so you have everything you need, except the FPV goggles. It is a great drone that works right out of the box. The FPV range and signal works amazing and only experience a little interference. It has a camera that works great with FPV, make sure to use FPV goggles so you can have fun and you can fully experience the FPV mode. The OSD telemetry is quite useful as it shows the battery, speed, voltage, height, direction, etc. The Naze 32 flight controller is easy to use and it is compatible with the Clean-flight App.
If you are searching for a level entry racing drone, make sure to check out the Eachine Blade 185.
Check Today's Price
You May Like;