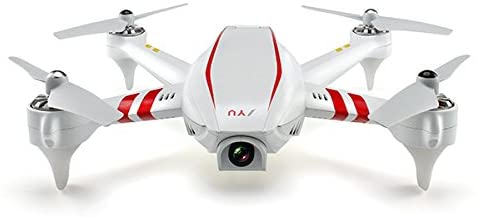 Searching for a drone with specific features can be a chore, it can become quite overwhelming especially if there are lots of choices and you do not know which one to choose. If you want a drone that can capture HD video and can also compete in drone racing, you came to the right place. In this article, we will be sharing with you our thoughts about the JYU Hornet S Review. If you are interested and you are wondering if it is the right drone for you, make sure to keep reading below to find out more information.
JYU Hornet S Drone Specifications
Here's a list of the JYU Hornet S drone's specifications:


Item Weight: 550 grams (Battery included)

Item Dimension: 232 by 232 by 63 mm

Maximum Flying Time: Approximately 25 minutes

Charging Time: Approximately 2 hours

Maximum Control Distance: 1 km

Maximum Speed: 120 km/h

The transmitter power is 2.4 GHz that prevents jamming or interference during the drone's flight.

It is designed with LED lights so you can fly your drone with ease at night.

The JYU Hornet S Drone has a 6-axis Gyro – Ensures a stable and smooth flight every time.
HD Aerial Camera – Ensures that the drone can capture every moment during its flight.
FPV Mode – This allows drone racers to enjoy the full FPV experience by using the FPV goggles.
Super-fast speed – Drone racers who love fast speeds will enjoy this drone's highest speed capacity which ranges up to 120 km/h.
3-axis gimbal – Allows the drone to shoot stable videos and still images during its flight.
Easy to control – New users, drone racers, and expert drone users can fly the drone according to their ability.
GPS/GLONASS Module – Users will always know where their drones are and this also helps the drone to hover in the air.
Drone Design and Features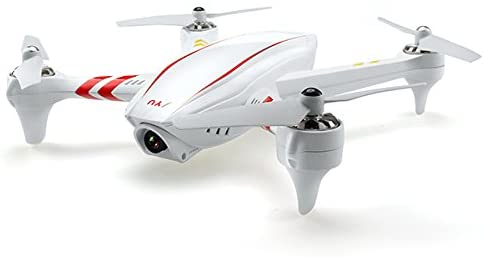 There are 3 versions of the JYU Hornet Drone
Basic – It has a simple and sleek design. It supports gimbal and FPV components.
Aerial – It has 3 axis gimbal and 4 shock absorption pads. It has a 4K 25 Frame HD camera allows you to shoot clear aerial videos and still images during the drone's flight.
FPV – It comes with specially designed VR Goggles so you can have fun flying the drone using the FPV mode.
The JYU Hornet S drone has a durable plastic body with modular design and great color. It is a drone that comes with various features such as 6-axis gyro system that helps the drone to have a stable flight, dual GPS/ GLONASS flight control system and it comes with auto-hover, circular hover, one key takeoff and landing that can aid new users when flying their drones for the first time. The Hornet S is a great drone that can also be used by FPV pilots and drone racers and they can enjoy flying this awesome drone with speeds of up to 120 km/h which is quite fast for a racing drone!
The JYU Hornet comes with an intelligent Li-Po Battery pack which gives an impressive flying time of up to 20-25 minutes. The drone has a modular design and the battery pack that comes with it is designed with it as well. It is easy to attach and remove because it has a quick-release design and the battery displays the voltage. Since the Hornet S has a modular design, you can easily convert your drone and add a camera and you can easily upgrade it according to your preference and you can also customize the camera and gimbal.
Flight Modes
One press automatic return – This feature allows the user to bring back the drone without any delay. This can be a helpful feature for new users. When the drone loses its signal, the user can use this mode to make their drone return to their current location/position.
One press taking off and landing – This feature allows the user to control their drone when they want to take off or land their drone anytime.
Long control distance – This feature allows the users to control their drone even at a far distance and this helps improve the performance of the drone even when the distance is approximately 1000 meters.
Camera – 4K Camera that allows the users to shoot smooth, stable, and crystal clear aerial videos and still images. Just use the speed mode 1 so the drone will fly slowly so you can capture the beautiful scenery around you.
Remote Controller – The remote controller for the FPV version has a 4.3-inch monitor that can be attached on top of it. It has a button for the return home feature, takeoff and landing button, a button to change the light's colors, a camera stop/start button, and a switch for the drone's 3-speed modes. It also has 2 trigger switches for changing the video frequency and 2 spin wheels used to adjust the gimbal's angle.
What does the package include?
1 JYU Hornet S Drone

1 Remote Controller

1 Battery – 11.1 volts 2200 mAh battery that can last up to 20-25 minutes of flying time

1 3-axis Gimbal – Stable and clear aerial videos and images

1 Gimbal Foot Stand

1 Camera – HD Camera that can capture great aerial videos and still images during the drone's flight

1 Sticker – For aesthetic appeal
Price of JYU Hornet S Drone

Check the current price of the JYU Hornet S Drone
Check Today's Price
User Reviews
According to Lisa, the JYU Hornet S Drone is one of the coolest racing drones in the market. Itcan be purchased at a decent price and it comes with a lot of cool features such as auto-land and auto takeoff and altitude and position hold. I find it difficult to set up the compass I'm glad I watched a video online on how to properly set it up. It is a must to learn the controls before flying the drone. I wish they included prop guards as the drone can go extremely fast; the maximum speed can go up to 120 km/h. You can also use the FPV mode if you want to enjoy the full FPV experience.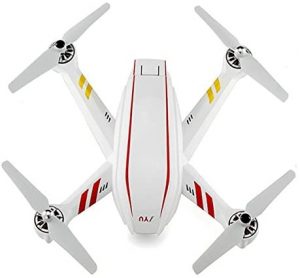 Final thoughts
We are happy to say that we have tried and tested the JYU Hornet S Drone and there isa couple of things we loved about it. We love how it can go so fast, its maximum speeds can go up to 120 km/h. You can customize your drone and attach a different camera. We also enjoyed the FPV mode and we highly recommend it for all the drone racers out there. It has 3 different speed modes thatcan be used depending on your preference. It has position and altitude hold mode, it also has LED lights for night time flying or racing. If the gimbal is attached there is a high possibility that the flying time will be decreased so we highly recommend for you to get more batteries.
If you are in the market for a fast racing drone with a 4k camera and gimbal that can be customized, the JYU Hornet S Drone is worth checking out!
Check Today's Price
You May Like;