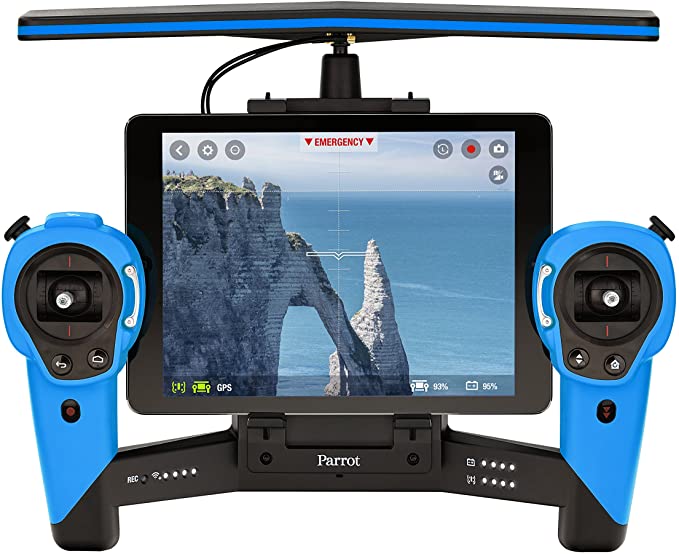 Complete Parrot Bebop 2 Review
The Parrot Bebop 2 is a second-generation quadcopter drone manufactured by Parrot. If you are searching for a new drone to use for shooting aerial videos and photos, you came to the right place. In this article, we will be sharing with you our Parrot Bebop 2 Review, make sure to keep reading below to find out if the Bebop 2 is perfect for your drone flying needs. A great drone under $1000 for photography to check out!
The Parrot Bebop 2 is capable of autonomous flight time with approximately 25 minutes of flying time. Designed with a sleek and durable body, the Parrot Bebop 2 is capable of flying far. It is designed with a 3-axis digital stabilization that allows users to fly the drone with ease and it gives the pilot a fixed angle view. The camera has 14 megapixels and shoots 1080p Full HD resolution so it can shoot amazing aerial photos and videos. It has a 180 degrees field of view and has a rear flash LED lights that can help for night flying. It can fly up to speeds of 38 mph.
Parrot Bebop 2 Review Specifications
Here's the specifications;
Product Dimensions: 15 x 12.9 x 3.5 inches
Item Weight: 1.11 pounds
Maximum flight time: approximately 25 minutes
Maximum flight distance: 1.24 miles
14 MP fisheye lens capable of 1080p FULL HD video and image capture
2700 mAhLiPo battery
Powerful motors
Rear Flash LED
Compatible with your smartphone or tablet using the FreeFlight 3 application
Must be registered with FAA
3-axis digital stabilization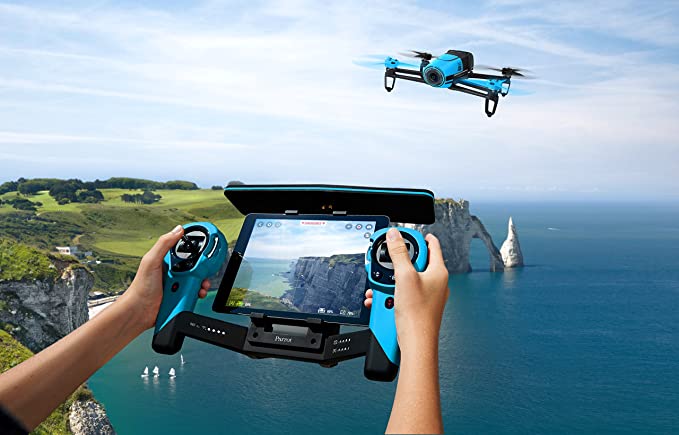 Design and Features
The Parrot Bebop 2 is a great combination of durability, aerodynamics, and style. It is a lightweight and compact drone which makes it a great companion for individuals who are always traveling.
The Bebop 2 is one of the first drones in its weight class that holds a battery that can last up to 25 minutes of flight time. If you are searching for a drone that can fit inside your bag and is easy to travel with, the Parrot Bebop 2 is worth checking out!
Fly your Bebop 2 with peace of mind
The Bebop 2 is fun and easy to fly. The propellers will automatically shut down when an accident or a collision occurred. It is also designed with powerful rear LED lights for better in-flight visibility and allows easier night-time flights. It has a return home function that allows the drone to go back to its take-off position.
Camera
The Parrot Bebop 2 has a 14 MP camera that captures more landscape during its flight. It can capture videos and images at a 90 degrees angle. It is also designed with a fish-eye lens for better exposure and clarity even in low-light conditions. It is also capable of capturing Full HD 1080p resolution videos.
Performance
The Bebop 2 is a lightweight drone that can fly in different conditions. It has an exceptional flight performance and can fly stable even at high altitudes thanks to its 3-axis digital stabilization system.
You can also fly your Bebop 2 by using the Free-flight 3 app on your smartphone or tablet. You can download it on the Apple App Store or Google Play-store. After downloading the app, you can easily take off and land your Parrot Bebop 2 drone with just a single touch of a button. You can then practice flips and tricks mid-flight, but of course,you must get used to the controls first.
Real-Time Video Streaming
You can share real-time live video-streaming on your smartphone or tablet. You can adjust the camera's angle with just a single swipe of your finger. You can share your video footage and images with your family and friends. You can easily share your footage using the Free Flight 3 app. The app allows you to easily view your flight history and change your route in the 3D view.
Flight Plan
The FreeFlight 3 app offers an in-app purchase called Flight Plan. It is an automated flight planner that uses waypoints so you can plan your drone's flight. You can prepare your drone's flight on your smartphone or tablet by choosing the route on the map so you can watch your drone fly.
What does the package include?
1 Parrot Bebop 2 Drone with 14 MP camera
1 LiPo 2700 mAh battery
1 Battery Charger
USB Cable
8 Propellers
Assembly Tools
1 Year Limited Warranty
Price of Parrot Bebop 2

Check out the current price for the Parrot Bebop 2 (White version);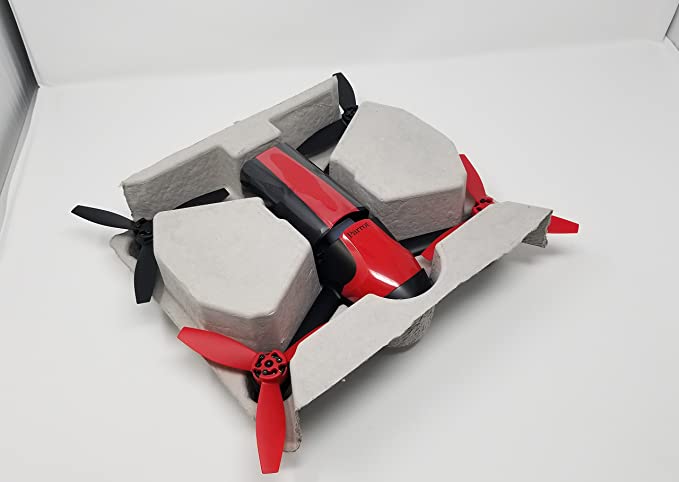 Check out the current price for the Parrot Bebop 2 (Red version);
User Review For Parrot Bebop 2 Review
According to Vinni, the Bebop 2 is my first ever drone. It is a sturdy quadcopter. You can use this as your beginner drone as it is capable of getting hit and it can survive accidents even when the propellers or hull gets damaged. You can purchase the remote controller or you can use your smartphone to control it using the Free Flight 3 app. There are replacement parts that are sold individually. You can do repairs on certain components that get damaged if you crash it many times. It is light; it is approximately 500 grams so you can easily carry it everywhere you go. Helpful reminder: There are no bumpers so avoid using indoors or around small children.The camera is fixed and cannot be rotated so make sure to consider it before purchasing one
According to Laurence, I just bought the Parrot Bebop 2 last week. I loved it so much! I have been flying it for a few times now and I am been having a blast because it is easy to fly. The Bebop 2's camera is great and it captures Full HD quality images and videos. A few weeks ago, unfortunately, I crashed it in the water and I immediately took out the battery and allow it to completely dry for a few days and when I tried turning it back on, it surprised me! It was fully working and I was able to save all my videos and images before the crash happened. I think it is worth buying!
Final thoughts
If you are searching for an entry-level drone or a beginner drone, the Parrot Bebop 2 is worth checking out! You can use it for aerial photography and you can capture great aerial videos thanks to its 3-axis digital stabilization. It comes with a 14 MP camera capable of shooting 1080p Full HD resolution videos and amazing photos during its flight. It is equipped with a 2700 mAh Li-Po battery that allows your drone's flight time to last around 25 minutes. You can use your smartphone or tablet to fly your drone or you can purchase a remote controller. If you can afford to buy the FPV bundle, then do so. It can greatly improve your drone flying experience. The First-person viewpoint is amazing and it is worth the additional cost. You can also purchase extra batteries so you can enjoy longer flight times. You can buy propeller guards here.