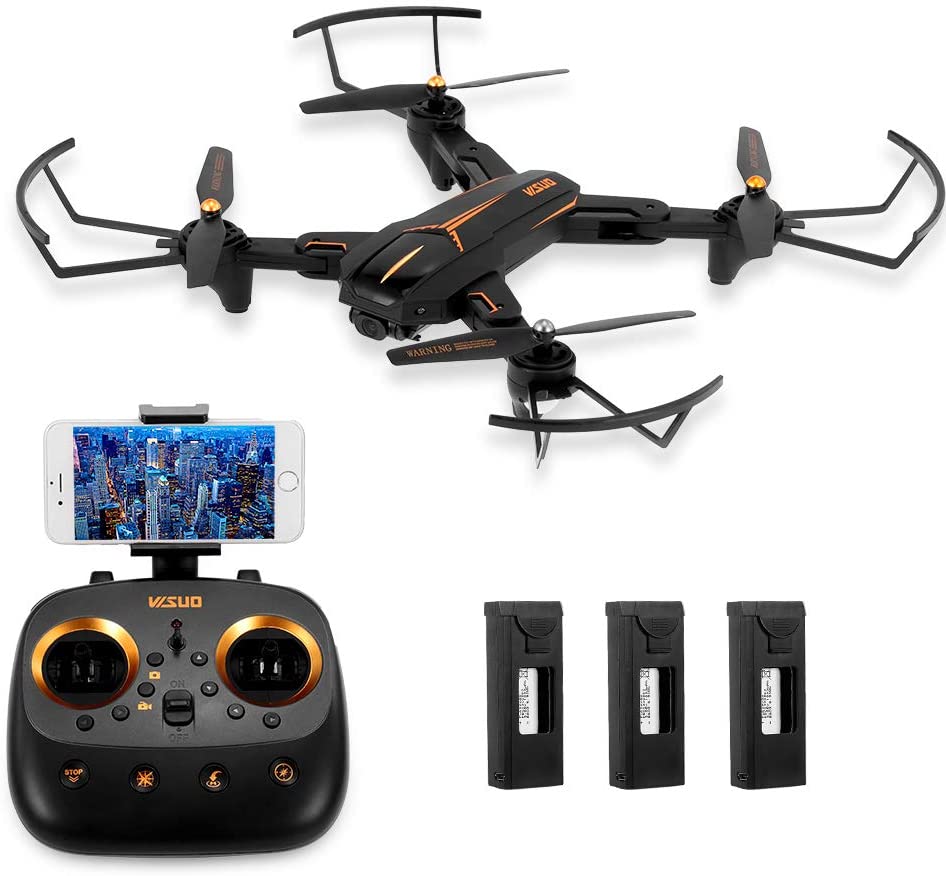 Are you in the market for a low-cost drone that has an HD camera and comes with great features? Yes, there are plenty of choices to choose from and choosing can be confusing especially if you do not know which one can deliver your needs. In this article, we will share with you our Visuo XS812 Review. If you are wondering if it is the right drone for you, make sure to continue reading below to find out!
Visuo may not be the go-to company if you need drones but since they have successfully released quite a few that made its name in the market such as the XS809HW and Visuo Zen K1 so it is worth checking out their Visuo XS812 drone. The Visuo XS812 is a promising drone for individuals who want affordable drones that are capable of shooting aerial videos. It has a foldable design and comes with a GPS module and a decent flying time.
Visuo XS812 Specifications
Here's a list of the Visuo XS812 drone's specifications:
Drone size: 182 by 146 by 60 mm (When folded) / 330 by 330 by 60 mm (When unfolded)

Package size: 10.4 by 8.9 by 4.7 inches

Package Weight: 1096 grams

Color availability: Black

Camera: 1080P resolution, 5G

Remote Controller: 2.4G 4CH

Remote Controller Battery: 4 AAA battery (not included in the package)

Maximum control distance: around 200 meters

5G Wi-Fi transmission distance: approximately 200 meters

Battery: 3.7V 1800 mAh Li-Po battery

Maximum Flying time: around 15 minutes

Charging Time: Around 180 minutes
Drone Design and Features
The Visuo XS812 is a foldable drone. It has black color and gold patterns which gives it a sleek appearance. It is a lightweight drone, weighs around 200 grams and it has a flat design. It has a solid, compact design which makes it easy to transport for users who are always traveling. The drone is equipped with a 1080p HD camera and can be adjusted 45 degrees. It has 4 brushed motors, which is understandable for the drone's price range. It also comes with dual GPS that offers better flight stability and precise location for the drone.
This feature is important for new users so they will not lose sight of their drone. Big LED lights are equipped underneath the rotor arms. These lights make night time flying easy and indicate the drone's compass is calibrated properly.
Camera
The Visuo Xs812 is equipped with a changeable camera that has two antennas on each side. Before operating the drone, you can adjust the camera's angle accordingly. It has a micro SD slot and you must remove the camera before you can access the SD card slot.
The video quality of the camera is not the best so you must not expect amazing results. The camera is capable of recording 1920 x 1080 at 25 fps and it will occupy around 40 MB space on the camera's SD card.
The drone has the same Wi-Fi FPV range as its control range, which is around 200 meters. You can enjoy live stream video and it is compatible with smartphones with 5G Wi-Fi.
Remote Controller
The Visuo XS812 is a large controller but feels comfortable when being held. The buttons are easy to use and the control sticks are easy to reach. It has the black color and gold pattern the same as the drone and it has a separate smartphone holder than can be attached on its back. The controller is powered by 4 AAA batteries but is not included in the package.
Battery
The Visuo XS812 drone comes with a 3.85V 1800 mAh Li-Po battery that is neatly secured on its back. It is a small battery and gives around 15 minutes of flight time.
XSW UFO APP
This App is compatible with both iOS and Android smartphones. It has a user-friendly interface and it is updated regularly. You can use this app so it can extend the functionality of the remote controller. It can provide FPV functionality, Follow Me, Waypoint, and it also provides telemetry information. On the top of the screen, it shows an OSD status bar that shows the following: Speed, distance, altitude, number of satellites available, roll/pitch/yaw values, and battery level.
Flight Modes
Follow Me – This mode allows the drone to lock onto the smartphone and follow you wherever you go.
One Key Return – This mode can be activated on the remote controller or the app. You just have to push the return home button and the drone will return automatically. This prevents losing the drone midflight especially when it loses signal or the battery becomes too low.
Orbit Mode – This feature can be activated on the controller and the drone will orbit the user's position automatically.
WayPoint – This feature allows the user to draw a flight path for the drone on the app, and then the drone will follow the path accordingly.
3D Flips – When this feature is activated, the drone will flip 360 degrees. You can impress anyone around you.
6-Axis Gyroscope – This helps the drone with flight stabilization and allows it to hover accurately.
What does the package include?
1 Visuo XS812 Quadcopter

1 Remote Controller with Smartphone holder

1 USB charger

3 3.7V 1800 mAh Li-Po Battery

4 Propeller Protector

4 Spare Propellers

1 Screwdriver

1 Instruction Manual
Price of Visuo XS812 Drone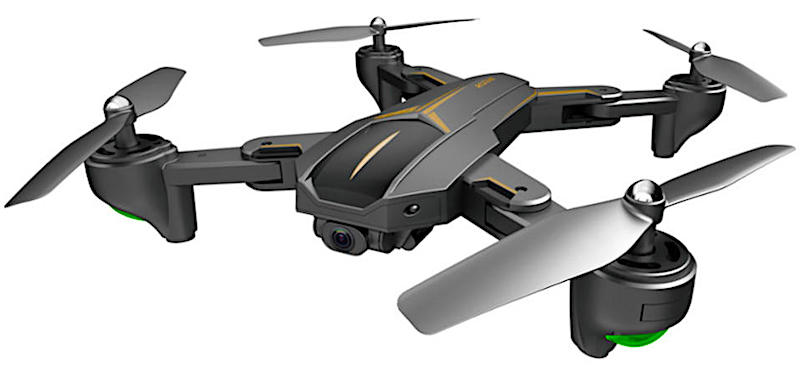 Check the current price of the Visuo XS812 drone
User Reviews
According to David, this drone is quite affordable and comes with great features. It has a decent flying time; I just wish the battery of the remote controller is rechargeable. It is lightweight and has a compact design, making it easy to transport whenever you have to travel to different places. It has a 1080p resolution camera and compatible with the Micro SD card. It has a return to home button that prevents your drone from getting lost when the signal gets cut off or when the battery is too low.
According to Mark, the Visuo XS812 is a great beginner drone. It is low-cost but comes with cool features such as return home feature, headless mode, etc. When getting an SD card, do not get a card with a capacity bigger than 32 GB because it will not work. I used the remote controller and the app, I love its user-friendly interface and I was able to use the FPV mode. I just wish it has brushless motors and mechanical gimbal for image stabilization.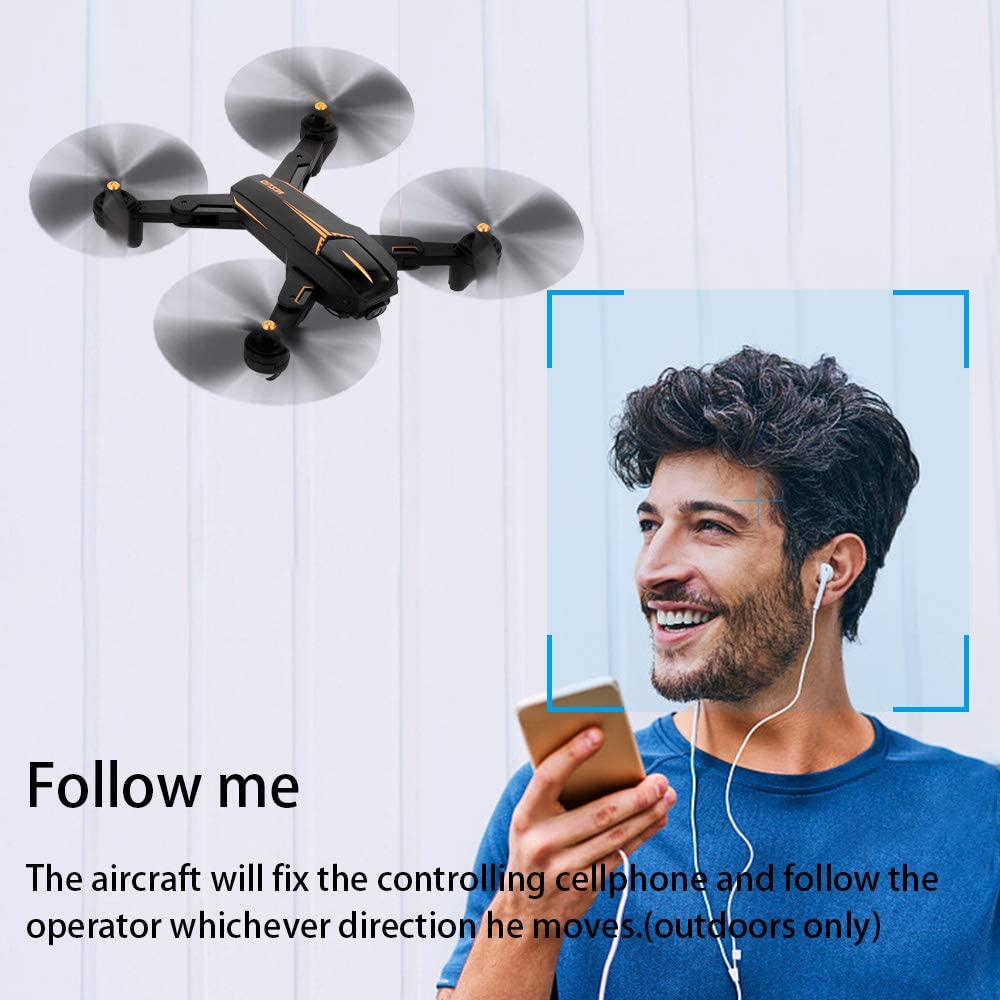 Final thoughts
We had fun trying out and testing the Visuo XS812 drone. It is a great beginner drone because it is affordable and comes with a 5GWi-Fi 1080p resolution camera. We love its smart flight modes; it is suitable for both beginner and expert drone users. Overall we are happy with its performance, it comes with 3 batteries and each battery lasts around 15 minutes. It has a working GPS module that helps with the drone's flight stabilization. It is a foldable drone and it is lightweight and compact so you can easily stow it inside your backpack whenever you need to travel to different places.
If you want a low-cost drone with great features, the Visuo XS812 drone is worth checking out.
You May Like;