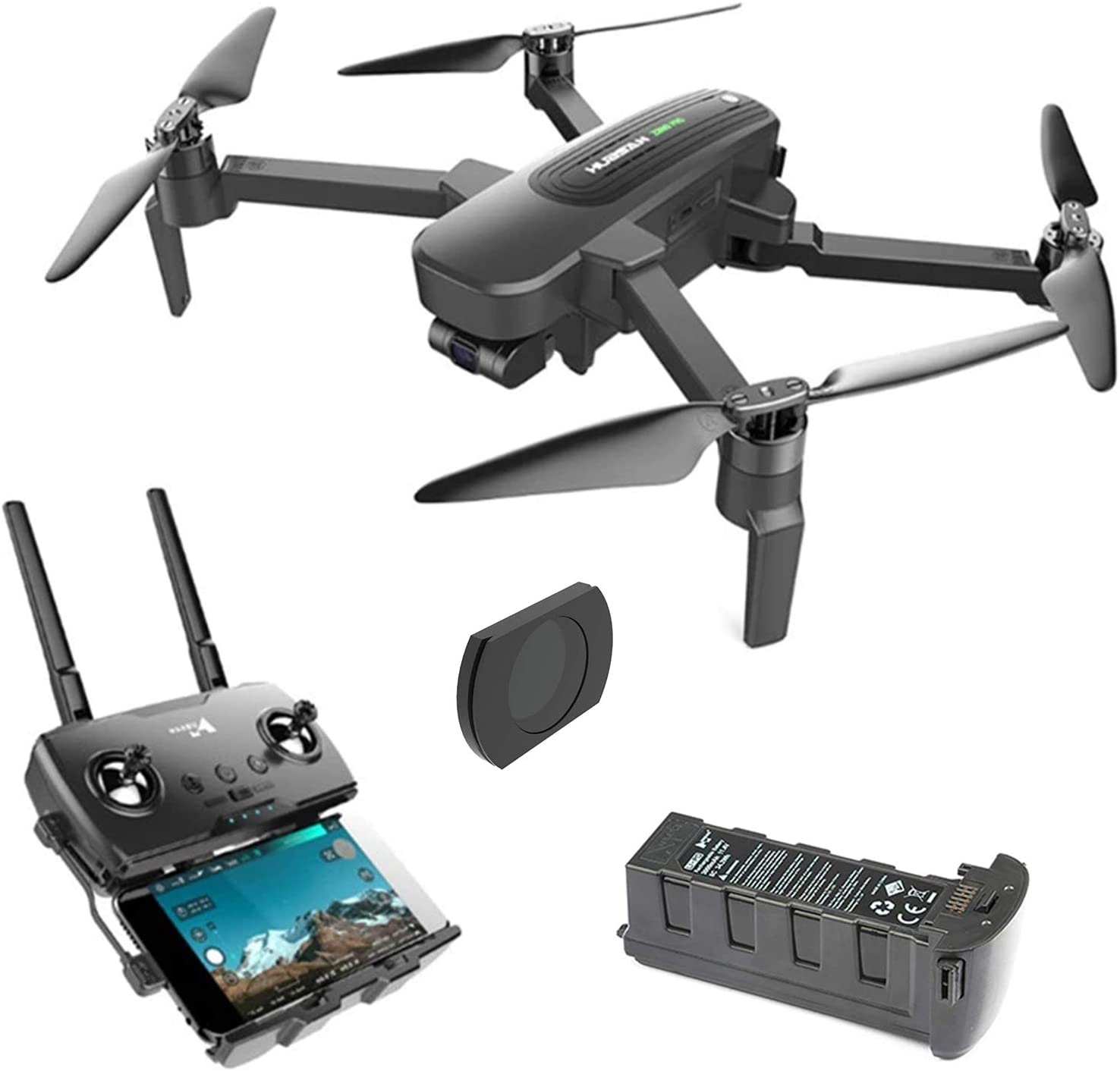 Are you in the market for a camera drone with great features but a bit short on cash? You came to the right place. In this article, we will be sharing with you our HubsanZino Review. If you are wondering if it is the right drone for you, make sure to keep reading below to find out more information.
The HubsanZino is a drone manufactured by Hubsan. This company is known for releasing low-cost drones that come with great features that are easy to fly. HubsanZino comes with a 4K camera and other intelligent flight modes at a price tag lower than $500. When compared to its counterparts in the market, it is more affordable and comes with cool features and it is suitable for both beginners and drone experts.
HubsanZino Specifications
Here's a list of the HubsanZino drone's specifications:
Body size: 30.4 by 25.2 by 9 cm

Body weight: 710 grams

Motor: Brushless motors

Maximum Flight Speed: 9 meters per second

Maximum Flight time: Around 23 minutes

Maximum signal range: Around 4 km

Positioning: GPS and GLONASS

Battery: 11.4 V 3000 mAh 3S lithium battery

Transmission: 5.7G Wi-Fi

Charging Time: Approximately 180 minutes
Drone Design and Features
The HubsanZino is a foldable drone and it is quite compact which makes it easy to transport. It is a must-have for individuals who are always traveling. It is lightweight; it only weighs over 700 grams. The drone's body is made from high-quality polycarbonate – durable and sturdy, it does not easily get damaged and can withstand minor bumps and crashes. It has a white and black color scheme and LED lights are equipped underneath each rotor which makes it a perfect candidate for night time flying.
It has powerful brushless motors that give the drone power every time it has to take off and land. It has a 4K camera that allows the user to capture amazing aerial videos and photos during the drone's flight. It has a 3-axis gimbal for image stabilization and a gimbal cover that is easy to remove and attach.
Camera
The HubsanZino has a 4K camera. You can take high-quality aerial photos and videos without having to spend a lot of money. It can capture videos in FHD at 30 frames per second. You can take crystal clear photos with its Ambarella image processor and 3-axis gimbal for image stabilization that ensures your video and photos are free from distortion.
The HubsanZino has an FPV capability – which means you can stream real-time video footage from your smartphone using 5G Wi-Fi technology, streaming drone videos is now easy as 1 2 3.
Remote Controller
The HubsanZino remote controller has a resemblance to that of the Mavic Pro controller. It feels great when placed in your hands while the controls are easy to reach. There is a smartphone attachment on the bottom of the controller but it won't fit something bigger like a tablet.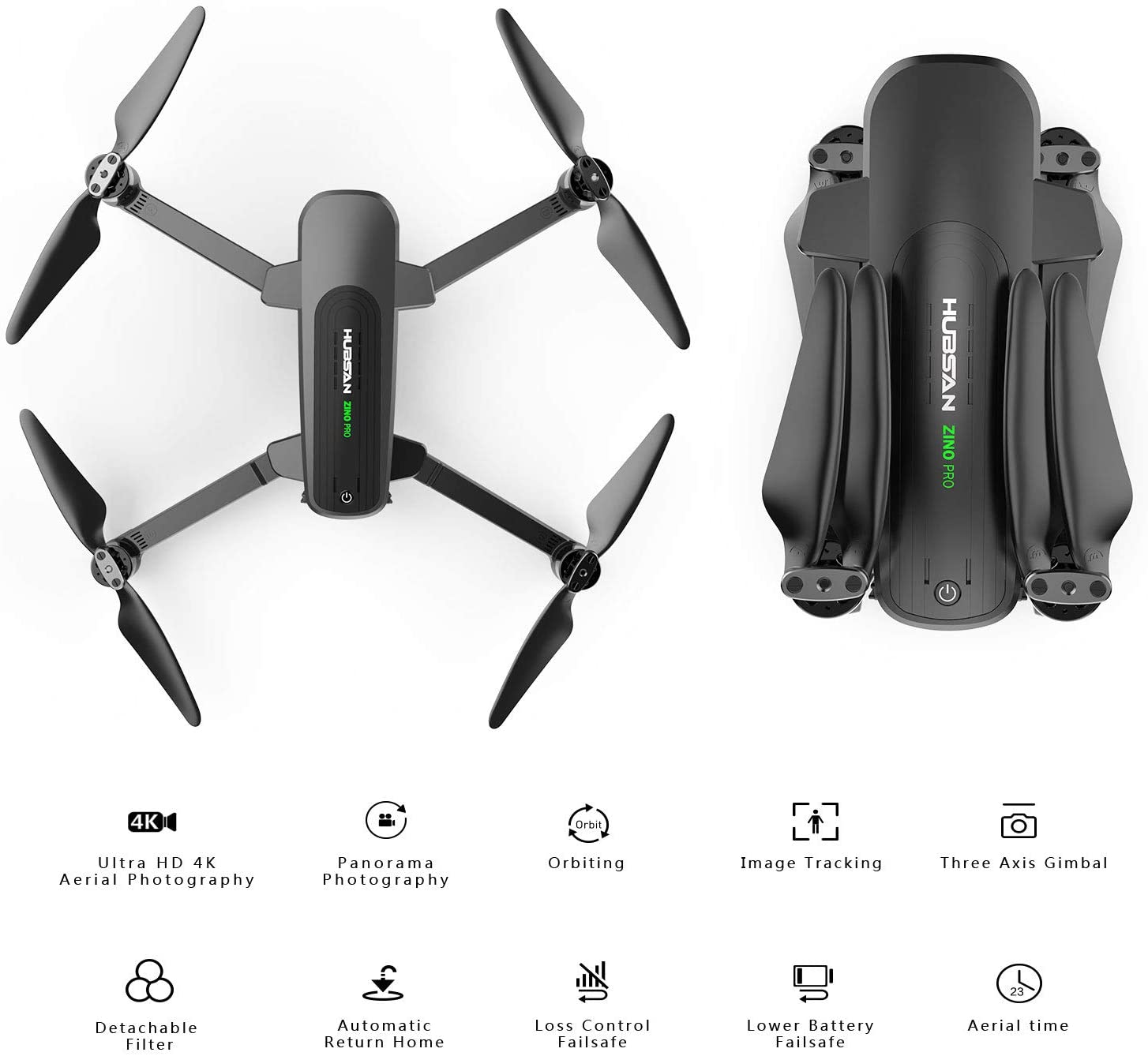 The HubsanZinocan be controlled with the remote controller or your smartphone. You can download the X-Hubsan app on Google Play or the App Store. The app allows you to enjoy more features such as intelligent flight modes, map navigation, FPV, etc. The X-Hubsan app is user-friendly and easy to use.
Battery
The HubsanZino uses a lithium-ion battery – which provides a longer flight time. When the battery is low, the drone's automatic return to home function will be activated and the drone will return to the user's current location. The battery has a 3000 mAh and the flight time lasts around 23 minutes. If you want longer drone flights, you can purchase extra batteries here.
GPS
The GPS module provides accurate tracking information for your drone and it is helpful for stable flights. The transmission range is 1 Km but sometimes it decreaseswhenyou fly your drone in crowded areas such as cities.
Flight Modes
Tracking – When this mode is enabled, the drone will lock on a target and will follow it accordingly.
Panorama – When this mode is activated, the drone will rotate a full 360 degrees and will be recording while doing so.
Orbit – This mode allows the drone to fly around an object and its speed is adjustable.
Line Fly – When this mode is activated the drone will continue to fly in a straight line – the user can record videos and photos easily.
Headless Mode – The drone will not have a fixed front, this is useful for new users as sometimes flying a drone and knowing its orientation can be quite confusing. When this mode is activated they can fly the drone with ease.
Waypoint – The user can draw a flight path for the drone and the drone will follow it on autopilot.
What does the package include?
1 HubsanZino Drone

1 Intelligent Flight Battery 11.4V 3000mAh

1 Remote Controller

2 Propellers (pair)

1 Propeller Wrench

1 AC Adapter

1 Balance Charger

1 USB Charger for drone and RC battery

1 RC cable (Lightning connector), RC cable (standard Micro USB connector), RC cable (USB Type-C connector)

1 User manual
Price of HubsanZino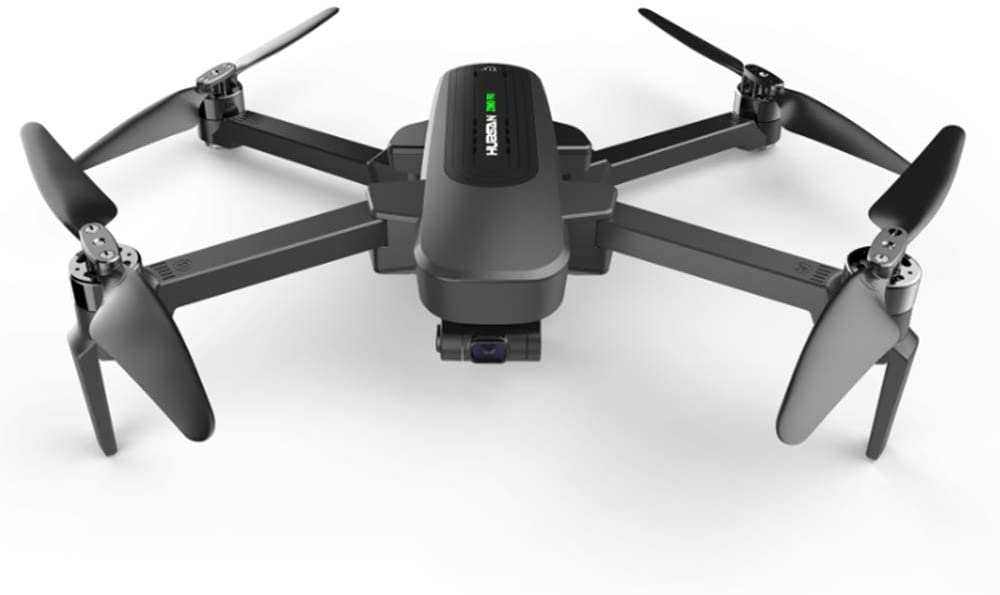 Check the current price of the HubsanZino drone
User Reviews
According to Peisha, the HubsanZino is a great camera drone. It belongs to the price range lower than 500 dollars but it comes with a 4K camera. I was able to record amazing aerial videos and photos. The photos and videos have crystal clear quality and look sharper and more vivid than those drones on the same price range. It has a 3 axis gimbal for image stabilization and it has an intelligent battery that activates the automatic return to home feature when the battery is low.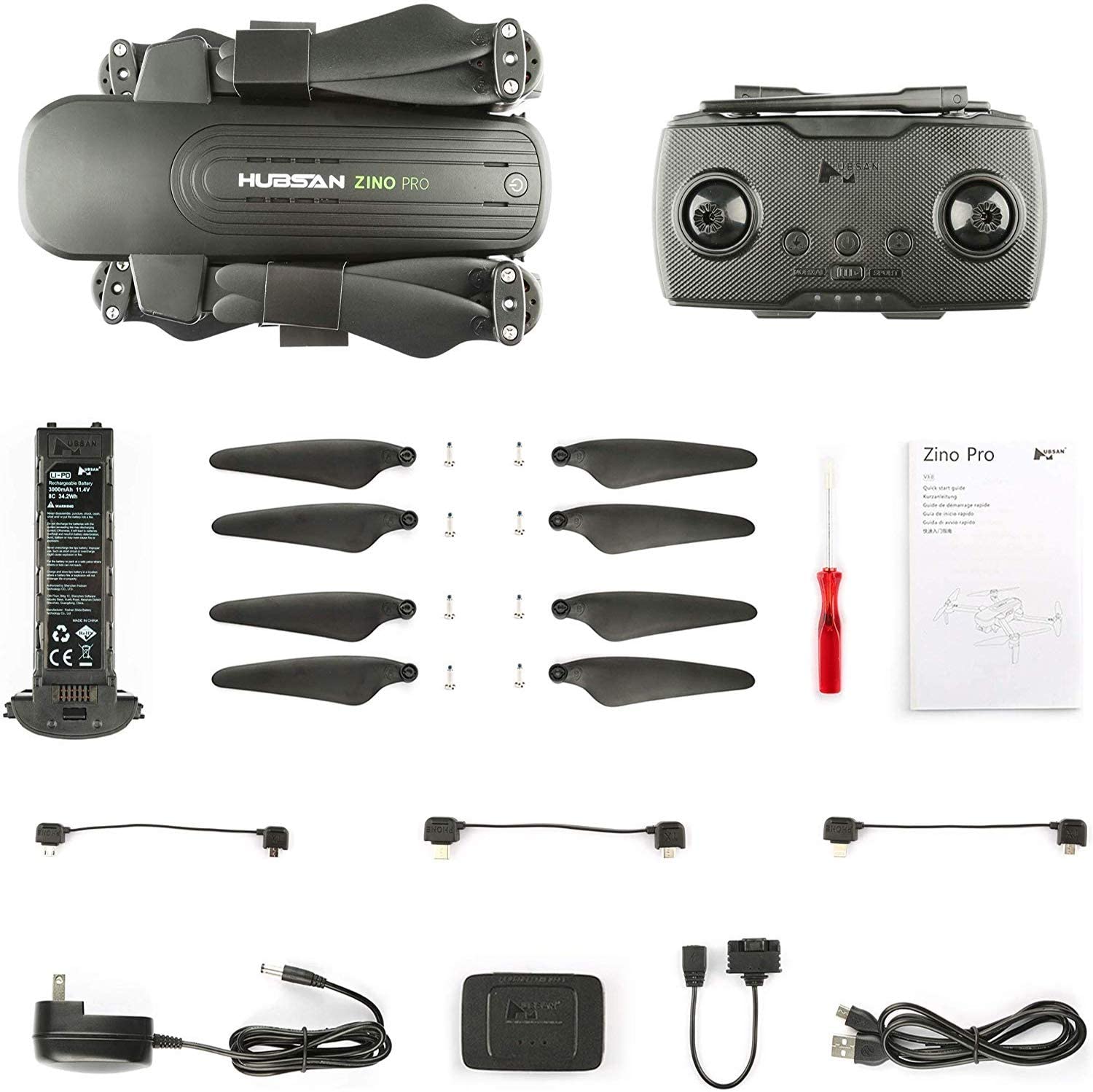 According to Carlito, before I purchased my first-ever drone, I made sure to do a lot of research. I am really glad I purchased the HubsanZino. It is durable and it can withstand a few bumps and crashes since I am a beginner user. I love its 4K camera and I can use the FPV feature thanks to the Hubsan app. It has a lot of cool features such as Tracking, Panorama, and Orbit. I just wish it has an object avoidance feature as I was able to crash on a bunch of trees when I first tried flying my drone.
Final thoughts
We are glad to share with you that we tried and tested the HubsanZino and we loved it. It is a great value for money. It comes with a great 4K camera and it has a long battery life, its flight time can last around 23 minutes. We love that it has brushless motors that give the drone the much-needed power during its takeoff and landing. We were able to capture great aerial photos and videos and thanks to its 3 axis gimbal, we were able to capture distortion-free images and videos. If you are in the market for an affordable camera drone, the HubsanZino is worth checking out. You can enjoy its great features without having to shell out a bunch of money especially if you have a limited budget.
You May Like;