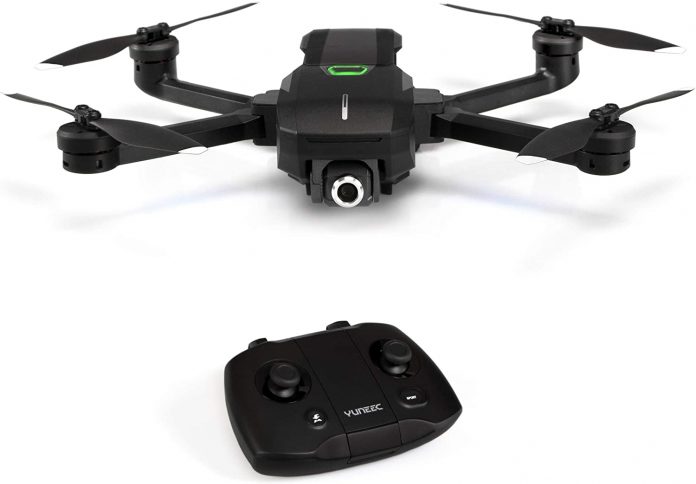 Yuneec Mantis Q review; Is It Worth it?
There are a variety of brands available in the market to complete with the almighty DJI. DJI is famous for its professional consumer-level drones. The Yuneec is a brand that offers some great consumer drones at an aggressive cost. Well, Yuneec Mantis Q is not a top-level drone; however, it offers enterprise-grade hardware with some exciting video and photography capabilities.
Yuneec attracted a fair amount of enthusiasm with the performance of drone technology. Recently they launched and revealed their ultra-portable Drone – Yuneec Mantis Q. What do you think? Is it possible to match up the heavyweight ultra-modern drones available in the market? Can they manage to compete with the Mavic Drones with their ultra-portable range? For a detailed review, stay tuned with us.
Yuneec Mantis Q Portability and Design Statement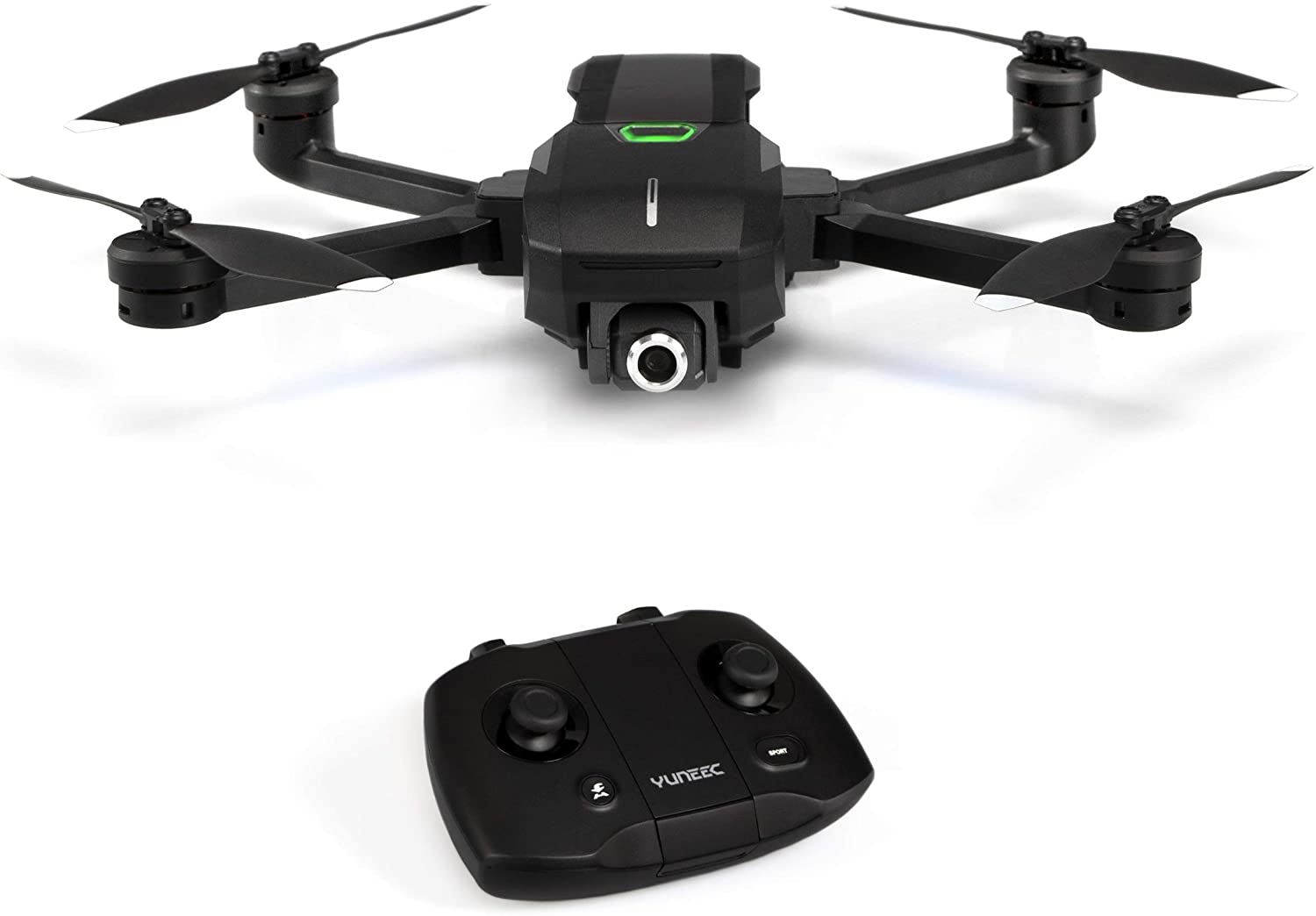 To follow the modern trend of ultra-portable drones, the Mantis Q manages well with its foldable arms and propellers. A folded Mantis Q is a bit larger than Mavic Air when measured precisely. It weighs only 480 grams, which makes it one of the lightest foldable drones.
Apart from the Drone's portability, Yuneec implemented its principle on its remote controller design, which also offers a foldable functionality.  The Yuneec Mantis Q is an awesomely designed and durable, high-performance drone with the lightest form factors. The perfect blend of plastic and metal makes this Drone a highly manoeuvrable one.
However, the built quality is not as good as Mavic Pro, in which we discuss its robustness. The Drone's overall made is fantastic and offers a sleek look with a sturdy and rugged design.
Storage capabilities
The Yuneec Mantis Q drones ships with a microSD card slot on its side, and it doesn't offer any onboard storage option to its users. The quadcopter kit ships with a 16 GB memory card that must be sufficient to handle about 40 minutes of 4K Ultra HD video, or up to 100 minutes of full-HD footage.
If you require it or hold just over a few additional external memory cards, you can always enhance a higher-capacity microSD card. If you want to move your recorded data, including video footage, to your laptop or computer, there is an option of a USB-C port for smooth operation.
Yuneec Mantis Q Camera Performance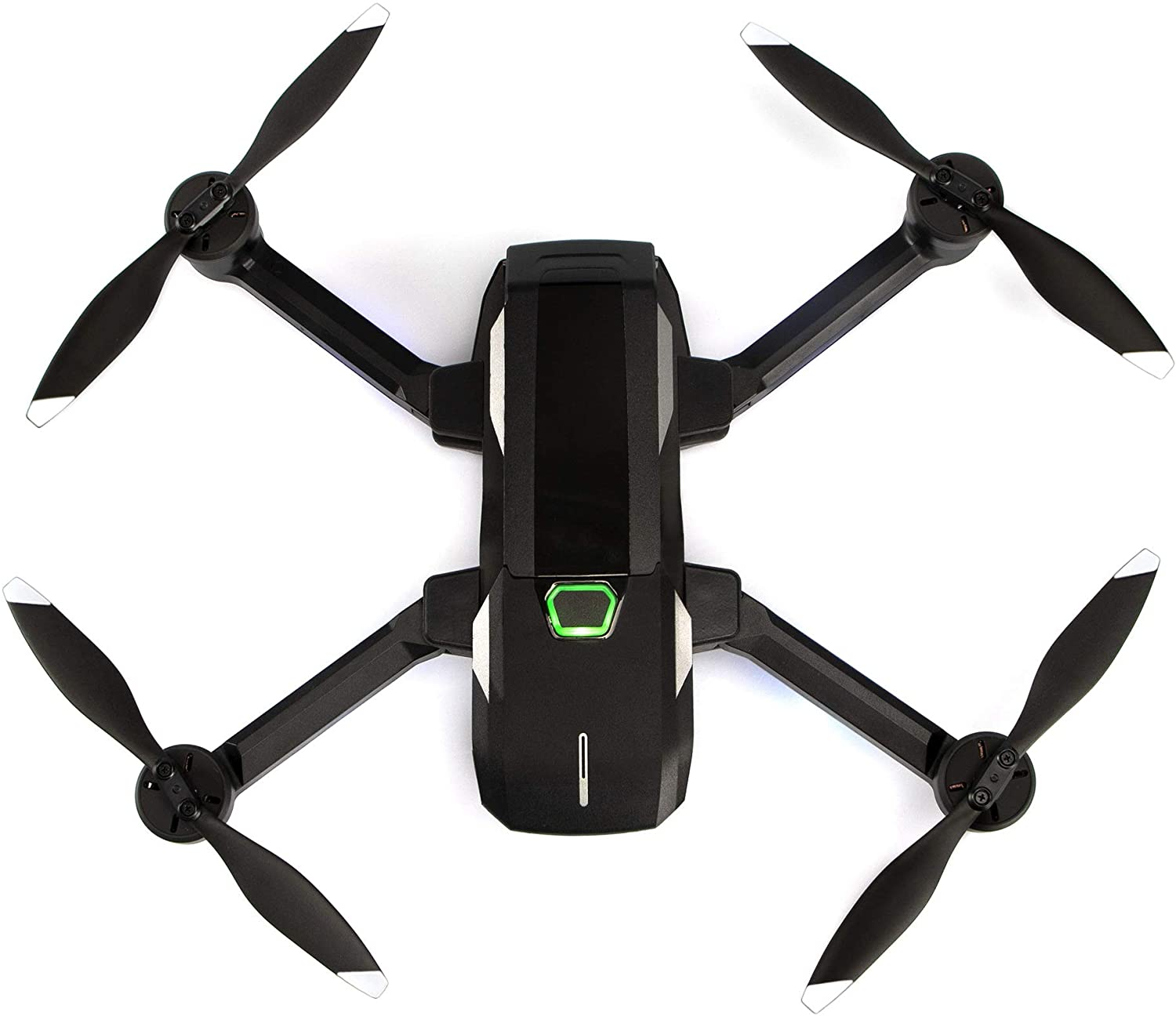 The Mantis Q includes a 1/3.06 "CMOS sensing module camera capable of taking 12.9-megapixel stills and 30 fps 4K video recordings. The existing camera sensor output is very disappointing because it is much smaller than many other premium mobile phones' image sensor. This also indicates the camera sensor used in the Drone unable to perform in poor lighting conditions.
In general, images captured during low-light environments provide very low quality that it is entirely useless to consider. However, photographs taken at high sunshine are also not up to the mark as per quality standards, because they always generate some grains in the captured pictures.
Battery Life and Cycle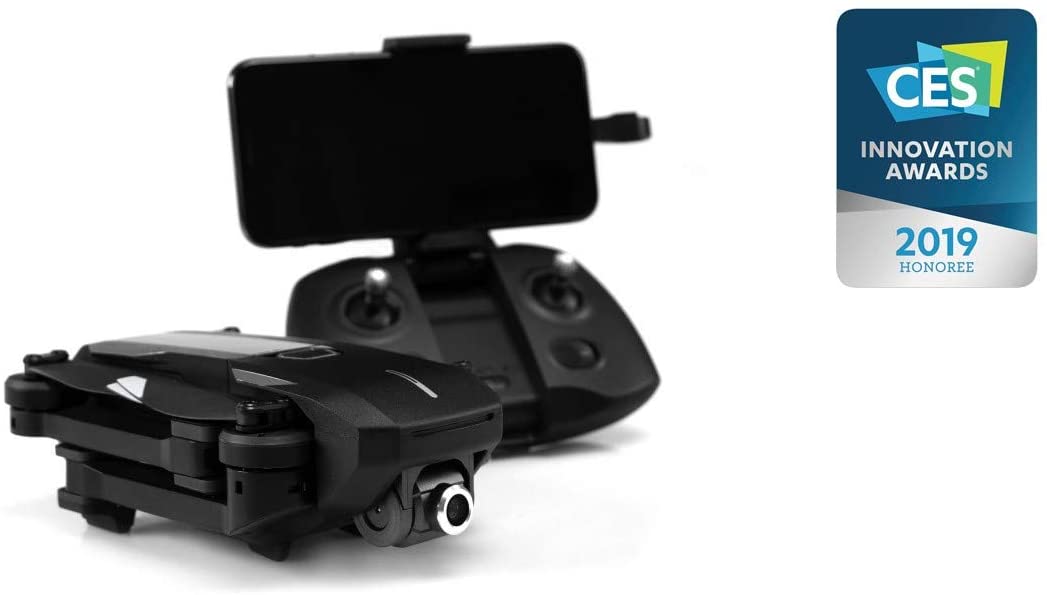 The Yuneec Mantis Q drone has a replaceable 2800mAh Li-Po battery pack. Per the Yuneec, this device will sustain a flying trip of approximately 33 minutes at a constant 14 mph. When the atmospheric conditions are not normal or something like heavy winds with all types of camera operations, the travel time decreases approximately 25 to 28 minutes.
The manufacturer's flying time is a commendable job, which makes it a perfect drone delivering high performance. The other reason for its long-lasting battery life is its lightweight and minimalistic design. The price in which Mantis Q comes offers almost double the battery life when compared with other rivals.
However, there is a little disadvantage the Drone comes with is its charging technique. You can't charge your Drone's battery directly when it is installed inside the Drone itself in simpler words. So, for charging the battery, you need to take out the battery and charge separately.
The package kit comes with an external AC charger to recharge your batteries. The best feature of the battery charger is that you charge 3 batteries in one go. So, to grab its full efficiency, you need to purchase extra battery modules as the Drone doesn't offer any additional battery packs. The good thing is that the batteries are inexpensive. So, we suggest you grab a few of them along with your drone purchase.
Flight Performance
The Yuneec Mantis Q offers two types of flight modes; the first one is Angle mode, and the other one is Sport mode. With the Angle Mode, the Drone can fly at a maximum speed of 14 mph. Whereas with the help of sport mode, it can catch up to an extraordinary speed of 45mph.
The absence, like barrier-avoidance technologies, the above is a mode intended for skilled drone operators, or simply for attempting to fly in wide-open spaces.
The Mantis Q handling distance seems to be something around a mile. The range is quite useful when compared with other models available at the same price segment. Also, it is equipped with both GLONASS and GPS tracking technologies. It supports automated features like self-controlled flight mode and returns to home feature.
The Wireless Remote Controller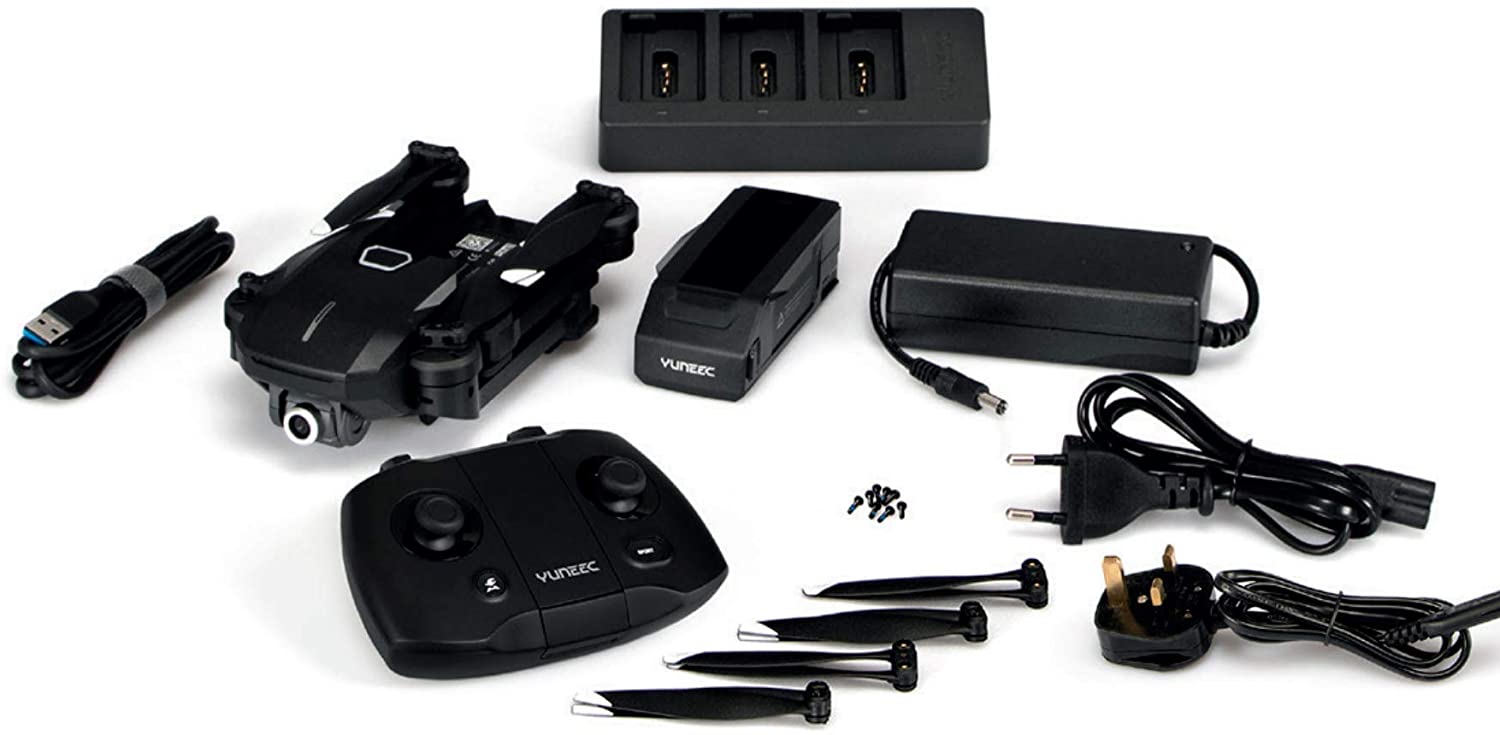 The Mantis Q ships, as well as a basic wireless controller has a sleek and elegant look. It also has two control handles for the attentive monitoring of drone flights. It has a one-click return-to-home feature, and also specific functional controls to snap a picture or begin capturing footage. The physical switch offers you with Normal and Sport Modes with camera tilting and image brightness facility.
All other functions are performed through the Yuneec Pilot Mobile App, which again is available for both iOS devices & android. The iOS app graphical interface is also very simple to grasp, maybe even more so than any of its DJI equivalent. The ease of controlling appears at the expense of flexibility – they provide with just as many features as most complex quadcopters.
The smartphone can be connected with the remote controller via a USB cable. The remote controller also comes with a spring-loaded mobile phone holder for better stability while performing drone maneuvers. It can easily accommodate any mobile phone model with ease.
The remote controller comes with a battery capacity of 3000mah which can be easily recharged using any USB-C port data cable. It offers up to 6 complete drones flying with no hassle of frequent charging.
Our Verdict and Conclusion

After analyzing all the features, functionalities, price to performance ratio and other real-life operation we developed a mixed sort of feeling about the Drone. There are certain features which makes it a great value for money package. The manufacture does a tremendous job by maintaining its light weight and compact stylings.
The major downside of the Drone is its camera performance with lack of stability. The obstacle avoidance technology is not well optimized which makes Mantis Q difficult to handle in harsh conditions.
The final question that strikes in our mind is Yuneec Mantic Q is worth buying? Well the answer varies from person to person as the drone delivers best battery life and decent camera performance. So, we suggest you note down all your needs and preferences from a drone flying perspective. Compare other models with Mantis Q and choose the best-suited Drone and have fun.