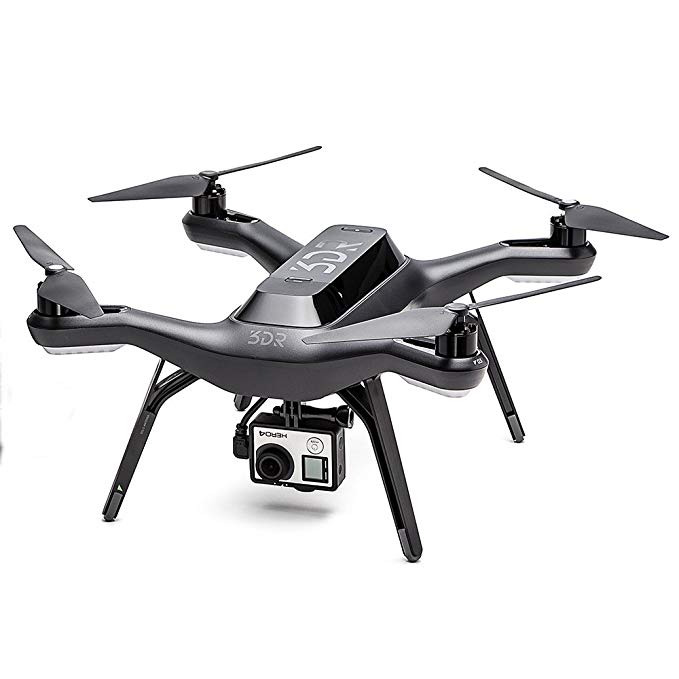 What Is The Best Drone for GoPro Camera?
Are you searching for the best drone to use with your GoPro camera? If you are wondering what is the best drone to use so you can fully maximize your GoPro's features you came to the right place. We will share with you our article for the Best Drone for GoPro. Hopefully, after checking out this article, we will be able to help you have an informed decision once you decided to purchase a drone to use with your GoPro camera.
Here is the list of the Best Drone for GoPro
3DR Solo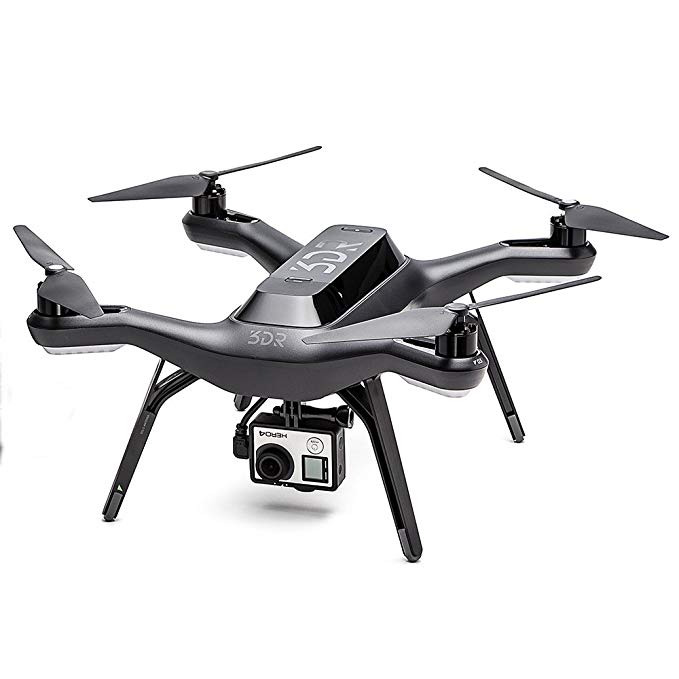 3DR Solo – The 3DR Solo drone is known for being the world's first smart drone.It is powered by two 1 GHz computers. It is designed with the GoPro in mind. The camera can be controlled with the gimbal but you need to purchase it separately.
The 3DR Solo is compatible with Hero 3, 3+, and 4. It can stream real-time HD videos from the GoPro camera to your iOS/Android smartphones or tablets and you can view the video using the FPV mode.
Specifications
Camera: Not included (GoPro compatible)
Dimensions: 9.23 by 16.52 by 16.42 inches
Flight Time: approximately 20-25 minutes
Gimbal: Smooth and steady video stream (Needs to be purchased)
Pros
Great design
Stable flight
Gimbal control
Designed with GoPro in mind
Cons
Flight time around 12-15 minutes only
GoPro Karma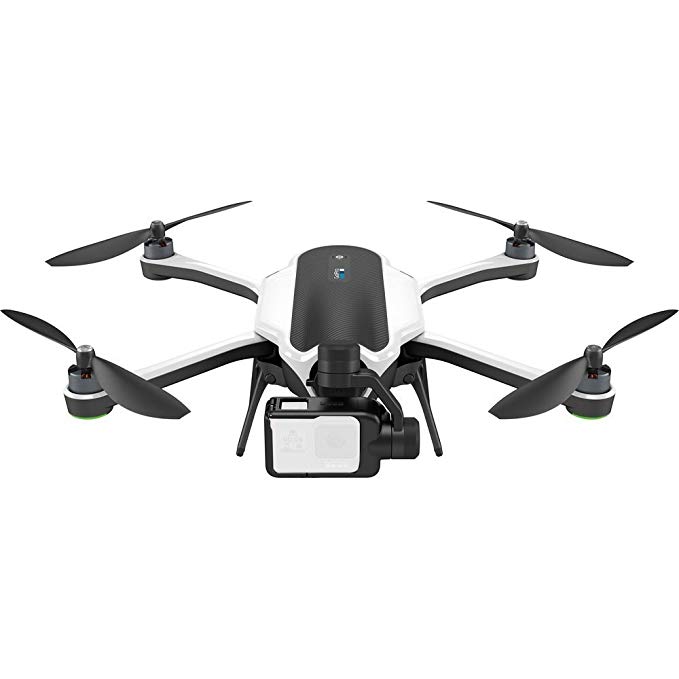 GoPro Karma – The GoPro Karma is one of the best drones that work with GoPro cameras. The Karma grip works great to give you steady footage and a remote controller that resembles video game controllers.
The GoPro Karma is fold-able and it is a great choice for individuals who love to travel. It captures smooth, high-quality videos because of its controlled movement. The flight time lasts around 20 minutes and you must stay within the range of 3 km to avoid disconnection. It works with GoPro Hero 4, 5, and 6.
Specifications
Camera: You can order it with the GoPro Hero 5 for a higher price; it works with GoPro Hero 4 and Hero 5 Black and 6
Compatible with GoPro
Gimbal is included in the package
Flight time: Approximately up to 20 minutes
Remote controller (resembles video game controllers)
Pros
Orbit, Cable Cam
Can take drone selfies
GoPro support
Waterproof
Foldable and compact size (Perfect for travelers)
Cons
Vibrations can affect video recording
DJI Phantom 2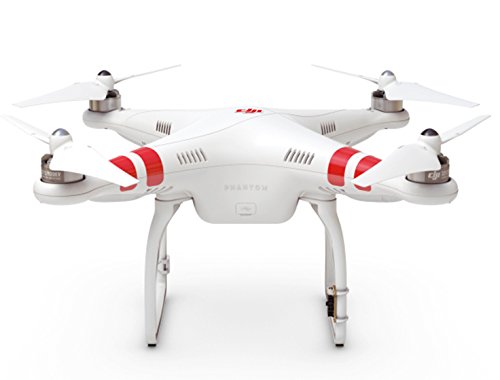 DJI Phantom 2 – The DJI Phantom 2 is a quad-copter that works with GoPro cameras. It is easy to fly and control and it is capable of recording high-quality videos. It is stable and safe to use, especially when you have expensive camera equipment.
The Phantom 2 has a return to home feature which allows you to retrieve it when you lose control or when the controls are suddenly switched off. It uses a great GPS module and it is equipped with safety features that prevent accidents and crashes.
The DJI Phantom 2 comes with a Zenmuse H3-3D 3-axis gimbal which provides the user with smooth video recording and it has impressive camera stability. The Li-Po battery gives you approximately 25 minutes of flight time on a single charge.
Specifications
Camera: No camera included in the package
Dimensions: 20 by 10 by 14 inches
Designed with GoPro Hero cameras in mind
Maximum Flight Time: Approximately 25 minutes
GoPro compatible with gimbal included
Pros
Great flight time
Decent build quality
Great video recording quality
Cons
LED light indicators often fail
Need to purchase FPV System separately
Syma X8G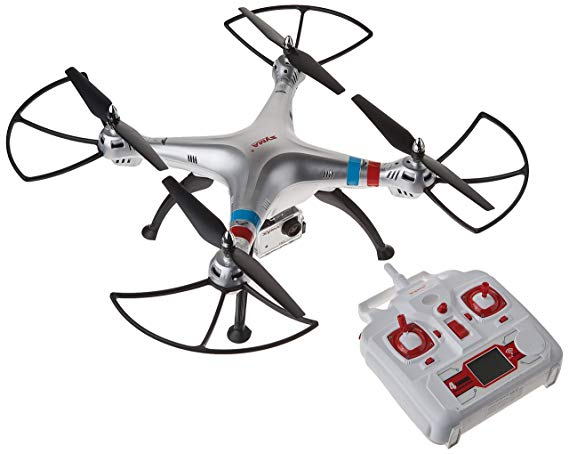 Syma X8G – The Syma X8G dronemay not be the top choice for GoPro drones but it is highly recommended for individuals who have a limited budget. It includes an 8-megapixel HD camera that can record HD videos. The camera port is compatible with a GoPro action camera. It is an excellent choice for those who want a beginner drone. It has a durable build quality that can withstand light crashes and rough landings.
Specifications
Camera – No camera included
Holding case is compatible with Go Pro action cameras
8MP HD camera is capable of recording 720P and 1080Presolution videos.
Flight time – Approximately 12 minutes
Flight range – 100 meters
Pros
Bracket included in the package is compatible with the GoPro action camera
Includes HD 8-megapixel camera
An affordable option for those who have a limited budget
Stable flight using the 6-axis gyroscope system
One button 360-degree rolls
Cons
Limited flight time
Short flight range
DroCon Bugs 3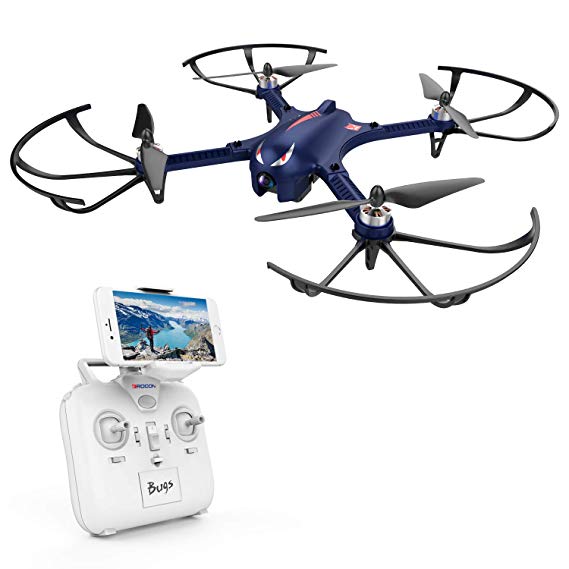 DroCon Bugs 3 – The DroCon Bugs 3 is affordable and can be a great choice as a beginner drone. It is compatible with GoPro cameras.
The DroCon Bugs 3 is an excellent beginner drone. It is stable, smooth, and easy to use for beginners and even for professionals. You can fly up to 1000 feet while taking great aerial videos and photographs.
The Drocon has a brush-less motor that does not overheat so you can enjoy longer flight times. It is made using nylon fiber which makes the body durable and sturdy and can withstand moderate wind conditions. The Drocon Bugs 3 is capable of diving, flipping and other moves that can impress everyone around you while you fly your drone.
If you already own a GoPro action camera, you can just plug it in, and you can fly it immediately. The low power alarm and weak signal alarm will help you keep the drone under control. The DroCon Bugs 3 is capable of 3D rolls and flips by just pressing a single button.
Specifications
Camera: Can mount GoPro cameras
Brushless motors
Flight time: 15-20 minutes
Remote controller – Its distance up to 1000 feet
Pros
Easy to use for beginners
Decent flight time
Economical
A great beginner drone
Can perform 3D rolls and flips
Brushless motor which means longer flight time
Cons
Long charging time
Some users complain about battery charging/charger