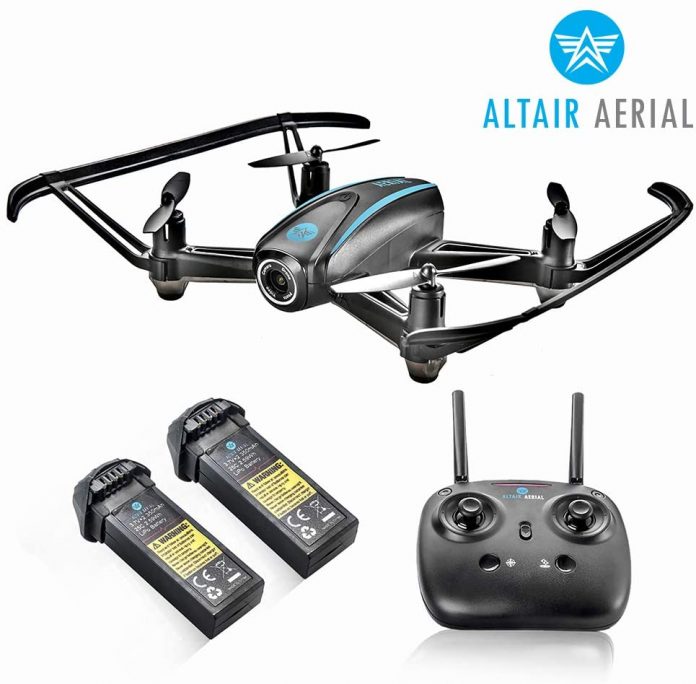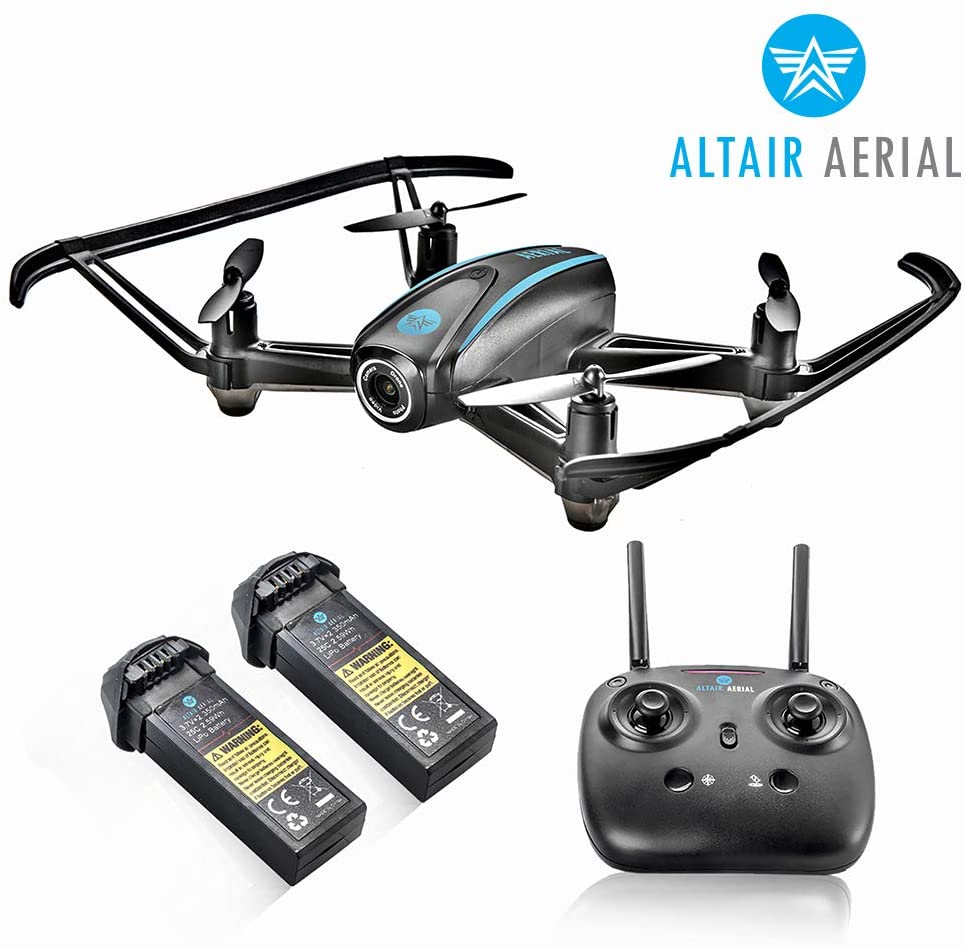 Looking for a top drone under $200? Then you need to check out our Altair Aerial AA108 Review!
Are you searching for an affordable level-entry drone with a camera and great features? If your answer to that question is yes, you came to the right place. In this article, we will be sharing with you our review. If you are wondering if it is the perfect drone for you, keep reading below to find out more information. 
The Altair Aerial AA108 is manufactured by Altair Aerial. Altair is a USA-based business, located in Lincoln, Nebraska. They are known for great customer service and support for their customers. The AA108 is designed with striking looks and good build quality. It is advisable for new users since it is easy on the wallet and it comes with great features that blow out its competitors on its price range. 
The Altair Aerial AA108 is a great beginner drone if you want to try out flying drones. It comes with 3 skill levels which makes flying the drone an enjoyable experience for any user. It is designed with cool features such as one-touch button takeoff and landing, altitude hold, headless mode, etc. It comes with an extra battery that makes your drone flying experience longer and more enjoyable.
Altair Aerial АА108 Review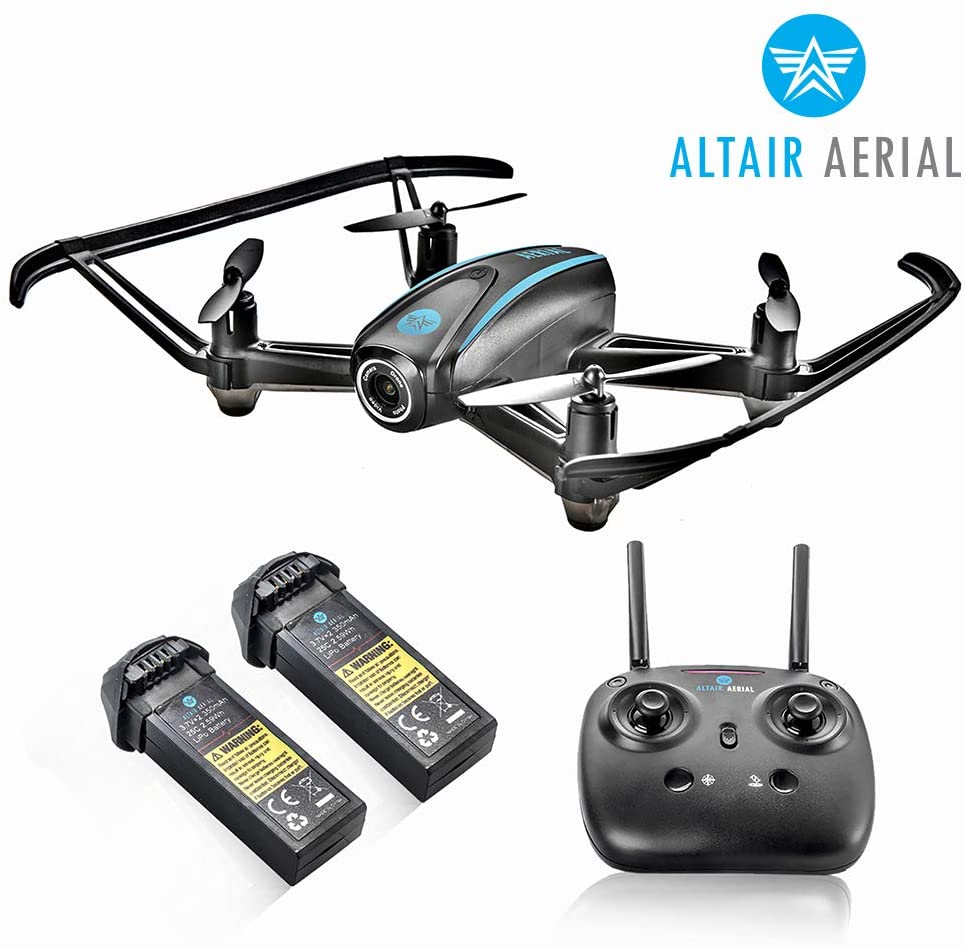 Specifications
Package Dimensions: 10.1 by 9.1 by 4.4 inches

Item Weight: 1.64 pounds

Maximum Flying Range: 300 feet

FPV Range: up to 120-150 feet

Maximum Flying Time: 8-10 minutes per battery, comes with two batteries

Camera: 720p Resolution
Design and Features
The Altair Aerial AA108 drone is built using durable plastic. It is designed with a sleek matte black finish that makes it looks and feels like a premium drone with a higher price range. It is also finished with blue accents that add a cool effect on the drone's appearance.
The camera is attached to the front of the drone. It has a 120 degrees wide-angle 720p resolution HD camera that is capable of capturing awesome aerial photos and videos during the drone's flight. On the back part of the drone, the battery slot can be found. The overall design is well-thought-of which gives it a clean, simple, and sleek look.  
The drone is small, compact, and lightweight but still feels sturdy and durable at the same time. It can be equipped with propeller guards to protect the drone from all sides. It can be flown indoors or outdoors. The overall design and feel of the drone are impressive for its price range. It does not feel cheap and it is well-built. 
The AA108 is easy to fly. It is ready for use and it can be flown out of its package. Just plug in a battery on the battery slot and it will be ready for your first drone flight. 
One-Touch Take-Off – This feature allows beginner users to enjoy their first flight. This makes the drone easy to operate.
Camera – Capture and shoot aerial videos and photos using the 720p HD camera with built-in 120 degrees wide-angle for FPV mode flying. 
Remote Controller – The AA108 comes with a remote controller. It is easy to use. You can easily control the drone using the FPV mode. Most phones can fit the top of the controller. Just connect your smartphone on the controller and start up the FlyingSee app. 
Flyingsee App – The App allows the users to view a live video feed from the drone's camera. The live video is smooth and the maximum video transmission range is around 120-150 feet.
By using the app it allows the user to easily capture amazing bird's eye view videos and images from their smartphones. It can take still photos and save them on your phone's gallery. If you want to record and save videos you must insert a Micro SD card on the drone's memory card slot, if you try to record without an SD card, it will show an error on the app. Download the app on the Apple store and Playstore so you will be able to use the FPV flying features such as Custom Route Mode, which allows users to draw a customized flight path for their drone. 
Other Features:
3 Skill Levels – It comes with 3 different skill levels that allow different users to fly their drones according to their skill levels. 
Beginner Users and Kids

Intermediate Users

Advanced users – Experienced drone pilots
Altitude Hold – This feature allows the drone to hover in the air when the feature is activated. It allows the user to take amazing photos and videos and make your drone flying experience more fun and enjoyable. 
Headless mode – This feature allows the user to easily maneuver the drone towards a specific location regardless of where it is currently facing. Just press the control stick forward and the drone will move forward even when it is facing on its side. 
Safety Features: Users will hear a sound notification when the drone's battery is low or when the drone is nearing its maximum flight range. 
Emergency Landing Button – This is the same button for the quick takeoff. Press this button while the drone is in flight. It will allow the drone to immediately land gently and safely on the ground. It is a useful feature if you make a mistake and the drone starts losing control during its flight. 
What is included in the package?
1 Altair Aerial AA108 Drone 

4 Propellers

2 Batteries – 3.7v LiPo

1 USB Charging Cable

4 Extra Propellers

1 Propeller Installation kit & screwdriver

4 Extra rubber foot guards

1 Memory card reader (Need to purchase a Micro SD card separately)

1 Instruction manual
Price of the Altair Aerial АА108 Drone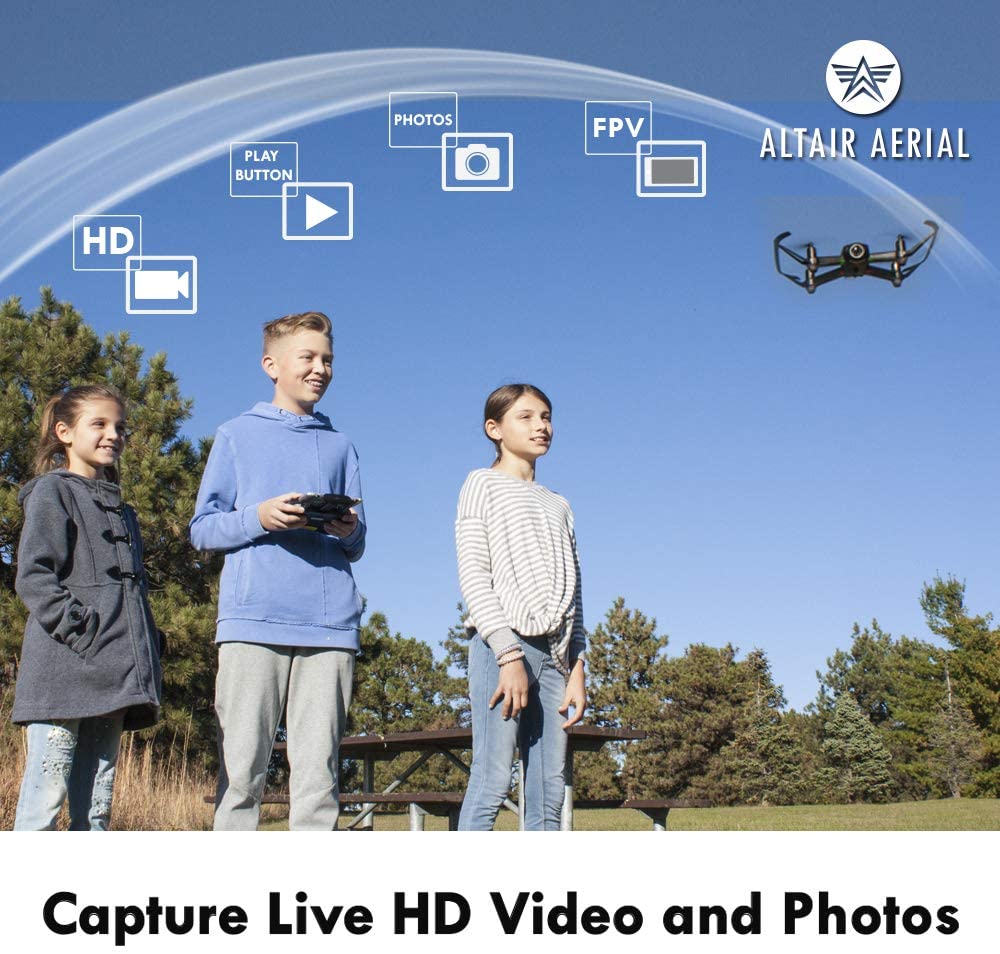 Check the current price of Altair Aerial АА108 on Amazon here. 
User Review
According to Anthony, I bought the Altair Aerial AA108 and I am quite enjoying the experience so far. The drone is well built and it is designed with a sleek finish. It comes with a 720p resolution HD camera that allows you to capture great aerial videos and photos. It comes with 2 batteries so you can enjoy approximately 20 minutes of flying time. This drone has 3-speed settings that allow any user to enjoy flying it. I highly recommend it for first-time drone users. 
According to Dominic, I was having second thoughts on which drone to buy since it is my first time to purchase one. I am glad I chose the Altair Aerial AA108 drone. It comes with extra items such as rubber foot guards, extra propellers and its manual is written in English which is quite easy to understand. I love the remote controller and it is compatible with the Flyingsee App that allows you to enjoy the FPV mode. It is easy to fly and I can take it with me wherever I go. 
Final thoughts
The Altair Aerial AA108 Drone is a must-have level entry drone. If you are planning to purchase an affordable and sturdy beginner drone, it is worth checking out. It comes with a 720p resolution HD camera that allows you to record aerial videos and photos. It has 3 flying modes that allow different users to enjoy their drone flying experience. It also comes with great features such as Headless Mode, Altitude Hold, One-touch landing and takeoff button, as well as safety features that will allow you to safely land your drone when the battery becomes too low or when you lose control while flying it. It also comes with an extra battery that allows you to enjoy longer flights. 
You May Like;