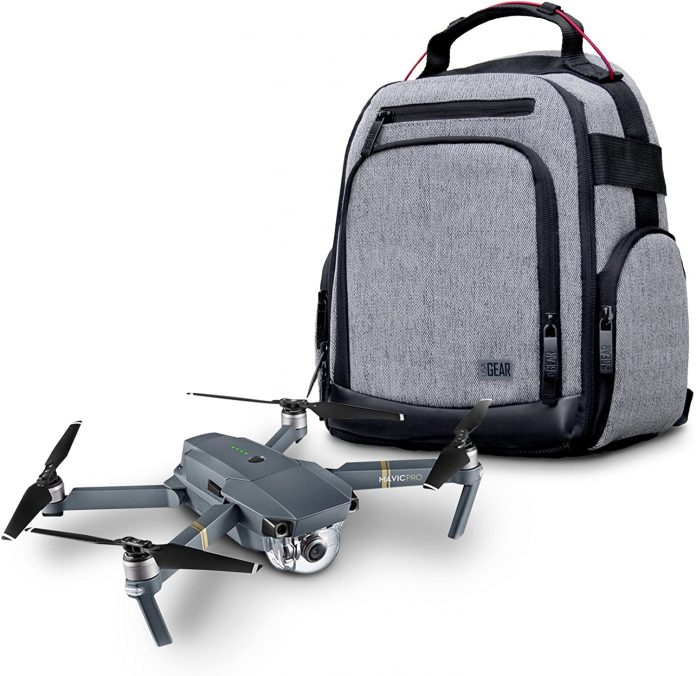 The 5 Best Drone Backpacks: Your Guide To Choosing The Right Product
Cameras used to be the main thing when travelling, but now there's drones. For a lot of beach bums, short hikers, or full-fledged vacationers to somewhere far, the trip just isn't what it's supposed to be without a drone and its accessories. 
The recent trend has featured drones that are ultra-portable, however, it is recommended for enthusiasts to bring with them the best drone backpacks for carrying their beloved machines and their accessories. If you're fond of travelling and are always taking your drone with you, it makes sense to invest on a good quality backpack to ensure your convenience, and the safety of your machine.
Here Are 5 Best Drone Backpacks That You Can Consider
LowerPro DroneGuard BP250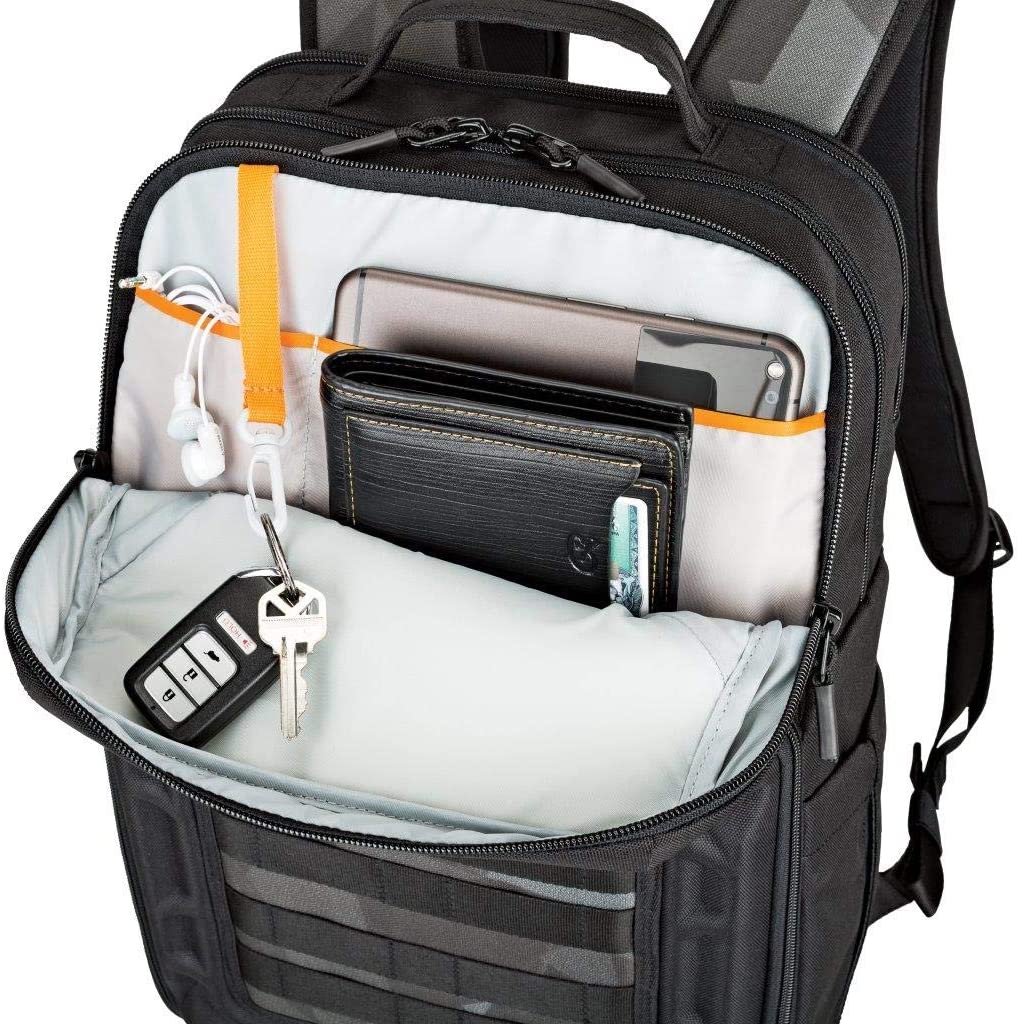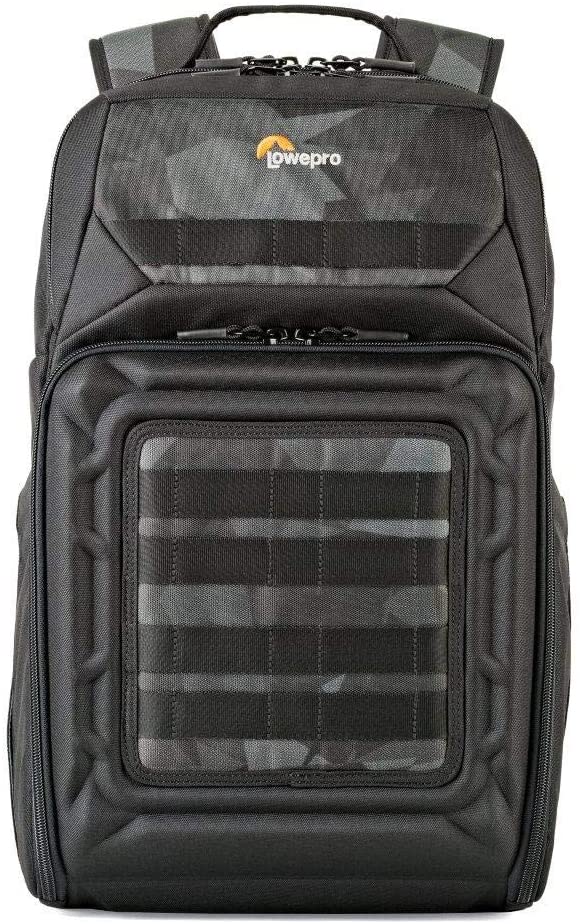 LowerPro is a brand that is known globally for its photography and camera gear. The company's DronGuard BP250 has an intelligent design, bearing with it the typical high quality build offered by LowerPro.
The BP250 model from LowerPro is particularly designed for packing mega-portable machines such as the DJI Mavic line, and Autel's Evo. This backpack has enough space inside for stuffing your drone, along with organized plastic straps and soft dividers for arranging its accessories. 
You'll likewise find a laptop or tablet compartment in the backpack, and a small pocket on the shoulder straps for securing your phone.
However, keep in mind that the BP250 is on its own, a compact drone backpack, although it is roomy enough for carrying your portable drone. This said, it might be challenging to fit some charger cables, spare batteries, and machines with large controllers in it.
Torvol Rucksack for Racing Drones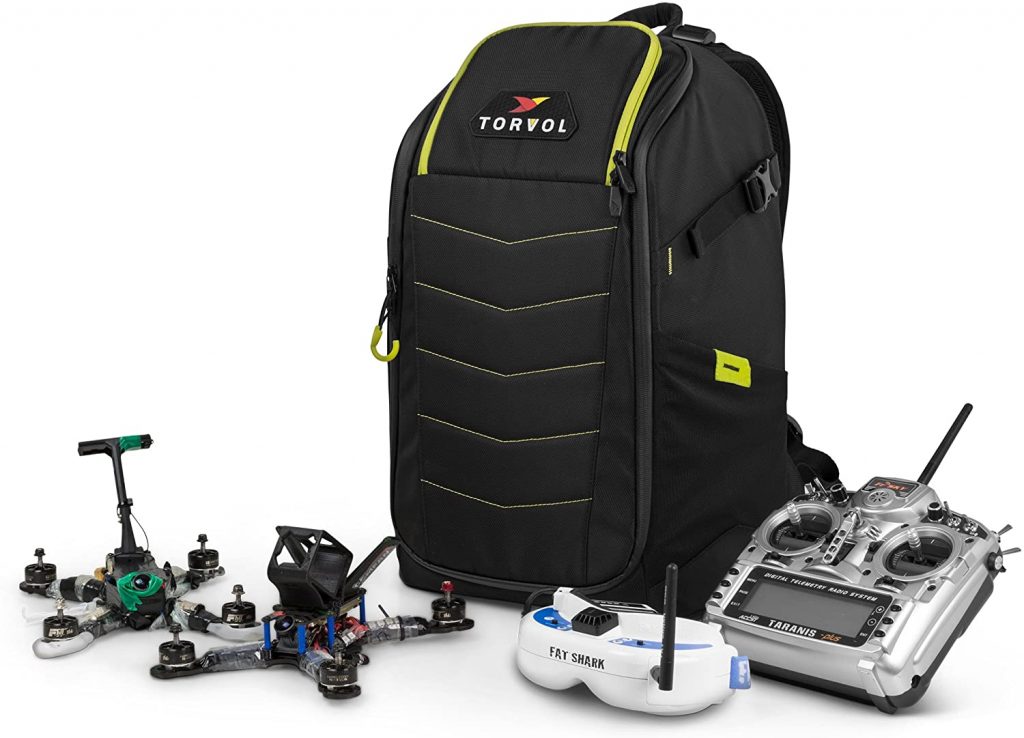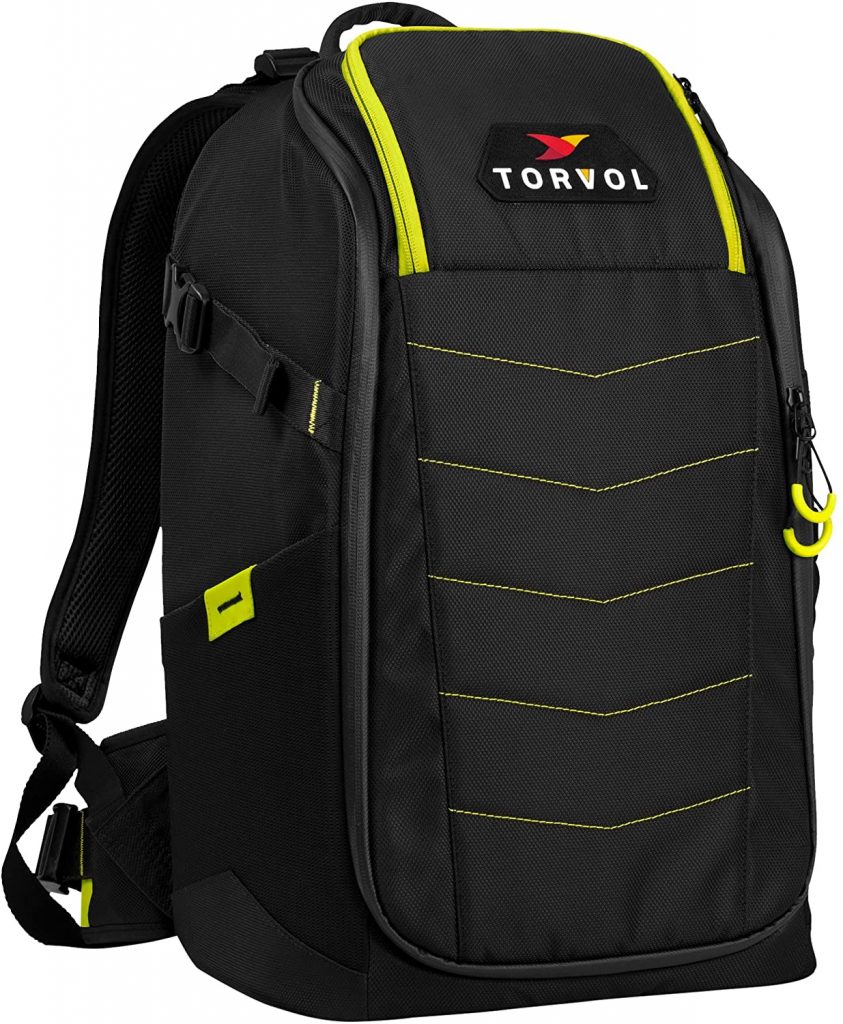 Quite unassuming, this drone backpack. In that it's so inconspicuous, people won't suspect that it holds pricey electronics. Rather than being stylish, it's more utilitarian, featured with design elements that are indeed innovative.
The name itself implies that the Torvol Rucksack is specially designed for drone FPV racers. One of its stranger values is that its front panel can be opened to work as an improvised workstation. What a welcome component from a drone backpack because racers, in their game, have to make tweaks and replace parts.
The clean and flat surface on the front panel of the rucksack is fantastic as a treat, but other than it, it also features a magnetcase pocket for safely storing loose screws or other tiny metal parts.
Inside this backpack are adjustable compartments, and its side pockets are roomy. Its back panel is soft, and it comes with sturdy waist and shoulder straps.
A Torvol Pro version of this backpack is available as well wherein a laptop compartment is included. The Torvol Rucksack comprises a rain cover at the same time to protect your gear from heavy rain.
Manfrotto MB BP-1 Professional Drone Backpack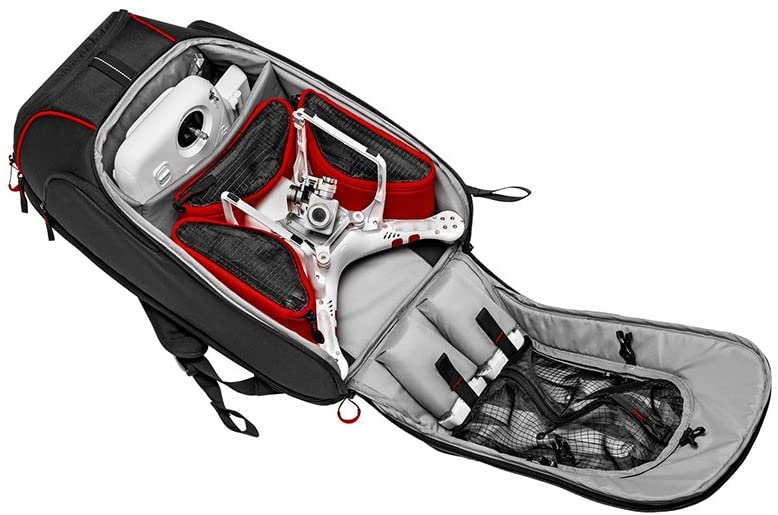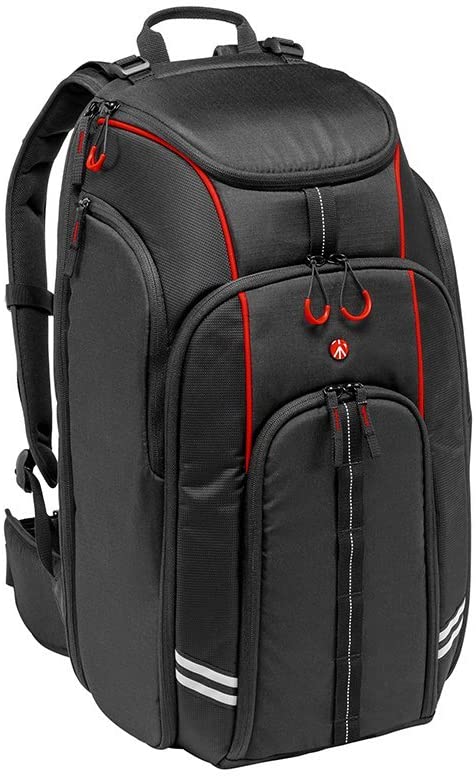 Those who try their hands at photography can be all too familiar with the Manfrotto brand. A solid following knows Manfrotto as a global brand for lighting, photography, and video gear. That's why it won't be surprising for the MB BP-1 drone backpack to be one of the best of its kind for enthusiasts to see.
The design of the MB BP-1 is specifically made for DJI Phantom drones, and therefore it is larger than the others mentioned in this list. Its interior compartments and partitions have been particularly created to fit popular drones that are categorically professional. 
Inside the bag, you'll find a spacious room for a laptop, and a DSLR camera, too. Basically, this is your one-bag-fits-all solution as a traveler, or else, you're better off with a suitcase!
The design of the Manfrotto MB BP-1 drone backpack is mostly built for DJI Phantom series drones, however, other brands and models with comparable form factors would be able to seamlessly fit in the bag. Some of these are the 3DR Solo, and the Autel X-Star. 
A downside of this item is that it can be too big. If you own an ultra-portable machine, you therefore won't need to burden yourself with this huge drone flight bag.
PGYTECH OneMo Shoulder Bag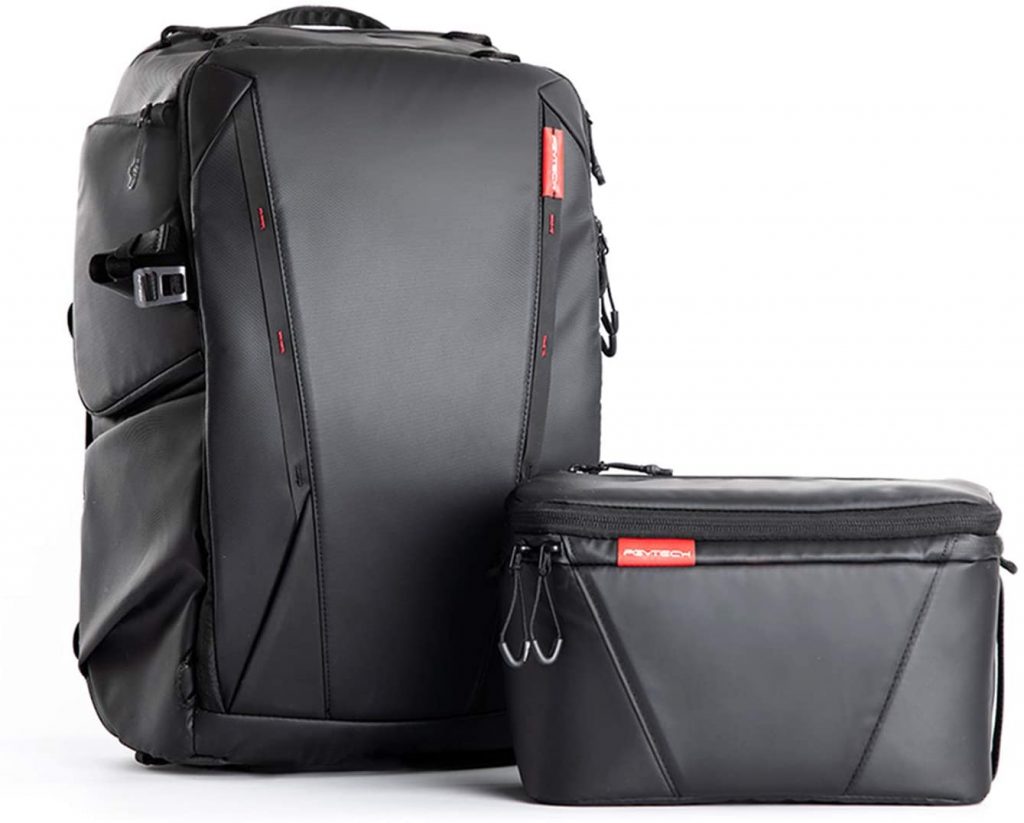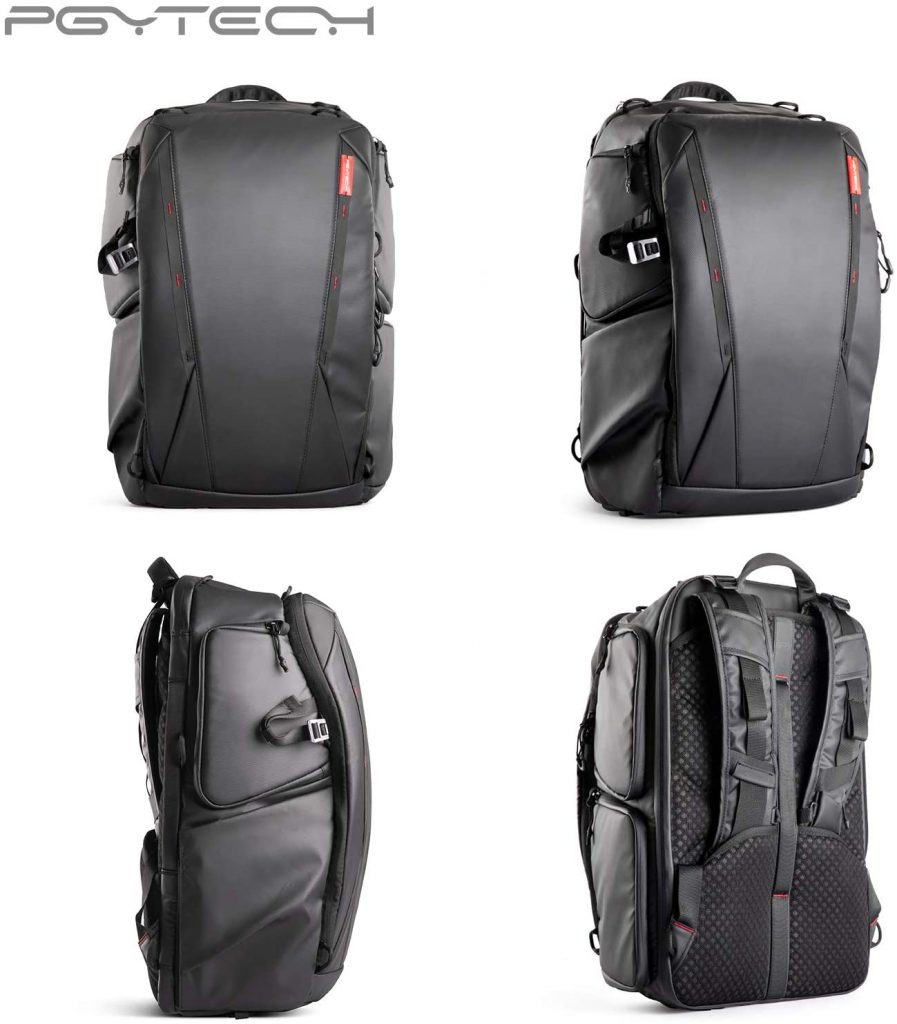 Instead of being a backpack, this item in the list is a shoulder bag, and is much smaller. Its internal space is just enough for storing an ultra-portable drone and a few of its important accessories. Nonetheless, even if your accessories are that of a DJI Fly More Combo, no worries because the OneMo has been particularly made to carry all the peripherals of this bundle. The dividers of this bag are also detachable, and it can double as a camera bag if you have a DSLR camera.
If it bothers you to bring along a backpack, you can resort to using the OneMo Shoulder Bag. It's more practical if you are moving around constantly, like covering an event shoot. Although the OneMo has a smaller size, its interior compartments have been handily designed to fit accessories conveniently.
The build of the OneMo is top-notch. Its polyeurethane coating as an external material is waterproof, and resistant to wearing and scratch. With its superior SBS zipper, the bag attains a splash-proof characteristic. High- density XPE foam makes up the lining in its interior, along with its dividers, allowing  lightweight shock absorption.
This drone shoulder bag is one of the best in mobility for ultra-portable machines. Then again, there are obvious limitations, such as you not being able to carry three spare batteries in it. This means that better planning of your gear is required if you're going to use this drone shoulder bag.
USA Gear Drone Backpack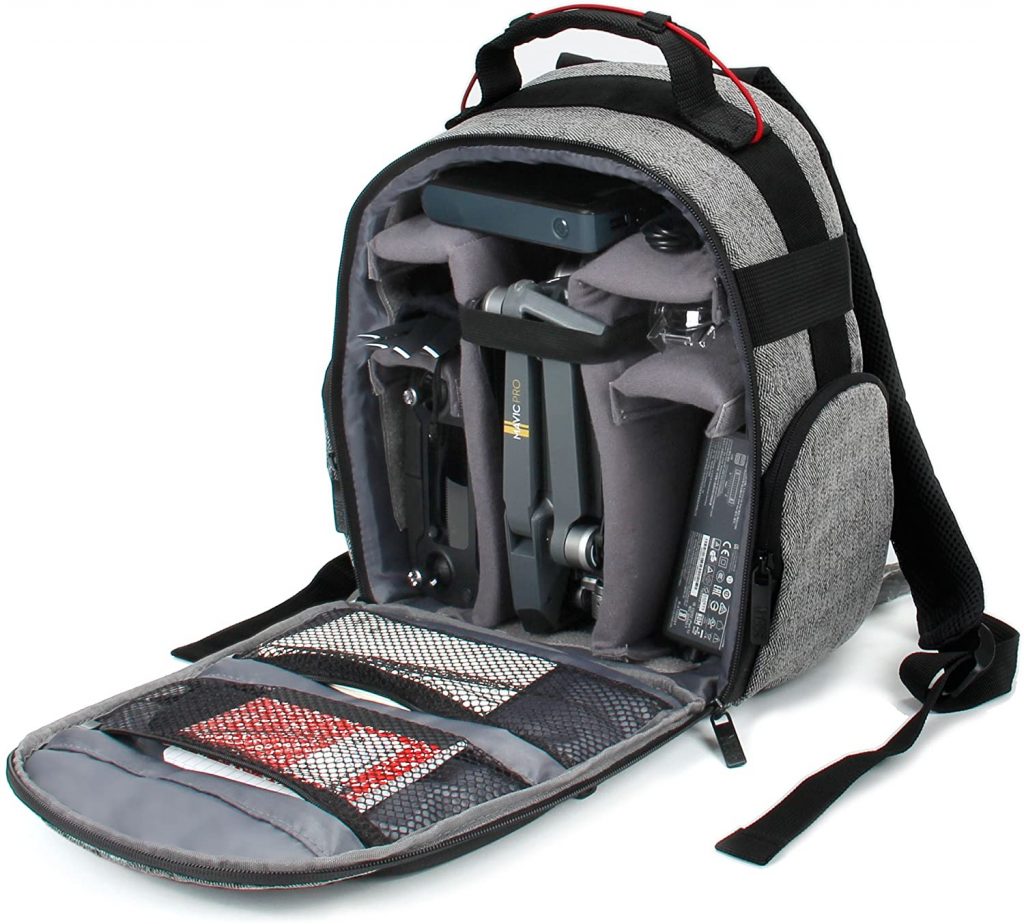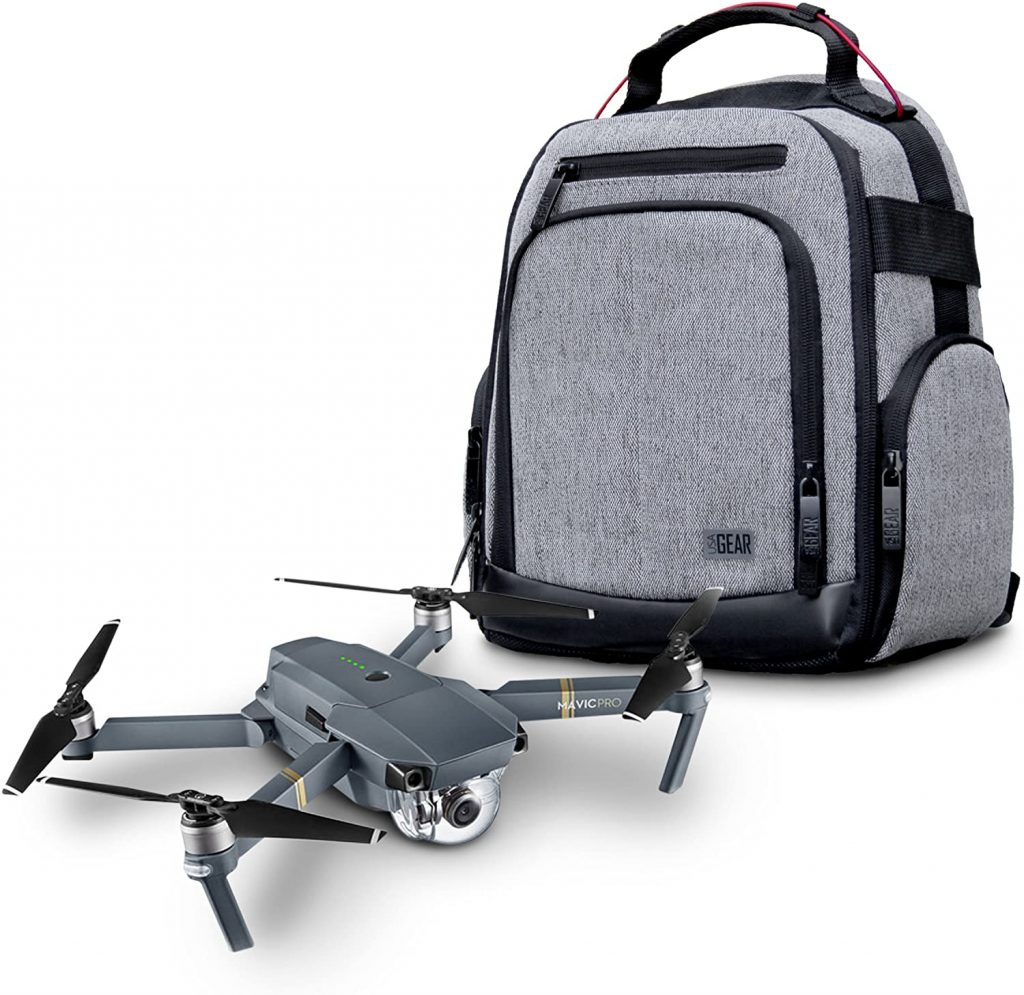 Unlike the other entries on the list, the USA Gear Drone Back Pack is not high-performance in terms of design or construction, and that is, considering that it comes with a low price tag. This drone knapsack is not bound to hurt your wallet, especially if all you need is a flight bag that'll simply get you through an upcoming trip.
This drone backpack from USA Gear is made for carrying ultra-portable drones together with their accessories. With its assortment of elastic straps and detachable dividers, it is suitable for holding different brands of drones such as the DJI Spark, Mavic drones, Autel Evo, and Tello, along with other similar models.
What the USA Gear Drone Backpack is specifically designed for is for storing the basic accessories of your drone, and not for carrying your laptop or tablet along. Ascertaining the size, you'll find that this knapsack is smaller than a standard daytrip one. It is thus advisable only if you want to travel light, and not if you plan to tag along a lot of your machine accessories.
Only the base of this backpack is waterproof, which is bound to protect your gear in case you need to place it on a damp ground. Apparently, it won't be able to protect your things under heavy rain. In such cases, you therefore need to have a contingency, particularly if there is no shelter to resort to.
This USA Gear drone flight bag is a cheaper alternative if you want to skip buying the bigger brands that hold fancier features. You can't expect much from it, and you have to meticulously consider its limitations, mainly because with this drone backpack, you're getting what you paid for.
How To Choose The Best Drone Backpack For Your Trip?
Just about any drone flight bag would do if you're carrying a small machine with you. Nevertheless, you would need a more dedicated item if you want to ensure the safety of your equipment. The bags mentioned above are known to be so- able to withstand the beatings and are comprised of steadfast internal components to contain and hold your equipment, or to keep them from moving around in it.
What factors should you consider before buying a drone flight bag?
Choose the size carefully.

When doing so, take into account its specific use. Initially, determine how big your machine is. What about the batteries? How many of them do you need to bring? What is the purpose of using your drone? Would it be merely for short walks, or is it for a long road trip, or else for an overseas flight? Don't think that a bigger bag is always better, though, because you'll virtually need to carry something smaller for hours on end.

Does it have adjustable compartments?

Third-party brands are better opted for pertaining to choosing the best drone backpacks. If you go for OEM bags, you would expect something that's made with permanent compartments that are exactly designed for storing the accessories of a particular drone model. There are no limitations of such kind if you're buying a third-party drone flight bag, what with compartments that can be adjusted in everlasting ways. You can use some flexibility because you can't be quite too sure about the type or number of accessories that you'll be tagging along.

Take into account a product that is water resistant.

Typically, drone flight bags are created with soft fabric material and zipper enclosures and are not expected to be entirely waterproof. Then again, most of these products tend to offer a good level of water resistance at the least, and are able to handle light drizzles or splashes of water. However, you shouldn't expose it to heavy rain.
Take note of the durability of the drone backpack.

There wouldn't be a lot of issues about durability if you're buying a product from a reputable brand. For the most part, high-quality and the best drone backpacks are made of Ripstop Nylon material. It is the same material as that of hiking backpacks and camera bags. Several of these items are likewise designed with partly-rigid panels that are able to augment their protection from impact.
Is It A Drone Bag That You Need To Carry, Or A Hard Case?
When shopping around for the best drone backpacks, you're likely to come across items such as rigid cases made with hard plastic shells. Both of these products are actually great for your travelling and storage needs, but there are situations when one is more suitable than the other. Do you need a fabric bag, or a hard case for storing your drone? You can decipher by asking these questions:
Are You Taking Your Drone On A Hike? Or Are You Driving, or Flying?
A backpack is a more comfortable option if you are hiking. Being flexible, this storage for your drone adjusts with your movements. Minimal shifts according to the shape and distribution of weight in the bag make all the difference in terms of a comfortable, or otherwise excruciating hike.
A hard case is a more sensible alternative if you are driving or else going on a flight with your machine. With the hard-shell exterior of a case, it'll better resist impact and water. There's no telling what the conditions would be if you're driving or flying. With a hard case, you'll be more prepared for the unforeseen.
What Amount Of Water-Resistance Do You Need?
Flight bags are generally well-designed, however, a lot of them are not totally water-resistant. If you're not particular, you can have problems of water seeping in the zippers, or the fabric of the bag getting soaked with water. A wet drone bag, while you are in the midst of a multi-day trip, can be a major liability. In this case, you will have to resort to using a hard-plastic drone case, even if it is physically and financially demanding.
Concluding Thoughts To Remember
You have to mind well the investment for a high-quality drone flight bag as a drone pilot. You'll be mostly in the outdoors and will not be flying your machine inside your house, anyway. The above selections for the best drone backpacks should be able to guide you pertaining to protecting your machine and its accessories from impact, abrasion and the outdoor elements. Make sure that your drone flight bag is spacey enough to hold essential accessories such as the spare batteries, the charging cables, the controller and the repair kit, among others.