Drone racing has become a popular sport over the years as more and more drone racers have chosen it as a hobby. If you are curious and you want to try FPV drone racing, you came to the right place. In this article, we will be sharing our thoughts about the Walkera Runner 250 drone. If you are wondering if it is the right FPV drone for you, keep reading below to find out more information.
The Walkera Runner 250 drone is a cool FPV racing drone, it has a carbon-fiber frame and it is quite durable. Since it is a ready-to-fly model, it is easy to disassemble and reassemble. It is quite fast and its maximum speeds that range up to 35-40 km/h. It comes with a remote controller which is easy to use, highly sensitive to controls, and has a great control range.
Walkera Runner 250 Drone Specifications
Here's a list of the Walkera Runner 250 drone's specifications:
Devo 7 transmitter

Ready to Fly

Comes with an 800TVL FPV camera and a 5.8G video transmitter

Has an OSD (on-screen display) installed that shows the flight information on the FPV monitor

Goggles FPV ready for 5.8G ground monitor or Goggles (can be purchased separately)

Rotorlogic 11 x 13 inches rubber foam working pad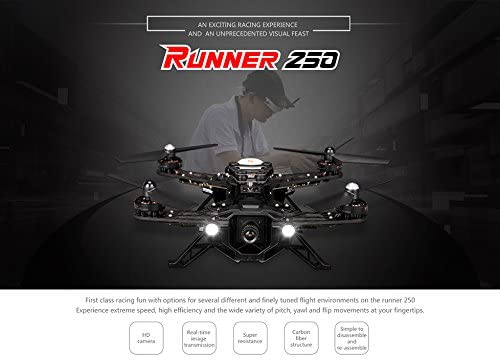 Drone Design and Features
The Walkera Runner 250 drone is quite durable; it is designed with a sturdy metal frame body that can withstand bumps, crashes, and minor accidents. The Runner 250 has a simple design and it does not have a flashy appearance especially when compared to other drones found in the market. It can be described as adrone with bare-bones design as the metal frame and the inner parts of the drone are visible and exposed. The motors and the mechanical joints on the other hand are covered so you do not have to worry about it. It has a brushless motor that provides the drone its much-needed power to fly the heavy drone as it weighs around 510 grams.
The Walkera Runner 250 has a head and tail lights that make it visible and distinguishable during night time but it is not movable so the side or beneath is not illuminated which can be a bit tricky for users when landing the drone during night time. The propellers are thicker and heavier compared to the usual propellers found in other drones and it is made that way because it needs to compensate for the drone's heavy frame and it needs a lot of power so it can be lifted from the ground easily.
Camera – The Walkera Runner 250 comes with a built-in FPV camera with a horizontal resolution of 800 TVL. The camera works well even it is just a built-in camera. It can be used to film clips or capture photos but it is not the best camera if you need to capture high-quality videos or if you want to use it for professional aerial photography or videography. It works well for FPV drone racing.
Remote Controller – The Walkera Runner 250 comes with a remote controller which is called, DEVO 7 transmitter. It is a great controller for a racing drone. It is easy to use and it feels comfortable in the hands. The controls of the controller are located like the usual standard controls found in other controllers. The auxiliary controls are placed on the top part of the controller which makes it comfortable to use when maneuvering the drone during the race. The bottom part of the controller shows the flight information which is quite useful for the user so they can track the drone's range and coordinates the drone.
Battery – The Walkera Runner 250 comes with an 11.1 V 2200 mAh Li-Po battery. The drone is quite heavy so it greatly affects the flying time and it may last only up to 12-14 minutes. It is best to purchase extra batteries so you can enjoy a longer flying time.
What does the package include?
Walker Runner 250 drone

Devo 7 Transmitter

2100 mAh Li-Po Battery

Charger

Instruction Manual

Accessories

Rubber foam working pad
Price of Walkera Runner 250 Drone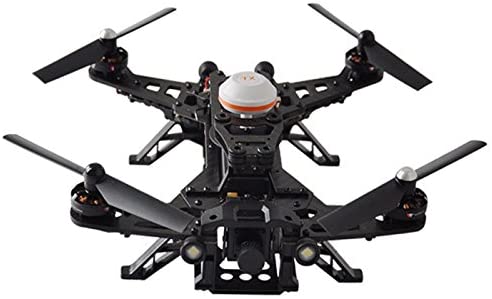 Check the current price of the Walkera Runner 250 Drone
Check Today's Price
Frequently Asked Question for Walkera Runner 250
Is the Walkera Runner 250 drone a level entry drone?
Since the Runner 250 drone is heavy and bulky it can be a bit difficult to fly for beginner users. It is a racing drone that can perform at high speeds and it is capable of taking sharp turns. It can perform a few tricks so skilled drone pilots can do flips, dash dives, barrel rolls, pancake turns, etc.
User Reviews
According to Travis, I have owned a couple of drones for a few years but I decided I want to try flying an FPV racing drone and I am glad I have come across the Walkera Runner 250 drone. You can purchase it for a decent price and I have been having fun flying it so far. It is a ready-to-fly drone, although it was a bit hard to fly. I got used to it as I practiced flying it frequently. One important thing to consider is the drone is on the heavy side, it is not like the other drones in the market that is lightweight and portable. My advice for future Walkera Runner 250 owners, you have to make sure to fly this drone in an open space as it can be quite fast and may cause injury to animals or persons nearby.
According to Jenny, the Walkera Runner 250 drone is one of the cheaper racing drones that are available in the market right now. If you want a bare-bones ready-to-fly drone with cheap accessories and easy to replace parts then this drone is perfect for you. It is quite stable and it can withstand minor bumps and crashes.
Final thoughts
We had fun testing the Walkera Runner 250 drone and here are our thoughts about it. It is an FPV quadcopter drone and it is an RTF drone. We do not recommend it for beginner users as it is a bit clunky to fly; you need to practice a lot of times to get used to it. If it is your first time trying an FPV drone, you might have a hard time flying it and since its weight is a bit on the heavy side so you must be careful when flying it, you must fly it in an open space and away from people or animals. The GPS module and calibration need getting used to as it is a bit tricky to do. The FPV signal requires some experimentation using the transmitter and goggles.
We commend this drone because it is built with a durable body, it can withstand crashes, minor accidents unlike the other drones on its price range. If you love FPV drone racing and you are a seasoned drone racer, we recommend you to check out the Walkera Runner 250.
Check Today's Price
You May Like;